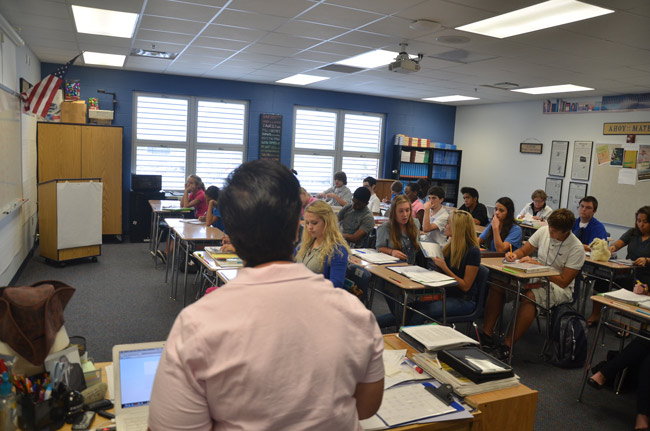 Editor's note: This is the latest in a series by Jo Ann C. Nahirny, a veteran English teacher at Matanzas High School and FlaglerLive's Teacher's Trenches columnist, who's chronicling her journey through cancer treatment in Gainesville. On Tuesday (Nov. 13), she will be in surgery to remove a tumor. We wish her the very best.

"I'm so happy to see you," Barbara greeted me with a hug at church recently. "And I'm even happier to see that you still have all your hair!"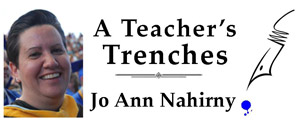 "Of course I have my hair," I responded, embracing her. "Why wouldn't I?"
"You had all those cancer treatments," she replied. "Isn't that supposed to make your hair fall out?"
"That's chemo," I explained. "I had radiation, not chemo, and the radiation I got was aimed at my abdomen, not my head."
"Oh, well, that's great that you didn't have any side effects!"
No side effects? Keeping my hair signified that? Really?
Since I completed 42 radiation treatments at Shands at the University of Florida in Gainesville last month, the responses from people who've seen me have run the gamut from shock that I'm not in excruciating pain,  to amazement that I'm still walking, breathing –even grocery shopping. For some reason, folks somehow think that cancer patients should look, well, like we're dying, I guess.  These days, a cancer diagnosis isn't necessarily a death sentence, as evidenced by the fact I'm still living a very active lifestyle. Granted I'm on medical leave right now from my job as an English teacher at Matanzas High School, because my body is recovering from the radiation as it awaits surgical removal of a retroperitoneal sarcoma (a malignant abdominal tumor) on Tuesday, November 13. But although radiation hasn't left me debilitated, side effects of many types can and do linger for weeks or months.
Despite Barbara's misconception that I'd had no side effects, actually, I did (and still do), although most weren't as horrific as I'd feared, nor as tortuous as those my brother-in-law made a point of describing every time he phoned.
"My neighbor had radiation treatments," Bob told me multiple times.  "They totally knocked him for a loop. He said it's even worse than chemo. You're going to feel totally nauseous and exhausted."
It wasn't that bad. I did have what I'll politely allude to as gastrointestinal distress on an almost daily basis, so I quickly, and by necessity, learned the location of nearly every public restroom in Gainesville. And yes, I needed to take naps most days. But honestly, the most unusual and uncomfortable  physical side effect that happened to me during treatment was when I twice broke out in whole-body hives, something my radiation oncologists claimed could not have been caused by the treatments, and which they classified as "stress hives."   Oddly enough, such a thing never occurred before… and hasn't again since radiation treatments ceased.
But side effects come in far more than the physical and mental variety. There's been lots of other fallout from radiation treatments.  First off, they're wildly expensive, to the tune of about $75,000 for a full course (I'll ultimately be responsible for paying about 10 percent, since thankfully I have medical insurance, but the sum will grow after the surgery and hospital stay). Then, because of the frequency of treatments (twice daily), working became impossible. Since I live about 90 miles from Shands, a month-long stay in Gainesville proved inevitable, especially with treatments occurring at 7 or 8 each morning, and then again between 1 and 4 in the afternoon, hours I'd typically be devoting to teaching my 175 students at Matanzas.
Ultimately, we had to board our two dogs with the vet for several weeks, cancel the trip we'd planned for my 50th birthday, put our mail on hold, postpone routine household maintenance, and totally rework our household budget, which medical expenses had already decimated.
The "side effects" even impacted my extended family. My father-in-law, who had been living with us, had to go live in Virginia with my sister-in-law and her husband when we left for Gainesville. At 92, he'd have been in no condition to cook his own meals, drive, or do much of anything for himself during our extended absence, since we'd  already been doing all these things for him long before my recurrence and my mother-in-law's death in August. My husband, Mike, took advantage of the Family Medical Leave Act, which afforded him time off to accompany me to medical appointments and care for me when I felt sick, but of course, medical leave is unpaid. Fortunately, however, we'd dutifully saved for a "rainy day." But who could've ever anticipated such an intense storm?
Still, the "side effects" haven't been all negative. Some amazingly positive things have occurred as a result of my cancer recurrence.
For example, the outpouring of support from my students, coworkers and the community has been overwhelming, and has really helped make this ordeal bearable.  Just as my radiation treatments were winding down, I received an unexpected invitation to speak as a "cancer survivor"  at the launch of the 2013 Flagler Relay for Life in October, and delivered a hastily composed yet incredibly emotional speech that moved even my own husband to tears (Aside to  Mike: Sorry dear, that too was an unanticipated "side effect").
Because I've been in almost daily contact with Mary Beale, the substitute teacher who's filling in for me, I've been able to keep tabs on my students' academic growth and progress, even scoring several hundred of their essays while in Gainesville and even now from home.
Since I've been actively answering students' emailed questions, and conducting limited class sessions via Skype when feasible, I ended up being one of just a few teachers in the entire district to  get an invitation  to participate in a new, online training program called "Blackboard Collaborate." This program is going to make it much easier for me to provide students with online instructional resources, and even to tutor them afterschool in study groups in the coming months.  I've experimented with it a bit, and can't wait until I get out of the hospital and have recovered enough to learn how to fully utilize its power to help me do even more innovative instruction with my students.
Honestly, though, I've discovered that not working (although I really have been doing some work) isn't all it's cracked up to be. Being away from Matanzas has even given me pause about the retirement my husband and have frequently mused about, and has made me think twice about what I'd actually do to keep myself occupied if I weren't teaching. Granted, I've gotten to do a lot more leisure reading lately, and I've thoroughly enjoyed getting a full eight hours of sleep per night, rather than the six or so I typically get when my work hours require me to get up in the dark at 5 a.m. on weekdays.  I also haven't missed my 84-mile round-trip commute to and from my home in Putnam County to Matanzas each day, and I'm glad to have had more than the scant 10 or 15 minutes I typically have on campus each day to shove breakfast and lunch down between grading papers and catching up on e-mails.
What I most miss is the daily mental stimulation (and the humor!) inherent in being surrounded by 1,300 energetic teenagers every day.  I miss the kids who've flooded me with uplifting letters and email messages like these, who've kept up my spirits these past few months:
Thank you for taking the time to write a letter of recommendation for me. I read it to my parents, and my mom had tears in her eyes. It means a lot to me to know that you think so highly of me and that you observed in me so many admirable character traits that will serve me well in college and life. Through your eyes, I learned some important things about myself. I will always cherish your letter. Thanks again, Michael.
You are the strongest woman I know. The surgery will go fine and I can't wait to see you on your feet again doing what you do best – creating successful students. You've been in my prayers daily. I miss you tons! Jozefina.
My name is C.J., father of Dallas, and I just wanted to say our prayers are with you! God Bless and get well soon, we need great teachers like you!
The e-mails have dwindled lately, since my students have seen me a couple of times. I've ventured to school once or twice in early November to spend a couple of hours in Room 5239 at Matanzas, to stay connected, for when I return in four to six weeks. But I know the floodgates of emails will soon open again, as my students are keenly aware of my impending November 13 surgery. One student greeted me with tears in her eyes when I was on campus last week, confiding she'd had a nightmare about me, and pleading with me to email her from the hospital to let her know when I get through the surgery. "This place wouldn't be the same without you," she said, wiping her eyes. "You've just got to come back."
So I made a deal with them: e-mail me at Shands (https://ufandshands.org/send-patient-message) when I'm there later this week (or by email below) to help me get through this last part of treatment, and I'll hurry back as soon as the doctor clears me. Although I informed my students  I'll return on January 2,  they don't know it yet, but the surgeon  told me if I stay off my feet, and don't lift anything heavier than a pencil for a couple of weeks after the surgery, that he may consider letting me go back to work around December 10 or 11.
For me, that's really the only present I hope to find under my Christmas tree.

Jo Ann C. Nahirny, a 1985 graduate of Columbia University and a National Board Certified Teacher, teaches English at Matanzas High School in Palm Coast. Reach her by email here.