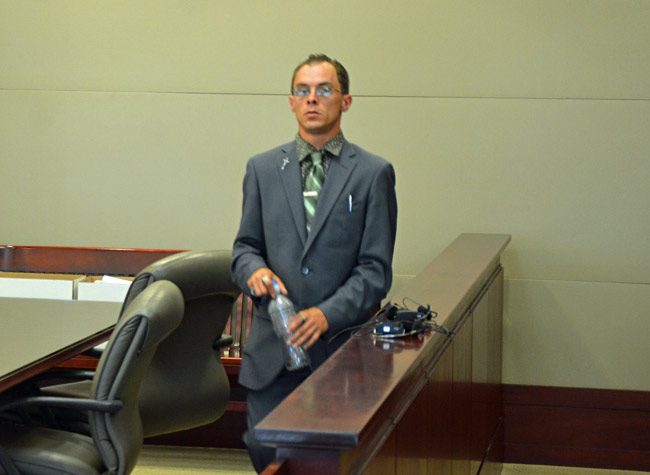 Note: this article contains graphic language.
The trial of Jonathan Canales on an attempted first-degree murder charge has been a rollercoaster. Canales is accused of shooting his now-29-year-old ex-girlfriend in the neck as three young children slept nearby in their Mondex trailer four years ago. The first day and a half did not go well for the prosecution as two of its own witnesses proved more effective for the defense.
But by Wednesday afternoon, as Assistant State Attorney Melissa Clark, who's prosecuting the case, played videos of Canales himself at his home the night after the shooting and in a sheriff's interrogation room, the case against Canales immediately strengthened. It did so exclusively thanks to Canales himself: his narcissism and indifference to Tiffany Norman, the alleged victim, is no crime, but it could erase what sympathy the jury might harbored for him. Worse: he couldn't keep his story straight or mask his misogynistic hatred of Norman, at one point telling a detective he didn't want to say all he wanted to say about women on camera.
The inconsistencies were glaring, innumerable, and at times arrogantly brash: when a detective asked Canales how, after he'd carried and tended to Norman as she bled profusely, he could possibly have not a drop of blood on him, Canale's answer was stunning: "Because I'm a fucking saint." The detective asks again, noting how Canales had told him he'd had his hands "directly on the gunshot wound."
"Yeah. Yeah," Canales says. "It's amazing, isn't it? I don't know. I don't know how it's even possible that I don't have nothing on me. I don't."
"That's pretty good," Eric Glasgow, the detective, says. (Glasgow is no longer with the Flagler County Sheriff's Office.)
"It's freakin' weird, but yeah. I mean, I've done a lot of volunteer work at the hospitals and saved quite a few people in my day. So."
It was far from the only "freakin' weird" part of the Canales's statements to deputies and the detective. There were also at least two statements that slipped out of him that sounded like un intended confessions: After the rifle shot went off, he said, "she stayed perfectly normal, I thought I had missed her," he said, before quickly correcting himself: "I thought she had missed herself. I was, you know, praising Jesus, you now, thank God she, you know, missed herself. But no. There was blood everywhere. It was a fucking travesty."
The detective had also asked him to walk him through the sequence of events of the moments leading up to the shot. "I came in the back door, I think I was playing some pool for a while," Canales said, "and then I walked up front and that's when she had the gun and she, she pulled all this nonsense. There's really, I mean, I can't fabricate anymore of a story. That's it. You know, I'm not going to lie to you." Maybe Canales was tripping over his words, unintentionally misusing them. But the detective had also remarked at the beginning of the interview how well Canales spoke English, and Canales had claimed to have attended "Stanford" for a while–one of the top five universities in the nation.
Glasgow tried again.
"All I know is that as soon as I walked into that door and I came up," Canales said, "I played some pool, and then I came, I grabbed the soda out of the fridge, and then I walked to the bed, and, you know, I wish could have gone a lot faster today. I wish I could have been a whole lot faster. I tried to grab the gun out of her hand, but you know it was really unrealistic." He described Norman as catatonic, "staring blankly," before the shot, even comparing her to a character in "Full Metal Jacket," the extremely violent Stanley Kubrick movie about Vietnam.
Carefully, deliberately, Glasgow asked him to specify his interaction with the gun and how Norman was positioned.
"I come up and tried to grab the gun, you know, get it away from her," Canales said, showing how he came up to her to execute what he described as a J-maneuver, "I tried to grab the gun and throw it out of the way, and I heard, it popped, you know, I was like."
"Did she have her finger on the trigger?"
"I guess," Canales said, though earlier in the trailer, as he was describing the moment to another deputy, he'd said Norman had been sitting, with her toe on the trigger and the gun pointed at her head or her mouth.
"Where did she have the gun pointed at?" the detective asked him.
"Right at her face, but it moved to her neck," Canales says. "When I tried to get it away from her it moved to her neck."
But just 19 minutes later, he tells Glasgow a completely different story.
"Before you reacted, you heard the pop?" the detective asked him.
"Before I could react. Yes, she shot–she shot it."
"And then you ran over and snatched the gun," the detective says.
"I tried to get it as quickly as possible, yes, sir."
"How far would you say you were?"
"Twelve and a half steps away."
"Were you still in the kitchen?" Glasgow asks him.
"I remember running 12 and a half steps to get there," Canales says, "after I heard the pop.
"You heard the pop, ran 12 and a half steps, snatched the gun away from her. Was there any resistance? Was she trying to hold the gun?"
"No, no, there was no resistance, and I remember," Canales says, "I remember just crying and saying, you know, you can't be doing this shit to me, because we have kids to raise, you know? And she's like, she wasn't saying much, you know. I was fucking in fear of her life, and in I'm in ear of mine now, you know, we're both feeling it right now, I guarantee it."
How the rifle had "moved": to her neck, if she'd pointed it at her head, was no longer explained, and demolished the defense's theory that Canales had actively tried to grab the gun away from Norman. Instead, it created a scenario where Norman would have somehow placed the gun against her neck below the left ear and fired.
What happened next was also "peculiar," as Glasgow described it: at first Canales said he picked up Norman to move her to the bathroom. Why? "So she wouldn't get blood all over the place." He was concerned about staining the carpet. "My house may be shitty but I'm trying to keep it as clean as possible."
But glaring inconsistencies developed over that, too, as he said she at first began moving to the bathroom, and when Glasgow asked what could explain a pool of blood found on the way, Canales said that's where he picked her up and continued to the bathroom. He did not call 911. "I wasn't trying to call you guys at all, I was trying to take care of the wound," he said.
Norman eventually did. When Glasgow asked him how she got to the phone, Canales said: "I don't know. That's a good question." When Glasgow asked him how Norman eventually made it to the front steps of the trailer (on Cherry Lane in the Mondex), where deputies initially found her–with Canales sitting away from her, not tending to her–he said she didn't. He insisted that she had been in the bathroom when deputies arrived.
Body cam video says otherwise.
Throughout the footage, another striking theme is Canales's concern with himself ("I'm a fucking outstanding person"), his incessant blame of Norman, and his seeming indifference to her fate: it was 70 minutes into the body-cam video footage of then-deputy Jonathon Duenas before Canales mustered his first question about Norman's well-being. He would sporadically ask again, but only once or twice, and once during his interrogation, where another stunning exchange took place about Norman:
"What's she going to say about this incident?" the detective asks Canales.
"What is she going to say about it? You know, it don;t matter what she says."
"No, of course it does. What do you mean?"
"I tried to save her."
"What's she going to say about the whole thing?"
"I hope she says the truth."
"What do you thinks he's going to say?"
"I think she's going to tell you the truth. I think she'll say that she was all pissed off about today and she went to take her life and she fucked up. That's what I would say if I'd done this shit."
Even if she'd allegedly been trying to take her own life, he was blaming her for failing.
Glasgow tells him it's imperative to speak truthfully. And he tells him: "That's not the account of the incident that Tiffany has," and speaks of the physical evidence that may lead to the fact that "that's not exactly how things went down and how it happened."
"OK, well, what I'm saying is, what went down and what I said went down might have been a tad bit skewed, but from what I saw, that's what happened. Now, if something else happened that I'm not aware of, you know, I can't, I'm not fucking Houdini. I can't produce something that don't exist."
He was also all over the place trying to explain how Norman would have known to load the rifle after saying she'd stayed away from his guns and wasn't knowledgeable about them–and that he had himself placed the rifle on a rack that day, unloaded. Later, he said he taught her how to use guns.
The videos hadn't run their course by the time Circuit Judge Terence Perkins called it a day a little after 5 Wednesday afternoon so the jury of five men and three women, including the two alternates, could go home.
The trial was scheduled to resume this afternoon at 1 p.m., with Norman's testimony still ahead, and not end until Friday.
For the prosecution, the first day of Canales's attempted first-degree murder trial did not go well. Nor did the beginning of the second day, Wednesday, when the defense got a second prosecution witness–and a blood-spatter expert at that–to concede that evidence gathering at the alleged crime scene had been shoddy, with at least three pieces of key evidence never fully analyzed or even taken into evidence.
In and of itself that may not have been fatal to the prosecution's case if it hadn't made the where of Canales's alleged shooting of his ex-girlfriend in the neck as important as the how. The prosecution is basing its theory on Norman's account, who says Canales marauded behind her with a .22-caliber rifle as she was eating dinner at the kitchen table, threatened her, then shot her.
Canales's defense is that she was attempting suicide from the foot of the mattress in the living room. Canales tried to stop it. He failed. He then somehow took her to the bathroom. So defense attorney Garry Wood successfully harped on questions to two witnesses over two days that revealed that the kitchen chair and the cooler next to the kitchen table were never brought into evidence, nor the mattress in the living room. It was effective and will likely be a central part of his closing arguments.
But the prosecution on Wednesday turned Canales into a witness against himself, his callousness and apparent dissembling as bare as he looked in much of the footage as he sat half-naked (but spotless) in his trailer, with more interrogation video yet to show on Thursday.