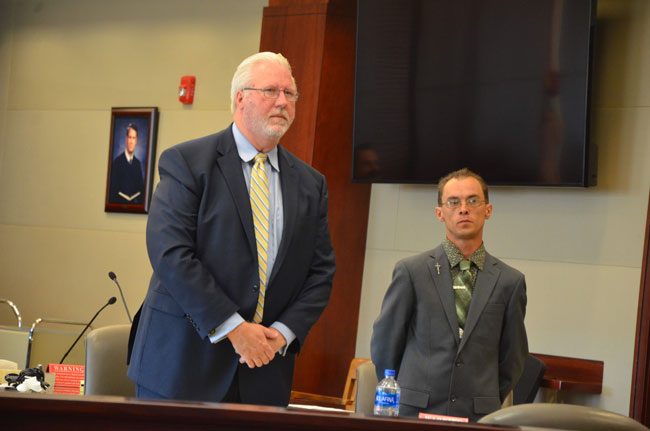 Since the shooting in the neck of 25-year-old Tiffany Norman in her Mondex trailer four years ago, suspicion has focused on her then-common-law husband and army veteran Jonathan Canales, who was charged with attempted first-degree murder. Canales disputes the charge, saying Norman shot herself in a suicide attempt.
After being deemed incompetent to stand trial for about two years, Canales went on trial on Monday before a jury of five men and three women, including two alternates, all of whom told the court they knew nothing about the case, though it's frequently been in the news. Jury selection before Circuit Judge Terence Perkins took up all of Monday.
Today was the prosecution's first day, led by Assistant State Attorney Melissa Clark. The prosecution's case proved more expository than convincing, and at one point gave the defense an unexpected opening when the crime scene investigator in the case–Laura Pazarena, formerly of the Flagler County Sheriff's Office and a central prosecution witness–revealed that she had overlooked several clues and pieces of evidence, including the white kitchen chair on which Norman was allegedly sitting when she was shot: the small amount of blood on the chair was never analyzed to determine whose it was. The chair was never taken into evidence. Same skip with the blood on a nearby cooler. The defense mercilessly exploited the CSI analyst's mistakes. And when the defense asked the analyst if she'd erred, she did not deny it.
Norman claimed she had been sitting on that chair and eating left-over fried chicken for dinner by herself after putting her three young children to bed when Canales walked behind her with his .22 rifle, made threats, then shot her, causing her to fall to the ground. She was then in and out of consciousness. The chair plays a key role in placing Norman in the kitchen, according to her version of events. If the defense can sow doubt about that version, Norman's credibility would be in question. That's the defense's strategy.
But based on his arrest report and the various accounts of the incidents he gave, Canales's own credibility was in tatters entering the trial, as Clark told jurors in her opening arguments she'd show.

The prosecution established through blood-stain analysis that Norman could not have been on the mattress in the living room when she shot herself, as Canales claims she was, at least in one of the stories he told deputies: he also told them he'd just come back from work when he saw Norman with a gun to her head, though he had not been at work. In a different story, he said he'd been working in the shed most of the day before entering the house and seeing Norman with a gun to her head. In a third story, he was playing pool in a different room in the trailer when he came out and saw her at the end of the mattress, with the gun to her head. In that version, he told deputies he approached her, grabbed the gun to get it away from her, and "it popped," in his words. Then, "there was blood everywhere," according to his arrest report.
Norman survived the shooting. She couldn't speak when deputies showed up at her trailer that night in November 2014. She sat on the trailer's steps, bleeding from the nose and the neck. She seemed in shock. (Her three young children were in the trailer.) When a deputy asked who shot her, and gave her his notepad so she could write an answer, she scribbled that she didn't do it. But she also said she couldn't remember what happened.
Despite playing a 911 call in which Norman is heard yelling out "stop lying" in the background at Canales as Canales kept telling the 911 dispatcher that he'd surprised Norman in a suicide attempt, the prosecution's first day of trial today did not entirely dispel that haze of doubt. Norman's words in the 911 call aside, only some of the evidence the prosecution introduced crossed from the peripheral to the unassailable.
The .22-caliber rifle used in the shooting, the faint and disparate items with blood stains on them, the forensic stories behind the blood stains, the innumerable pictures of the "deplorable" interiors of the trailer, in the defense attorney's word, all pointed to a catastrophic incident. But for all the graphic and dismal nature of the evidence, it did not demolish the defense's claim that Canales had attempted to intervene and stop the shot that ended up in Norman's neck, below the ear. It raised questions about it. (It's not yet clear, as there's been no testimony presented on that account, how Norman could have physically held a rifle and shot herself in such a way that the entry wound was in her neck was where it was.)
But the prosecution's job is to prove that Canales not only shot Norman, not only that he intended to do so in the moment, but that he planned to do so. The prosecution must prove that beyond a reasonable doubt. The prosecution may have emotion, sympathy and, as expected in coming days, the testimony of Norman herself, but proving attempted first degree murder, a life-in-prison felony, is a high burden even in less murky circumstances.
Much of today's lengthy and detailed testimony by sheriff's personnel–deputies, a detective, a crime-scene analyst–and a private forensic consultant and blood-stain analyst painted a painstaking picture of the trailer's interiors and blood-stained clothes and other surfaces. But the defense–Canales is defended by Garry Wood–is not disputing that a shooting took place, that it left blood stains on Norman and other places, or even that Canales was involved, at least at the last moment. The defense, so far staying away even from whose finger was on it, is only disputing why the trigger was pulled.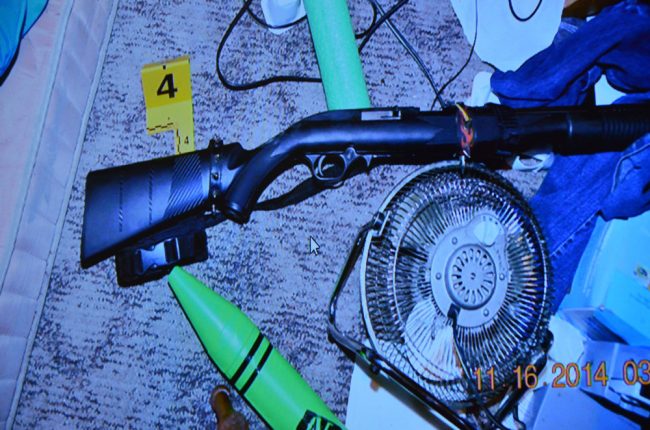 That made much of the blood-stain analyst's details only circuitously relevant, including her detailed explanation of such things as the difference between blood spatter and blood "transfer," or saturation stains and blood drops: Canales at one point is said to have undressed Norman and carried her next to a bathtub. He initially faced a charge of negligence for denying immediate medical attention to Norman, but the prosecution dropped that charge. That leaves the defense free to claim that Canales took her to the bathroom to render aid, even if that was not the case. The jury won't know of the dropped charge, which potentially amounts to willful negligence being made to look like rendering aid.
In brief opening arguments this morning–Clark's took up less than seven minutes, Wood's took up 10–Clark described the four-year relationship of Canales and Norman before the shooting, how Canales became more "controlling" over time, and how the night of the shooting he told her, "There's so many ways that I could kill you, I could kill you and nobody would know." To Wood, "what is obvious" about the case is "reasonable doubt," he told the jury, suggesting that he would show Norman to have provided conflicting stories: Canales may not have liked his ex-girlfriend anymore, but he did not shoot her. She was just depressed: that's the defense's take. (During jury selection Wood had asked how many of the 40 prospective jurors had experienced a close relative or friend trying suicide, or succeeding. Seven hands went up.)
Norman was not in the courtroom today, though her mother was, as was Canales's: they sat in opposite rows.
Canales has been out on bond, so he's free to come and go. Monday and today he sat by his lawyer in a gray suit, tight-lipped, never showing emotion, the most distinctive part of him–other than his stern look–a rather gaudy, two or three-inch long crucifix on his lapel, large enough to telegraph an unsubtle claim to the jury–either about his faith, or about his identification with a saintly man being crucified.
But one of the most striking moments of the trial so far were the first moments of a deputy's body-cam video as the deputy arrived at the Mondex trailer the night of the shooting that Nov. 14, 2014. Norman was outside on the top step of the trailer, bleeding, barely conscious, her head stooped against her hand, a long string of coagulated blood hanging from her nose. Canales sat a few feet behind her, half-in, half-out of the entry door. He showed no hint of affection or care for his then-girlfriend, nor aid.
The trial resumes Wednesday at 9 a.m. in Courtroom 401.