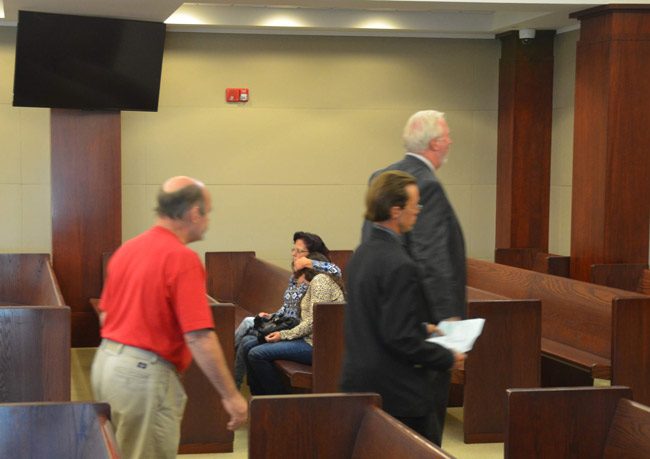 Less than 72 hours before Jonathan Canales goes on trial on an attempted first-degree murder and other charges stemming from the shooting of his ex-fiancee in their Mondex home in 2014, a judge ruled today that the prosecution may introduce at trial testimony about Canales's prior acts of domestic violence, threats, intimidation and bullying. Allegations about Canales's previous belligerence stretch over several years before the shooting.
The ruling by Circuit Judge Terence Perkins, issued in early afternoon, is a blow to Canales's defense. His week-long trial is scheduled to begin Monday with jury selection.
Since the November 2014 shooting on Cherry Lane in Daytona North, Canales, 31, has contended that Tiffany Norman, 25 at the time of the shooting, had attempted to kill herself by shooting herself in the neck with a .22 rifle–that the incident was not connected to any prior issues, other than Norman's alleged depression. His attorney argued that since it was not a case of domestic violence, all prior acts alleging domestic or other kinds of physical or psychological violence should be kept out of the trial.
Now, both Norman will get to testify about the violence she claims she endured in her years with Canales, as will Melissa Canales, Jonathan's sister-in-law, who in a deposition "stated that she had personally witnessed [Canales] grab Ms. Norman by the throat and slam her into the wall of her kitchen," according to the prosecution's intent to introduce the evidence. "In addition to the physical violence that Ms. Canales witnessed, it is expected that Ms. Canales will testify that she had heard the defendant state that he hated Ms. Norman and that the only way to be rid of her was to kill her. Ms. Canales spoke of this in her interview. In speaking with Ms. Canales, she states that the defendant made these statements after the birth of his son, []. Ms. Canales specifically recalls two separate instances in which the defendant made these statements."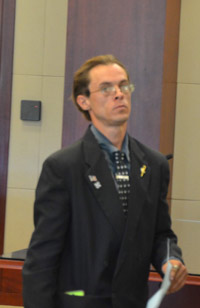 Norman appeared in court a week ago during a hearing on the state's intent and the defense's motions to suppress prior allegations. Now 29, it was the first time she'd been in the same room with Canales since the night of the shooting. She testified at length about her history with Canales and his seeming hatred of her, a hatred she said intensified on two occasions when she was pregnant: he did not want her to have a child. She had two children from a prior relationship. She aborted one child, seemingly under pressure from Canales, but eventually had a son. When she was pregnant with her son, she told the court, Canales threw her off a mattress by lifting it brusquely.
Canales is being defended by Garry Wood. The defense was granted part of the motions it filed to suppress elements in Canales's past, including any mention of the abortion.
The judge previously granted the defense's motion that there be no mention of Canales's mental health issues and his Post-Traumatic Stress Disorder. That includes his being judged incompetent to stand trial for about two years, when he was in treatment. There will also be no mention of the three charges of child neglect Canales faced at the time of his arrest. When deputies showed up at the trailer, they found several firearms around the house, unsecured, some of them loaded, within a few feet of the three young children. The State Attorney's Office, however, did not pursue those three charges. Canales had also been initially charged with failing to render aid to Norman as she bled in the bathtub. Since the State Attorney's Office did not pursue that charge, either, elements surrounding those allegations will not be introduced–at least not at trial: should Canales be found guilty, all those elements may play a part in his sentencing hearing, when standards of evidence are less strict.
The so-called "similar-fact evidence" the judge will allow enables the prosecution to build a case that Norman was the target of a pattern of abuse that culminated in the shooting. The judge conceded that the prior acts are of a different nature than the allegation that landed Canales in court, but no less relevant to that allegation.
"The facts of both instances of prior domestic violence are different from the allegations here that [Canales] shot his wife in the head/neck with a rifle," Perkins wrote in his four-page, single-spaced order. "Despite such differences, however, such evidence would be relevant and, therefore, admissible to show, for instance, the absence of mistake or accident. Here, the [Canales]'s primary defense will be that the victim shot herself either deliberately or by accident. [Canales] denies any involvement in the shooting. Accordingly, evidence that [Canales] was violent with his wife at other times and evidence that he stated that he would have to kill her would be directly relevant and therefore admissible to show [Canales]'s plan, scheme, intent and motive to shoot his wife on this occasion. Further, such evidence may also be admissible to establish involvement in the shooting and the deliberate nature of the shooting."
For the prosecution to prove first-degree attempted murder–a felony that would put Canales in prison for life–it would have to prove intent, meaning that he intended to shoot and kill her. The defense, however, can also argue that, in fact, Norman  did not die, and Canales called 911 (the call may be played at trial), though according to his arrest report he did so only three hours after the shooting. (See the account of that night here.)

Judge Terence Perkins's Ruling on Similar-Fact Evidence in Jonathan Canales Trial: