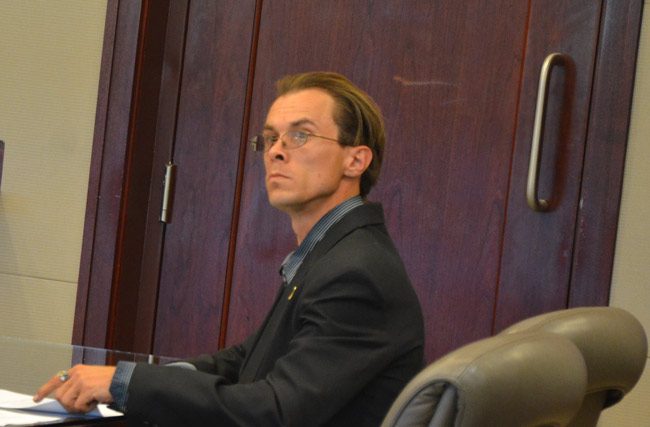 Tiffany Norman, 29, took the stand this afternoon and for the first time in court spoke of her life with Jonathan Canales leading up to the night when he allegedly shot her in the neck with a .22 rifle as her three young children slept in the family's trailer on Cherry Lane in the Mondex.
"He would always say, 'I can kill you and nobody would know about it, and I can get away with it,'" she said. She was afraid to leave. He was armed. She believed his threats. "It just really made me very scared," she said.
The night of the shooting, Canales told deputies and a 911 dispatcher she'd shot herself because she'd been depressed. "Stop lying," she's heard saying in the 911 call as Canales, now 31, speaks to the dispatcher. He'd allegedly flung her, bleeding, in a bathtub and prevented her from calling for help before he eventually called.
"Did you shoot yourself?" Assistant State Attorney Melissa Clark asked her during her testimony today.
"No, ma'am," Norman said.
"Who shot you that day?"
"Jonathan Canales, ma'am."
"Do you remember if he said anything to you before he shot you?" Clark asked.
"Yes, ma'am."
"What did he say?"
"He said, 'you make it so easy right now to be able to kill you in so many ways, and I can kill you and nobody would ever know about it, and I can bury you in the backyard. Your mother wouldn't even know what would happen to you.'" He had similarly threatened her two days before the shooting, she said.
Norman was flown to Halifax hospital with a gunshot wound in the neck the evening of Nov. 15, 2014. It has taken that long for the case against Canales to wend its way through court hearings and Canales's own issues with competence and, for a stretch, his inability to stand trial. But the grim, tortuous case is finally set for trial starting Oct. 15, one month short of the shooting's four-year anniversary.
Canales faces an attempted first degree murder charge and a charge, which carries a maximum penalty of life in prison, and a charge of aggravated assault with a firearm, a first-degree felony with a maximum penalty of 30 years in prison if convicted. Other charges were dropped. In fact, while the Flagler County Sheriff's Office initially filed the attempted murder charge, the State Attorney's Office had not followed through with it and filed only the aggravated assault with a firearm charge–until Sept. 27, when the attempted murder charge was additionally filed.
Evidence of prior domestic assault violence is important to the prosecution's case because it shows Canales's premeditated intent, a necessary element in proving an attempted first-degree murder charge.
Canales, stern-faced and silent throughout, was in court this afternoon as was Norman, the first time the two had been in the same room since the shooting. She was with a family member and a victim's advocate. He was with his mother.
The hearing today was to decide whether the prosecution could permissibly introduce prior incidents of alleged domestic violence by Canales against Norman.
The defense of course wants any allegations or evidence of prior domestic violence excluded at trial so as not to prejudice the jury against Canales. But certain rules allow prior incidents to be introduced. Garry Wood, the attorney representing Canales, told Circuit Judge Terence Perkins today that the defense will always contend that it was an attempted suicide, not a domestic violence situation, making prior allegations of domestic violence inadmissible. He also contended that the allegations of previous incidents, taking place in 2011 and 2012, are "too remote" in time.
Perkins didn't make a ruling today (he had yet to read a particular, lengthy deposition) but essentially told the two lawyers that based on today's testimony by Norman and arguments by the lawyers he was leaning heavily toward admitting the prior cases: the remoteness of the incidents did not apply. "There isn't anything that says remoteness is simply a mathematical calculation," Perkins said. "So tell me why in this case four years is too remote," he told Wood.
Wood said again it's a case of attempted suicide, while the two prior incidents the prosecution wants to introduce entailed no police reports and no other corroborating witnesses but Norman.
Norman had testified to her history with Canales. They'd gone to elementary school together, didn't see each other for years, then started dating in June 2010, moving in with him shortly afterward in a camper on his parents' property in Ormond Beach. They then lived briefly in a house, then in an apartment in Volusia before moving into the trailer on Cherry Lane. They had a son in 2012. She has two other boys, now 12 and 9.
Before their mutual son was born, she'd been pregnant with another child from Canales. She did not bring the child to term. "He had me go get an abortion," she said, against her will. "He was pressuring me, and the way he would talk and everything would really scare me if I did not get it done. Sometimes he would just say if some things did not get done some bad things would happen." (The matter of the abortion will not be introduced at trial.)
She described two incidents of physical violence before the shooting. Once was when she was pregnant and he struck and choked her. Another time, again when she was pregnant, he flipped a bed she was sleeping in, she escaped to the bathroom, "he then came after me and started to try to drive me out of the house," causing her to trip and fall. "He then proceeded to drag me out of the house by my legs."
He was controlling, overbearing, looking over her shoulders to see who she was texting, limiting her time on the phone with her mother, she said of Canales. "If I needed to go anywhere, it had to be by his approval," she said. She didn't drive, so was entirely dependent on him.
Irrelevant, the defense said. "The testimony about Mr. Canales being controlling, listening or watching her call," Wood said, arguing for exclusion of the allegations, "we don't have specific time frames on that, we don't have criminal activity involved in that situation. This is classic bad-character testimony, that he's a bad, mean or overbearing person."
But the judge was not seeing it that way. "Based on the case law I've looked at, her testimony with regard to the threats," Perkins said, also citing the testimony of a relative who reported seeing and hearing Canales make threats against Norman, "I think that would be material to the allegations and the facts and issues in our case, and therefore admissible, and the same with regards to those threats voiced directly to Ms. Norman." Case law opens the door "to any domestic violence where the case like we have arises in a domestic violence contest," he said. But, Perkins added, he had more reading and research to do before making a final determination.
As Canales and his attorney began walking out of the the courtroom, they paused momentarily for some reason as they spoke in the aisle, just a few feet from where Norman was sitting with her mother, who cradled and shielded Norman's head away from Canales so she wouldn't have to look at him.
The trial is expected to stretch over a week.

Jonathan Canales's 2014 Arrest Report