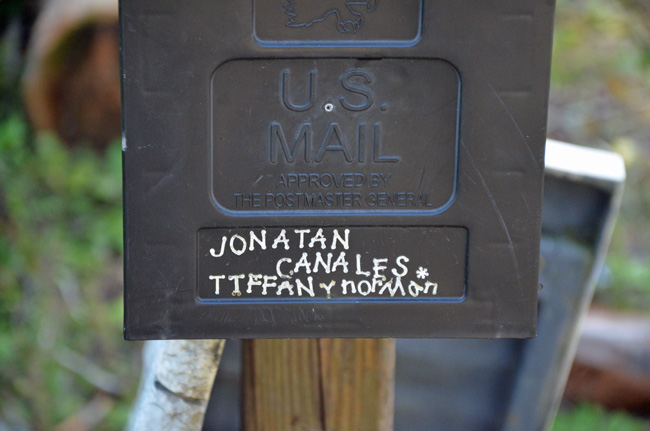 More details have emerged from the night Jonathan Canales is alleged to have shot his wife in their Mondex home on Nov. 15, then apparently lied to police about the succession of events leading up to the shooting and the nearly three hours that elapsed before Norman was able to call 911.
Along the way, the account of the shooting in Canales's unredacted arrest report, if true, point to a pronounced degree of callousness and brutality even after the shooting. Canales is at the Flagler County jail since Dec. 2, on charges of attempted first degree murder, depriving a victim of medical care and tampering with a witness. He also faces three counts of child neglect. He is being held on $125,000 bond.
"I need an ambulance right now," Norman told the dispatcher three hours after being shot, though she didn't know she'd been shot or what, exactly, was wrong with her.
Canales then grabbed the phone from her and told the dispatcher: "She shot herself in the head. She was trying to commit suicide and I wouldn't let her," he said. "I just came home from work and she was bleeding all over the place. She was bleeding all over the place and all over the kitchen and I just came home at 8:30."
"Stop lying," Norman is heard saying in the background. When the dispatcher asks where the gun is, Canales first says it's "over on Maple," then says it's "over the bed." Asked where Norman was just then, he answers that she was in the bathroom, then adds: "I'm a disabled war veteran I didn't do anything besides coming home from work, and when I came home from work, unlocked the door, I heard a loud pop and I fuckin', I found my 22 come in, like she had it right up against her head."
Did you see her shoot herself, the dispatcher asks. "Do what, no ma'am," Canales replies. "I came in from work and she had my 22 up against her head." He stayed on the phone until deputies arrived at the scene. He was dressed in nothing more than a pair of green boxer shorts.
Speaking to a deputy in person, Canales's story changed quite radically from what he had just told the dispatcher. He said he'd been outside, working in his shed, and that Norman had been "bitching" a lot about her home life lately, and that when he walked into the house he saw her with a 22 to her head. As he approached her, he said, she shot herself in the neck. The reporting deputy noted the inconsistencies in the arrest report.
---
You don't know how many easy ways there are to kill you and nobody would know about it.
---
Not more of that initial interview was reported in the arrest report. Rather, deputies walked through the trailer and found two loaded handguns outside Norman's three children's bedroom door, which would prove to be the reason Canales was originally charged with three counts of child neglect. They also saw "a large area of pooled blood in the hallway area and several spots of blood throughout the residence."
Subsequently (the arrest report does not specify the date) Canales agreed to be interviewed at the sheriff's investigative division. He was video taped. He said he'd been working in the garage from noon to 7:30 in the evening until he went to a room in back of the trailer to play billiards for a while. When he left that room, he said, he saw Norman at the edge of a mattress on the floor in the living room, with a Remington 22 pointed at her head. He said he approached her and attempted to move the gun away from her, but as he did so "it popped." At first he thought the weapon had missed because he said he saw Norman act "perfectly normal," but then he saw blood everywhere.
The couple, Canales claimed, began cleaning up the blood together and, Canales said, she appeared to "be okay with it." But 10 or 15 minutes later Canales decided it best to call 911 and get Norman treatment, he claims.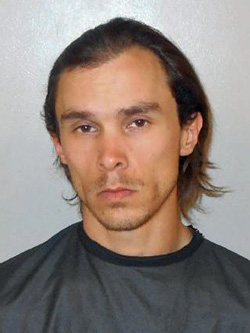 The arrest report details accounts by Norman that had not been known before, based on her interview with an investigator on Nov. 25, from her hospital bed. She told the investigator that she'd been having dinner, shortly after she put her three children to bed, when Canales walked behind her, with the 22 allegedly strapped to his chest. He made himself a drink. He then stood by the fridge and according to Norman, told her: "You don't know how many easy ways there are to kill you and nobody would know about it."
He then walked back to the living room before approaching her from behind and again said: "I could kill you and nobody would even know about it, not even your family."
It was then that she heard a pop, but at first assumed that Canales had walked away. She then felt the sharp pain in her neck and passed out.
When she came to, she tried to get up but her body wouldn't cooperate. Canales picked her up. As he did so, he told her–according to Norman–"I didn't want to but it had to be done." He then took her to the bathroom. She felt as if she were being flung around. She said he threw her on the side of the tub before taking off all her clothes and placing her inside the tub, again saying: "It had to be done but you're not going to ruin my life over this." Norman was begging for an ambulance, or for Canales to call her mother. Canales said he would, but that he had top "clean all this up first."
But he didn't. Instead, he told her: "You're not ruining my life over this stupid nonsense. I'm not going to jail for you for this. It's not my fault, it's your fault." He turned off the bathroom light, stepped out and closed the door, leaving Norman in the tub.
Norman mustered some strength to get up and put on clothes she'd found on the bathroom floor, got out and, not finding her phone, used Canales's to call 911 until he took the phone from her. She would later tell police that he never rendered any help after the shooting. An earlier account of the shooting related her description of the day, when she took the children to the park on foot after Canales refused to let her use the car, after which she and the children were locked out of the trailer for an hour before Canales allowed them back in, just before dinner.
Investigators estimate that the shooting took place at 8 p.m. The call to 911 was placed at 10:45 p.m. No blood was located on Canales's person even though he said he'd helped care for Norman after the shooting, dressing her wound and washing her. He told police he'd not washed or bathed afterward. "All physical evidence on the scene contradicts the account of the incident as described by Mr. Canales and it supports the account of the incident as described by Ms. Norman," the arrest report states.