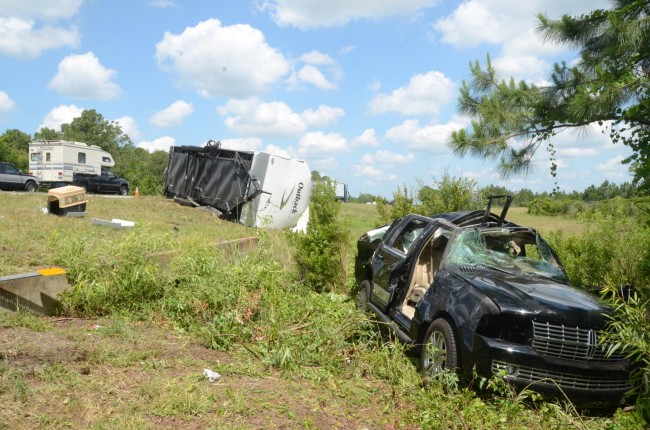 Just after 11 this morning a black Ford Lincoln Navigator SUV hauling a 35-foot camper lost control about a mile past the intersection with Palm Coast Parkway and flipped both SUV and the camper into a ditch to the east of the northbound lane of the Interstate.
A man and a woman were in the SUV. Both were taken to Florida Hospital Flagler with undetermined, but not life-threatening, injuries, according to a Florida Highway Patrol investigator at the scene.
The right-most lane of I-95 was closed, slowing traffic and backing it up a considerable distance. The wreck has not been cleared as of this writing, and the right lane remains closed.
There were five dogs along with the two people involved in the wreck. The dogs were taken to the Humane Society.
Based on preliminary findings, the FHP investigator said the SUV had been traveling in the center lane, going north, when the camper began to wobble behind it, resulting in a jack-knifing. It appeared like the SUV rolled into the ditch, ending up on its wheels against the wood-line. The camper was on its side, diagonal with the interstate, but clear of all driving lanes.
At 12:30 p.m., John's Towing was at the scene, using a crane truck to haul off the camper, and a flat-bed to haul off the SUV. It appeared likely that the scene would be cleared by 1 p.m., when traffic would resume its normal flow.
Flagler Coun ty Fire Rescue, the Palm Coast Fire Department responded to the scene. The Palm Coast Fire Police regulated traffic.
The identities of the occupants of the SUV will be released when FHP makes them available.