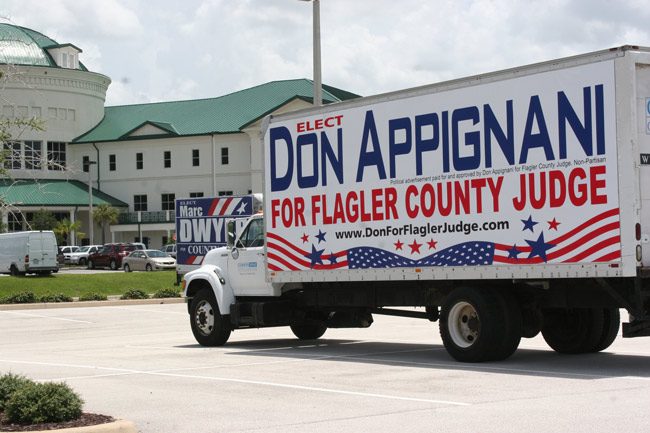 Political candidates, be forewarned: come Monday, Flagler County government will approve new rules that seek to ban many types of campaign signs and campaign vehicles from all county-owned properties.
The targeted properties include the large parking lots next to the courthouse and the Government Services Building, where candidates have grown used to parking vans and trucks blaring their vote-for-me signs at all hours of the day or night, and at the county library on Palm Coast Parkway, where vehicles turned into campaign billboards frequently crowd out parking for library patrons or even voters.
On Monday, the Flagler County Commission is expected to approve a new resolution that will give the county's code enforcement officials or sheriff's deputies the authority to levy fines on rule-breakers, uproot and destroy their illegally planted signs, or even tow vehicles parked in violation of the new rules. The county, in short, is adopting rules similar to those in place in Palm Coast, where code enforcement brigades quickly mow down illegally planted signs and mobile billboards on city properties are a rare sight.
The new county rule will not apply to signs wrapped to a car or magnetized to it or attached to it inside a windshield, "providing the vehicle is properly situated in a single parking space during normal business/operating hours, and the driver and/or occupant(s) is conducting business and/or utilizing a service or amenity provided at an adjacent government facility."
That somewhat legally vulnerable provision places any enforcer in the position of having to either hunt down the vehicle owner or occupants and to judge whether he or she are involved in "conducting business" on the premises. But the ordinance does not seek to regulate the content or the message of the signs, applying the rule in a blanket manner to all signs, including commercial signs.
"Our goal always is to create a good environment to vote in," County Administrator Craig Coffey said at a workshop briefing the commission on the pending rules last week. "We just don't want people parking vehicles overnight on your property. Think about safety, think about terrorism, like the Oklahoma City bombing, it was a U-Haul truck parked full of explosives, you've got  courthouse you could park pretty close to. We always want to be monitoring those kinds of issues." (It was actually a Ryder truck.)
Ironically, the morning before the discussion about the new rules, anonymous campaign-style signs calling for the firing of Coffey began appearing, with the message: "County Administrator Craig Coffey MUST GO  Wake Up Commissioners Fix the FCSO Operations Center," a reference to the problems at the potentially sick sheriff's Operations Center in Bunnell. It's not known who is behind the signs though Dennis McDonald, one of the candidates in the county commission race—in the district represented by Greg Hansen—has made the operations center the centerpiece of his campaign.
Coffey alluded to the sign at the workshop. Coffey: "We get blanketed sometimes, we'll come in on a Monday, even there's a sign today—'fire Craig Coffey' or whatever, because of the Sheriff's building," Coffey told commissioners, "that was on our property, someone put it on our property overnight. But you'll get campaigns that'll blanket an area, or you'll get occasionally we used to have executions and they'd be protesting executions or something else, or we get commercial solicitations on our property occasionally."
Supervisor of Elections Kaiti Lenhart said voters have contacted her office to share experiences with candidates "impeding walkways, taking the handicapped parking spots" at the public library—often a zone of contention at election time—or seeing "the first couple of spots next to handicapped parking spots being taken first thing in the morning." Lenhart anticipates more parking problems at the Government Services Building, where even on a regular working day, outside of election season, most parking spots are filled. She recommended planning for additional parking spots for the elections office in future years.
And she reminded candidates that her office provides a guide for candidates and their volunteers to help them abide by rules and laws. (See the supervisor's guides for candidates here.)
"Most people try to go within the rules," Commissioner Dave Sullivan, who is not running for office this year, said. "But to me the biggest problem that occurs is one campaign fighting another campaign and that sometimes can get very hot. I've been exposed to that. I think the quicker you can enforce these rules the less of that will happen."
"I'm sure what we've got here won't be perfect but we'll continue to work on it. Our goal is to make it as perfect as possible," Coffey said.
Commissioners agreed to delay action on the proposal until July 16, giving the public a chance to digest what several of them had not even read before last Monday's workshop.
None of the proposed regulations apply to private property, where candidates may plant signs as long as they have the property owner's permission. In Palm Coast the parking of vehicles turned campaign billboards may run afoul of the city's ban on the parking of commercial vehicles in residential zones for any reason other than when that vehicle's operator is engaged in business at the property, though courts have made distinctions between political and commercial signage in residential areas, being more permissive toward campaign signs.
See the pending resolution below.

Election Signs Resolution (2018)