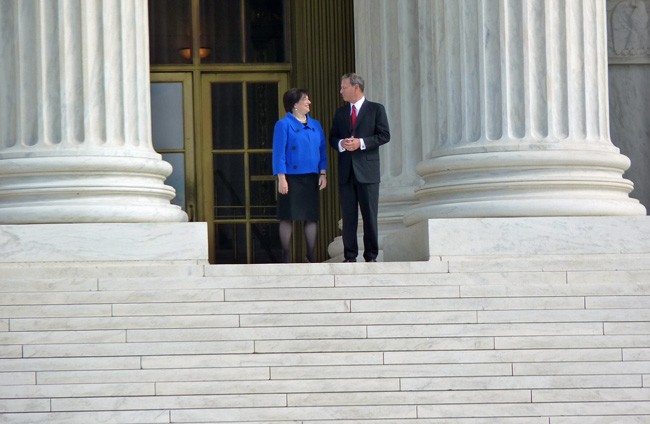 A ban on Florida judicial candidates personally raising campaign funds, which supporters said was a key element in reforming the state's court system after a series of scandals in the 1970s, was upheld Wednesday by the U.S. Supreme Court.
In a 5-4 ruling, justices found that the state's rule barring would-be judges from personally soliciting contributions did not violate the First Amendment's protection of free speech. In an unusual twist, Chief Justice John Roberts — often seen as among the most conservative members of the court — joined four more-liberal justices in upholding the restriction.
Roberts' majority opinion also seemed to diverge from a recent line of cases in which the high court has shown an increased willingness to strike down some limits on campaign contributions. The decision Wednesday hinged on the idea that judges personally asking for money could damage the perceived impartiality of the courts.
"Judges are not politicians, even when they come to the bench by way of the ballot," Roberts wrote. "And a state's decision to elect its judiciary does not compel it to treat judicial candidates like campaigners for political office. A state may assure its people that judges will apply the law without fear or favor — and without having personally asked anyone for money."
In a dissent, Justice Antonin Scalia said the case undercut the entire idea of elected judges.
"A court that sees impropriety in a candidate's request for any contributions to his election campaign does not much like judicial selection by the people," Scalia wrote. "One cannot have judicial elections without judicial campaigns, and judicial campaigns without funds for campaigning, and funds for campaigning without asking for them."
He added later: "The First Amendment is not abridged for the benefit of the Brotherhood of the Robe."
The Florida case centered on Lanell Williams-Yulee, who in 2009 sent out a mass mailing asking for campaign contributions during her bid for a Hillsborough County judgeship. The Florida Bar filed a complaint against Williams-Yulee, who was eventually disciplined by the Florida Supreme Court for breaking a judicial canon that bars court candidates from asking for contributions.
Lawyers for Williams-Yulee questioned why the state doesn't also bar solicitation of campaign contributions by legislative or executive-branch candidates and pointed out that other people can still raise money for judicial candidates. They also noted that candidates can find out the names of campaign donors from public reports and are free to write thank-you notes to contributors.
At the same time, the type of mailer sent by Williams-Yulee doesn't carry the same kind of dangers involved in a face-to-face appeal from a judicial candidate to a lawyer, the candidate argued.
Because of the high court's earlier rulings on fundraising — which have tended to treat limits on campaign spending, especially by outside groups, as limits on free speech — supporters of the rule were relieved by Wednesday's decision.
"With the trend of decisions from the U.S. Supreme Court with reference to election laws and election solicitations, with reference to money in elections, we were of course pleasantly surprised," said Harry Lee Anstead, a former chief justice of the Florida Supreme Court.
Barry Richard, a shareholder at Greenberg Traurig who defended the law for the Florida Bar, said he wasn't surprised by the court's ruling.
In addition to concerns about the appearance of impartiality, Richard said, not having the rule could lead to situations where some attorneys feel pressured to give money to judges.
"Just about every lawyer will tell you … that when a judge calls a lawyer directly and asks for something, it's very difficult to turn them down," he said.
National groups were also watching the case intently. Matthew Menendez, counsel at the Brennan Center for Justice at NYU School of Law, said a defeat for the Florida rule could have led to widespread changes.
"Had the Supreme Court struck down this very modest infringement on speech … it really would have threatened the entire edifice of judicial campaign regulation," he said.
–Brandon Larrabee, News Service of Florida