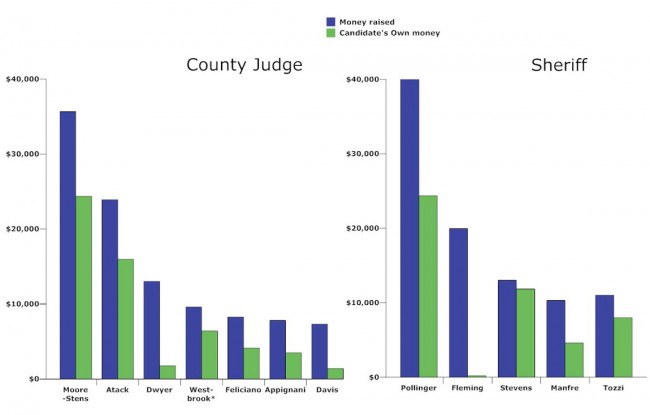 The seven candidates for Flagler County Judge and the five candidates running for Flagler County Sheriff have raised a combined $200,000 between them, not including in-kind contributions, which would add an additional $18,000 or so. Each race accounts for about $100,000, by far more than for any other local race, with one exception: In the race for the new Florida House seat, which includes all of Flagler, Travis Hutson, the St. Johns County-based Republican, who is unopposed in the Aug. 14 primary, raised $129,371, or 14 times more than Democrat Milissa Holland, and 26 times more than Doug Courtney, the other Democrat in the race.
But the races for sheriff and judge are disproportionately skewed by the candidates' own contributions to their campaigns, which is not necessarily a sign of strength–or a liability. In the race for Flagler County Circuit Judge two years ago, Joe Horrox outspent Dennis Craig almost 2-to1, raising close to $100,000, but more than three-quarters of that was his own. He lost to Craig–90 percent of whose campaign cash was his own.
Seven candidates are running for Flagler County Judge to fill the seat Sharon Atack is resigning at year's end. Two candidates have overwhelmed the money race: Melissa Moore-Stens, who raised almost $36,000, and Craig Atack, who raised just under $24,000, as of Aug. 9, the deadline for filing the last campaign finance reports before Tuesday's primary. But for Moore-Stens, 68 percent of the total was her own money. For Atack, it was 67 percent, the same proportion as fellow-candidate Scott Westbrook, though Westbroook raised far less ($9,606, including his in-kind contributions, which were virtually all to himself).
Marc Dwyer was third in most-money raised, with $13,000, and among the seven candidates, he contributed the smallest proportion from his own pocket–14 percent, relying instead on a long list of donors. Moore-Stens and Atack had long lists of donors, too. The rest of the field had smaller lists. Predictions are pointless, but the number of contributors to a campaign is the closest indication of broad-based support (or its absence).
Sharon Feliciano and Don Appignani each raised around $8,000, give or take a few hundred dollars. Half of Feliciano's money was her own. About 45 percent of Appignani's was his own. Just below them was Josh Davis, at $7,300, only 19 percent of it his own.
Another common denominator among judge candidates' campaign finance profile was their donors: a large proportion is made up of attorneys–local attorneys, most of whom will be appearing before the winner, as practicing lawyers. The Florida Bar prohibits a slew of practices by lawyers running for judge–what they may say, what they may do, how they may describe themselves as candidates. Because of First Amendment issues (the U.S. Supreme Court considers campaign contributions a form of protected political speech), the bar does not prohibit other lawyers from making contributions to prospective judges, despite the obvious potential for a conflict of interest.
All Flagler County voters are eligible to cast a ballot in the judge's race, regardless of party affiliation: it's a non-partisan race. But the race is unlikely to be over by 7 p.m. Tuesday. A candidate must win more than 50 percent of the vote to be the next judge. In a field of seven, that's very unlikely. Absent a 50 percent majority, the top two vote-getters will face each other in a run-off that will be decided in the general election in November. Look for money pots to swell further–and for local lawyers to place their bets by way of checks.
The race for Flagler County Sheriff is sloshing in money, too–almost half of it that of a single candidate: John Pollinger, one of the three Republicans in the race. Incumbent Don Fleming and Ray Stevens are the other. The undying rumor in the early weeks of the race was that Pollinger was a Fleming plant, placed there to split the vote between himself and Stevens so Fleming could coast to a third term (assuming he can defeat his Democratic opponent). The amount of money Pollinger has poured into the race makes the theory difficult to stomach, especially considering that $24,000 of the $46,000 in Pollinger's pot has been his own. That amount does not include the thousands of dollars he spent defending himself in a case briought against him by Stevens supporters, who wanted him booted from the Republican ballot (the complaint against Pollinger states that because he was still registered as a Democrat in New Jersey as recently as January, his three-year-old Republican registration in Florida was not enough to override Florida law's prohibition against a candidate belonging to another party within 365 days of announcing for a partisan position. Pollinger won the first round, but the case is on appeal to the 5th Circuit Court of Appeals.)
Fleming is next in line in money raised, at $20,000, with this significant difference: aside from $200 contributed by his wife, the entire amount Fleming raised was by outside contributors. He did not spend any of his own money, as Pollinger did. But he and Pollinger both have very long lists of contributors.
The contrast is stark with Stevens: he has few donors, and 82 percent of the $14,400 he raised was his own. Karl Tozzi, one of the two Democrats in the race, was a close second to Stevens in the proportion of money that came from his own pocket: 73 percent (out of $11,000). Tozzi's opponent, ex-Sheriff and Flagler Beach attorney Jim Manfre, raised $10,320, some 45 percent of it his own.
The race for Flagler County Clerk of Court was, surprisingly, the third-richest in campaign pots, even though it entails only two serious candidates: incumbent Gail Wadsworth and Ken Mazzie, both Republicans. (A third candidate is running as a wrote-in, but only to ensure that Democrats and Independents are robbed of their vote in this race, a great convenience for Wadsworth, who is relying on the harder-right Republican electorate, knowing that Mazzie's road is much harder without moderates and Democrats.) Wadsworth raised $26,000 to Mazzie's $11,700.
In the County Commission District 1 race, Republican Charlie Ericksen is challenging incumbent Republican Alan Peterson. Democrats and Independents are bared from voting in that election as well because of the presence of a write-in. Both candidates are more moderate than the more recent brand of insurgent Republicans, and their race has been relatively more understated than others, with Peterson outraising Ericksen by more than 2-to-1 ($6,900 to Ericksen's $2,900).
The District 2 commission race has been much noisier, with fellow-Republicans Frank Meeker (the Palm Coast City Council member) facing off against Republican newcomer Dennis McDonald, whose backers (mostly culled from the Ronald Reagan Republican Assemblies) despite Meeker's more establishment (and diminished) GOP brand: Assembly members have won a settlement in their case against the local Republican party, essentially winning entry to it in such large numbers that they'll be able to recast it in their image. Meeker, should he stay in the party, will be a minority in his own GOP. He's raised $14,390 in the brief time he's been in the race, thanks to big checks from builders and developers, and a $3,000 loan from himself.
Meeker has contributors. McDonald doesn't, aside from himself: virtually every penny of the $5,450 he poured into the race is his own. Whoever wins that race will then go on to the general election in November, facing Independent Abby Romaine, who;'s raised $5,000 so far ($3,000 of it her own).
There's a third county commission race–between incumbent George Hanns, a Democrat, and Republican Herb Whitaker–but that one won't be decided until November.
Four Republicans are also battling in the primary to be the challenger to Democrat and incumbent Kimberle Weeks in the race for supervisor of elections. The four Republicans–Trey Corbett, Kimble Medley, Pam Richardson and Allen Whetsell–have raised a combined $15,720 between themselves, still less than the $17,300 Weeks has raised so far, with almost three months to go for her contest.
Detailed campaign finance reports are available here.
Remeber: polls open at 7 a.m. Tuesday.