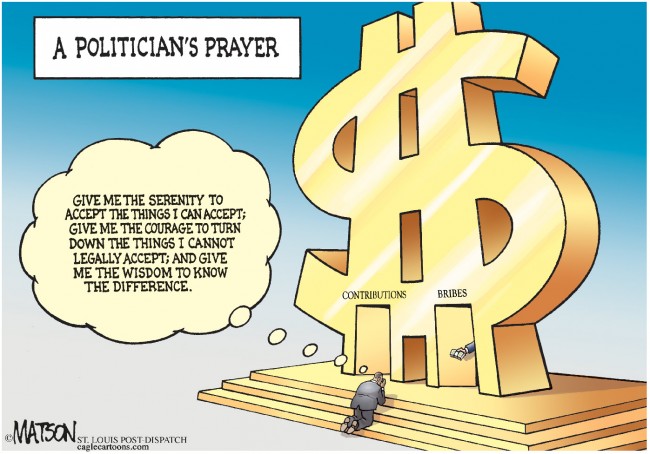 Another round of campaign finance reports came due this week. With less than seven weeks to go before the Nov. 6 general election, and less than five before early voting begins, some of Flagler County's candidates have campaign coffers more depleted than others.
The biggest contrasts are in four high-profile races.
First, the race for the Flagler County Commission's District 2 seat, being vacated by Milissa Holland, who's running for a House seat (see below). It features Republican Frank Meeker, the Palm Coast City Commissioner, against Abby Romaine, an independent candidate and radio broadcaster. Meeker raised $14,440 before the primary, Romaine raised $7,000. Both put in $3,000 of their own money into the race, as loans.
Most of Meeker's larger checks are from developers, engineers and real estate professionals. But the most striking thing about Meeker's contributions–unique among all Flagler-based candidates for local office–is that, once his own $3,000 loan to himself is taken into account, fully 77 percent of his contributors are from out of the county and out of the state, a strange source of support for a county commission seat. The last time that happened involved Bob Abbot, an incumbent Democrat whose campaign was almost entirely funded by ICI Homes and its affiliates, the Daytona Beach-based Mori Hosseini company with large spreads of lands and planned developments in Flagler County (and whose vice president, David Haas, was the county administrator before Craig Coffey).
The Hosseini checks are peppered through Meeker's reports, too, by way of differently named companies: Multilink Communications and Venture Development Realty are both companies registered in Hosseini's name, contributing $500 each.
The contrast with Romaine is striking: without exception, every one of her donors is from Palm Coast, Bunnell, Flagler Beach or Flagler County (including her own loan of $3,000). Meeker spent about half the $14,440 he raised before the primary, leaving him with $7,755 against Romaine's $2,761.
In the race for Flagler County Supervisor of Elections, Republican Trey Corbett closed the books on the report due Sept. 14 with a $148 deficit, after spending $6,302, the result of a bruising primary election fight he won by a small margin after a four-way race. His opponent, Kimberle Weeks, the Democratic incumbent, had no opposition. She's raised $17,300, and still had $9,431 of it on hand. The bulk of that money raised is her own: She loaned herself almost $16,000, and two other contributors–Sunny Barzelogna and Michelle Taylor, both of Bunnell–account for an additional $1,000 between them. In other words, the Weeks campaign is well funded, but it has very little individual contributors' support.
About a fifth of Corbett's contributions are from himself, his company or his ex-wife, but he still had a much larger number of individual contributors supporting his campaign–depleted as his coffers were by the middle of September. As a Republican Corbett still has the advantage of a registration split that now favors Republicans by some 1,200 voters in Flagler County, a turn-around that took place just this year: Democratic registrations led Republican as recently as last December. The switch is indicative of a more energized Republican base in Flagler County than its Democratic counterpart (a trend apparent across the country, though that enthusiasm has been dimming somewhat in the last few weeks).
The race for the Florida House, redrawn through redistricting to give Flagler County the dominant voice in that district for the first time in two generations, features Democrat Milissa Holland, the county commissioner, and Travis Hutson, a 28-year-old newcomer to politics. Hutson, benefiting from the support of the state Republican establishment, has out-raised Holland twelve-fold–$172,464 to $13,514. He still has close to $111,000 on hand, to Holland's $5,883. Holland has strong support where it counts–In Flagler County, which has more than 60 percent of the district's voters, and she's secured the support of notable Republicans (including Palm Coast Mayor Jon Netts, Bunnell Mayor Catherine Robinson and school board member Andy Dance). But she was snubbed by other local Republicans who, when she was just a commissioner, had called her a friend–and preached the importance of local representation–only to close political ranks in favor of Hutson. (Frank meeker, the Palm Coast City Council member and candidate for her seat on the commission, and Gail Wadsworth, the clerk of court and head of the Flagler County Republican Club, whose father was the last person to represent Flagler County from a Flagler County-based seat at the Legislature).
Notable donors to Holland's campaign include Netts, Barbara Revels (the chairman of the county commission, and a Democrat, who contributed through her real estate company), and the St. Johns Education Association's political action committee. Hutson draws support from numerous conservative PACs and business groups representing, for example, the cable industry, chiropractors, beer wholesalers, a horse racing association, Disney, and $25,000 from the Florida Republican Party.
The race for the congressional seat that includes all of Flagler is similarly lopsided, with Republican newcomer Ron DeSantis, a lawyer with the military and Holland & Knight, battling Democrat Heather Beaven, who runs a Flagler Beach-based, statewide non-profit for disadvantaged girls, and who's running for the second time. The last reporting period for congressional seats dates back to the end of July, before the primary, by which time DeSantis had raised almost half a million dollars to Beaven's $123,000. He had just over $205,000 on hand to Beaven's $30,000, but those numbers are very likely outdated as more contributions have come in since, and much more has been spent: both are advertising variably in the district.
In the Flagler County sheriff's race, incumbent Republican Don Fleming spent most of the $21,200 he raised to pull a surprise win in a three-way primary, leaving him with $4,300. He's facing Democrat Jim Manfre in a rematch of their race four years ago, which Fleming won by a small margin. Manfre was the sheriff for a term until eight years ago. He spent most of the $10,300 he raised, leaving him with $1,116.
The Flagler County Judge race had featured seven candidates in the primary. The two top vote-getters were the two who raised and spent the most money by far: Craig Atack and Melissa Moore-Stens, who raised $68,000 between the two of them, much of it their own. Going into the general election Moore-Stens has a $9,360 to $2,572 advantage, but candidates have learned by now that money alone doesn't decide the races: John Pollinger (in the race for sheriff) Alan Peterson (an incumbent, for county commission) and Bill Corkran (school board) all out-raised and out-spent their opponents in the primary, and lost. Charlie Ericksen, the winning candidate against Peterson, had raised less than half Peterson's $6,900.
At least one more seat will turn over on the commission in the contest between Meeker and Romaine.
The race for the County Commission District 5 seat has been the least eventful, money-wise, with incumbent Democrat George Hanns, the longest-serving elected official in Flagler County this side of the 20th century, and Republican challenger Herb Whitaker combining for $6,000 between them. Hanns had about $700 left, Whitaker $1,100.
A detailed chart is below.

Campaign Finance: Flagler County's Races as of September 14, 2012
Candidates

Total Monetary Contributions

Total Monetary Expenses

On Hand

Flagler County Sheriff
Don Fleming (I, R)

$21,195

$16,898

$4,297

Jim Manfre (D)

$10,319

$9,203

$1,116

Supervisor of Elections
Trey Corbett (R)

$6,154

$6,302

$-148

Kimberle Weeks (I, D)

$17,300

$7,869

$9,413

Flagler County Judge
Craig Atack

$29,986

$27,414

$2,572

Melissa Moore-Stens

$37,131

$27,771

$9,360

County Commission, District 2
Frank Meeker (R)

$14,440

$6,685

$7,755

Abby Romaine (Independent)

$6,910

$4,151

$2,761

County Commission, District 5
George Hanns (I, D)

$3,600

$2,884

$716

Herb Whitaker (R)

$2,552

$1,459

$1,093

Florida House, District 24
Milissa Holland (D)

$13,514

$7,631

$5,883

Travis Hutson (R)

$172,464

$61,877

$110,587

U.S. Congress, District 6*
Ron DeSantis

$481,375

$276,286

$205,089

Heather Beaven

$122,937

$93,089

$29,848
Sources: Flagler County Supervisor of Elections, Florida Division of Elections, Federal Elections Commission.
(*) As of July 25.
Note: Tallies include monetary, not in-kind, contributions and expenditures.