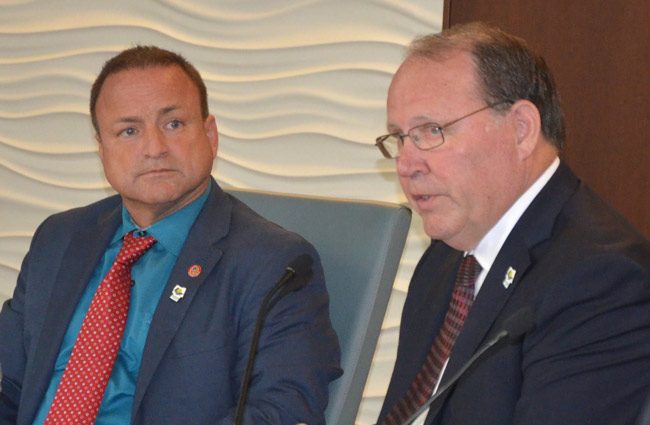 There's never been a Flagler County Commission election like this.
Two candidates–incumbent Greg Hansen and newcomer Joe Mullins–have not only vastly outspent their four opponents in the primary and general election this year. The nearly $200,000 they have spent so far, with thousands more to be tallied in post-election reports, puts them on pace to match or outspend all 26 other county commission candidates in the past three years combined.
Hansen so far has raised $76,438 and spent almost all of it. Mullins so far has raised $154,400 and spent $119,000, according to their latest campaign finance reports, as filed with the Flagler County Supervisor of Elections.
Their four opponents combined have spent just over $46,000. Two-term commissioner Nate McLaughlin raised and spent just $21,700 in his failed bid to hold on to the seat in the Republican primary against Mullins. Jane Gentile Yound, running as an independent, has spent $12,800 so far. In Hansen's district, Abby Romaine spent just under $10,000 in her failed primary bid. Dennis McDonald, running as an independent, has so far spent just $2,200.
One other characteristic stands out sharply in both Mullins's and Hansen's financial reports: In contrast with most serious candidates who have run for the county commission in the past three years, the mass of dollars they have raised and spent is overwhelmingly their own. They are getting relatively few individual contributions (with Hansen well ahead of Mullins in that regard), and many of those are from out of the county.
Mullins is a Flagler County candidate in name only. Based in Augusta, Ga., he's been claiming on his business card that his Joe Mullins Companies has a "Florida office" at a home he bought on North Pine Street in Bunnell. As with many claims Mullins has made, that's not accurate: "At this time, the City does not have a business tax receipt issued to Joe Mullins for a business located within the City limits nor for doing business within the City of Bunnell," Bunnell's city clerk said today, as she had in September.
Mullins has listed just 78 individual contributions. Almost a quarter of those are from himself, his company or his wife, totaling $129,700, or 84 percent of the treasure chest.
Among the rest, 14 are from out of state (most of those from Georgia), 18 are from out of the county but within Florida, and just 15 are from Flagler County.
Seven of his out-of-county contributions, totaling $2,400, are from Daytona Beverages Inc. He got a $500 contribution from Mori Hosseini's ICI Homes, which often has development business before the county commission, a $1,000 contribution from Mike Goodman, owner of Captain's BBQ at Bing's Landing, which has business before the commission soon after the election (the county is planning to subsidize a huge renovation of the business), and $500 from John Walsh, the Palm Coast Observer publisher who'd come to feel toward McLaughlin as Ahab did toward Moby Dick whale despite his newspapers' revelations of Mullins's scabrous past and fact-challenged interpretations of events, also documented here. Numerous additional individual contributions to Mullins are from developers or real estate brokers.
There is somewhat more variety in Hansen's campaign-finance reports, and only 45 percent of the $76,400 haul so far is self-funded. Hansen drew on a total of 139 contributions, only two of which are his own. Nine of the contributors are from out of state, a few are from out of the county (most in Volusia). The large majority of contributions are from Palm Coast and the rest of Flagler Beach, and most of those in increments of $75 to $500.
But his single-largest contributor is Hosseini's ICI Homes, which under its name and that of seven other companies he controls (Venture Development, CC North Central, Prestwick at Plantation Bay and so on), contributed $9,000 at last count. Jay Livingston, the attorney who represents developers, contributed $1,000, as did an Orlando-based realtors' group.
There is a direct relationship between the sort of contributions candidates accept and the sort of votes they take as commissioners. Hansen also accepted $2,000 from Goodman and another $1,000 from Goodman partner Chris Herrera–and this morning voted to appoint Goodman to the planning board, without mentioning the contributions.
McLaughlin, who received $1,500 from Goodman and Herrera, also voted to appoint Goodman and also did not mention Goodman's contribution.
Hansen's largest out-of-state contributions are $1,000 from the Alamo political action committee in Texas, and $1,000 from Joseph Greene in Virginia Beach.
Hansen and Mullins for weeks have projected the assumption that they'll be victorious, and history and the size of their primary wins suggests they're right: no independent has ever won a county commission (or a constitutional officer's) seat in Flagler. On Monday morning, Mullins emailed to local media and others an "Election Night celebration" invitation at European Village for himself, Hansen and House Rep. Paul Renner, an event paid by all three. "Join us as we begin a new direction for Flagler County!" the invitation reads. Asked if he wasn't getting ahead of himself, Mullins wrote "It's a win lose or draw" event. "We want the community rallying together," he wrote in an email, "although I feel pretty confident with my work in my race."
Comparing the Mullins-Hansen reports with other local races, the school board's five candidates for two races have spent a combined $31,000. Melissa Moore-Stens, the county judge, raised $63,000 for her re-election this year, but ended up running unopposed.
Regional races for state House, the state Senate and the congressional seat always draw much larger contributions: Nancy Soderberg, the Democratic candidate for the 6th Congressional District, which includes all of Flagler, raised $2.8 million so far, compared to GOP candidate Michael Waltz's $1.7 million. In 2016, Ron DeSantis raised $4.7 million even though he was facing little opposition, but he was preparing his run for governor, when he could shift his congressional haul over to that race.
In the Flagler-related only legislative race on the ballot this year, the GOP's Paul Renner, the House member, raised nearly $300,000 at last report, compared to the Democrats' Adam Morley's $23,400.
The Mullins-Hansen spending sprees are the largest for all local government offices and certainly for the county commission, the school board and municipal seats. There was one exception, for a constitutional office: the 2016 race for Flagler County Sheriff, when Rick Staly raised $188,000 and spent all but $3,500 of it. Staly had contributed $57,500 of his own, with the rest coming from some 385 individual contributions, most of them local–and including $1,500 from Mullins.