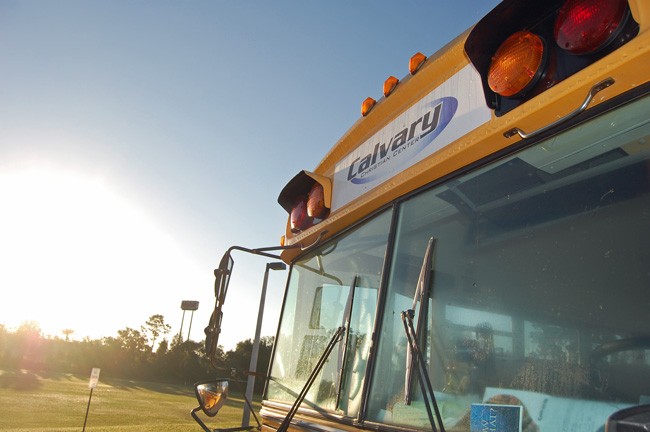 A 13-year-old girl at Calvary Christian Academy in Ormond Beach was arrested Wednesday after posting threats to "kill everyone at CCA" on Instagram, her arrest report states.
The girl, a Holly Hill resident, was charged with cyber-stalking, making written threats to kill or injure others, making a false report to law enforcement, and disrupting an educational institution. Calvary Christian is a private sectarian school with a K-12 enrollment of about 300, with some 60 to 70 students from Flagler County. Many parents on Wednesday pulled their children out of school when reports of the case began to spread, out of fear.
The girl had reportedly been cyber-bullied herself, but the arrest report notes that her written statement to police included false statements that "she was receiving threatening messages," and that she had not been at the source of the threatening messages herself.
Aaron Gonzalez, the school's principal, alerted police about the threats on Instagram when he was made aware of the postings. He told police that two days before the posts were discovered, an Instagram titled "CCAFINEST" was created, with "positive pictures and comments." The comments did not include the suspect. The following day, another account was created, titled "CCAUGLIEST."
The same Instagram account then had the following posting: "I wanna kill everyone at CCA I promise I do and I will first ppl will be–" the rest is redacted. Additional posts called other students names, including "how, ugly, gay, bitch, dumbass, niggas," according to the arrest report, "and poking fun at their features and characteristics." Gonzalez turned over 16 pages of such postings.
Ormond Beach police responded to the school in early afternoon Wednesday, speaking to the suspect and her mother. The student denied being involved in the matter, terming herself a victim as she had been receiving threatening messages.
An emergency subpoena was sent to Instagram and Facebook requesting information on the "CCAUGLIEST" account, the police report notes. The company provided police with an IP address. The State Attorney's office revealed that Brighthouse carried the IP address, and supplied the physical address and phone number of the IP address' location–in apartments on Charleston House Way in Holly Hill.
When the suspect was confronted by police at her home there, she at first began to speak with police, but her mother then revoked her right to be interviewed–only to then, as detectives were leaving, ask them to return and "re-engage," according to the police report. She was told to report to the Ormond Beach Police Department if she wished for the interview to resume, which she did.
There, the student "admitted that she used her cell phone to send postings and threats on the Instagram page," her arrest report states. "She stated she did not do it alone at other times, but last night she was alone." She said she started the Instagram thread in response to other people's messages, and conceded that "it was a stupid thing to do."