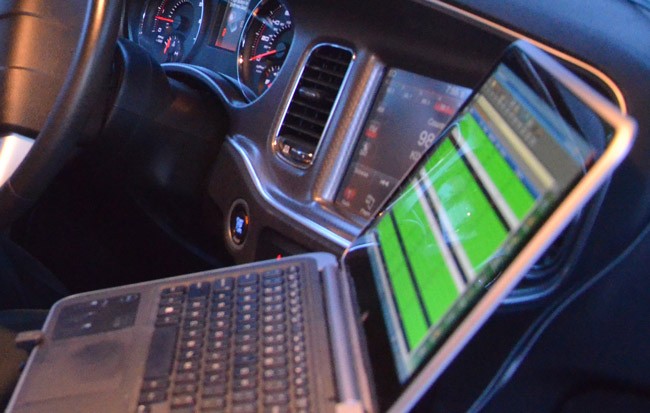 The computer-assisted dispatching system used by the Flagler County Sheriff's Office dispatch center and deputies in the field was operational again this afternoon after being down most of the morning, and down for about 24 hours over the weekend. Deputies use CAD to coordinate operations in real time, allow each other, including supervisors, to know their whereabouts–a safety issue–while also enabling deputies to provide brief narratives of ongoing incidents.
The CAD system went offline on Oct. 29 and had been only fitfully operational since after what one high-ranking official described as a "catastrophic failure" in the sheriff's computer system, and which a sheriff's spokesman described as nothing of the sort, since the system as a whole never crashed. But significant portions of the system did crash, including the server that stored nearly two years' worth of data such as warrants, jail data and reports. Some of that data may now be lost: officials have been working to recover it, but they don't yet know whether it can be partially or fully recovered, and they have acknowledged that a loss is possible.
While CAD has been restored, some third-party interfaces with CADS remain offline, including connections from the field to law enforcement databases deputies use to run background checks. The databases are still accessible by radio, which is how deputies used to communicate before the advent of CAD in deputies' vehicles.
The news release this afternoon, issued by the county administration–the dispatching system is operated by the sheriff's office but funded by the county, and is part of the county's emergency operations–noted that dispatching emergency calls was never adversely affected. That's correct, strictly speaking: deputies were able to respond to all calls. But deputies' ability to coordinate among each other, and to communicate effectively with other first responders, who also rely on CAD, was affected.
Flagler County Innovative Technology employees–the name given to the county's information technology department–are working with the New World Systems (NWS), the integrated public safety software vendor, and Microsoft to recover files from the failed server.
"A portion of the virtual hard drive was damaged," the news release specifies. "Files may or may not be able to be recovered."
"Microsoft is currently working several avenues to retrieve the files," said Jarrod Shupe, Innovative Technology Director. "It is going to take some time before we know if some or all of these files can be recovered." Affected files include mug shots, some scanned documents and warrants. Original warrants are on file with the Clerk of Courts.
Further complicating mug shot availability is that the Flagler County Sheriff's Office website produces only the most current mug shot online, copying over older mug shots. So if an inmate was jailed before February 2014, and not since, that inmate's image is still available. But if that inmate had been jailed since 2014, no booking images from any of that inmate's bookings dating back several years are available. Volusia County's online mug shot system produces a different picture for every arrest, keeping all the mug shots of the same individual.
The failure in Flagler also revealed that the sheriff's office had not been backing up its data to an offsite facility since February 2014, as government agencies and businesses now routinely do. That sort of off-site backups is in the works, Shupe said last week, as Flagler County is the process of overhauling the entire New World Public Safety Software, which includes the CAD component – software, hardware and network engineering. That contract with New World was approved by the county commission in January, but had barely been implemented.
"We are building a whole new server infrastructure," Shupe said. "This is all about disaster recovery business continuity planning."