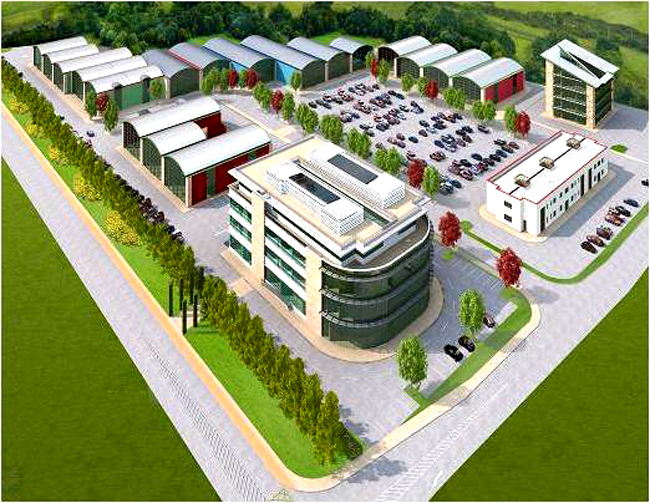 Palm Coast's government is trying hard—very hard—to get economic activity grinding back to more normal levels. If some of the initiatives look like linguini-throwing at a wall, they nevertheless reflect a sustained attempt to keep ideas flowing.
On Tuesday, the city administration added one more idea to the mix: sending out invitations to interested land owners or developers who'd join in a potentially costly and risky partnership with the city to build a business park. The park would provide the sort of location where a sizable business could move in short order, making Palm Coast a desirable location for businesses looking to relocate or start up in buildings ranging in size from 50,000 square feet to 10 times that.
The lack of construction-ready land (or buildings) for just such a development is a recurring lament among local politicians and business leaders eager for economic development. "Construction ready"–what developer lingo refers to as "shovel-ready"–would mean that a prospective tenant could pull a building permit and start construction within 30 days.
"The City anticipates investing significant resources to develop 'shovel ready' sites in Palm Coast in partnership with private property owners," a draft proposal reads. "Anticipated investment includes assistance in state and regional permitting, contracting with local professional staff (architects, engineers, environmental consultants, etc.), ad valorem property tax rebates, and waiving site plan/permitting fees. In exchange, the City anticipates that private property owners will share in the costs of the investment, cooperate in the marketing of their property to major employers, agree to a reasonable resale price, and repay portions of the City's investment at a later date."
Harder dollar figures were not mentioned when Beau Falgout, who heads the city's economic development operation, presented the plan to the city council this morning. "The City's investment will need to be secured through an acceptable instrument, such as a mortgage or lien on real property," the draft proposal continued. "The amount of repayment and timing of repayment will depend on a variety of factors (i.e. number/type of jobs created, amount of capital investment, type and wage of jobs, etc.) to be determined during negotiations with selected responses."
The proposal is a hybrid of a few recent ideas, some of which Palm Coast had decidedly opposed.
Enterprise Flagler, the public-private economic development partnership mostly funded by Palm Coast and the county government, attempted last year to build support for a property tax that would underwrite the cost of one or more "spec" buildings that the county would build as bait for new businesses. The initiative failed dismally, as opposition built faster than Enterprise Flagler could battle it: Taxpayers were not convinced that they should build commercial properties on the mere hope that the county could fill them, particularly considering the county's poor record of doing so with buildings it owns.
Another reason the initiative failed is because of Palm Coast's absent support. The city was not interested in supporting an initiative that would yield most of the presumed benefits to a county-controlled operation. Both Palm Coast and the county want to develop a business park, albeit each on its own turf. Aside from the difficulty and risk of paying for such a park's development, the political competition is one of the factors retarding agreement on a county-wide strategy. A slew of recent, long-winded, county-wide economic development summits have not broken the political, financial or strategic stalemate.
Into that mix comes Palm Coast's latest economic-development initiative, which Falgout described as an attempt to limit public exposure in a venture that would still have the city making substantial monetary investments. "How do we bridge the gap between having more-ready properties available for these prospects without going to the extent of a spec building," Falgout asked, "because we know the investment is significant and the risk is also significant for the public side if that building ever gets occupied."
In May, the city would invite property owners and developers to send in letters of intent that would describe their property, outline the property's permit history and describe what it would take to make it construction-ready. The city would then evaluate the responses—assuming it receives enough of them to make the work viable—and evaluate what it calls its "degree of ownership" in the project. "After the ranking is completed, the city will negotiate an agreement with the top ranked respondent," the draft proposal reads, or the next respondent if those talks fail, "until an agreement is reached. If budgetary authority allows, the City may negotiate agreements with multiple respondents."
"Very little investment at this point until we know we've got the property owners interested," City Manager Jim Landon said.
The council appeared interested. But there was a curious moment, indicative of the city administration's broad assumptions of authority, between Mayor Jon Netts and Landon, when Landon proposed sending out the request for letters of intent without city council approval.
"Are you going to bring that to council Tuesday and then get our authorization to send out such letters?" Netts asked the manager.
Landon: "We don't need city council's authorization to send out such letters. What we'll need is your blessing of any contract we have with them before we actually spend any resources on this."
Netts: "Well, I think it'd be worthwhile to having council at least give their imprimatur to this. I would prefer that you bring it to council and say, are you prepared for us to do—because if council doesn't like the idea at all, then it is misleading to send out letters of request."
"And Mr. Mayor," council member Holsey Moorman said, in a rare contribution to council discussions, "also if you do it at council meeting you give the public the opportunity to speak on the issue."
Landon: "More than happy to do that. It's not required, but if you'd like to do that, let's—"
"Yup," Netts said.
When city council member Frank Meeker asked Mark Langello, a Bunnell developer, to chime in on the initiative, Langello was guarded. "The city would have to flush out the real money that you'd put into it," he said. "Just putting money into something at this point is still very risky."
The council could not take action on the matter on Tuesday because its meeting was a workshop, where no votes are taken. By opening the initiative to public input and the council's "imprimatur" at next Tuesday's council meeting, Netts, whose term is up this year (he has not officially declared his candidacy for reelection) may have been giving room to the politically unsettled question of government involvement in speculative business ventures.
The "business park partnership program" is the latest in a string of city initiatives aiming for economic development. A few months ago the city spent somewhere between $10,000 and $20,000 to mail postcard invitations to absentee property owners to give Palm Coast a new look. Based on an informal survey, the city found out by late March that 52 of the 10,000 recipients (a 0.5 percent rate of return) intended to move to Palm Coast sometime in the next 10 years.
There was Meeker's odd idea of creating a business-hunting posse, offering $1,000 rewards, per job, to people who can prove that they've relocated jobs to Palm Coast. The posse has not left the stable. There was, and may still be, City Manager Jim Landon's idea of building a $10 million city hall in Town Center as one way to stimulate the local economy, and create a new hub of activity in what remains a mostly beleaguered sprawl of vacant land. In March, the council approved starting a business assistance center with Daytona State College and SCORE, the small-business counseling firm, at a potential cost to the city of $50,000.