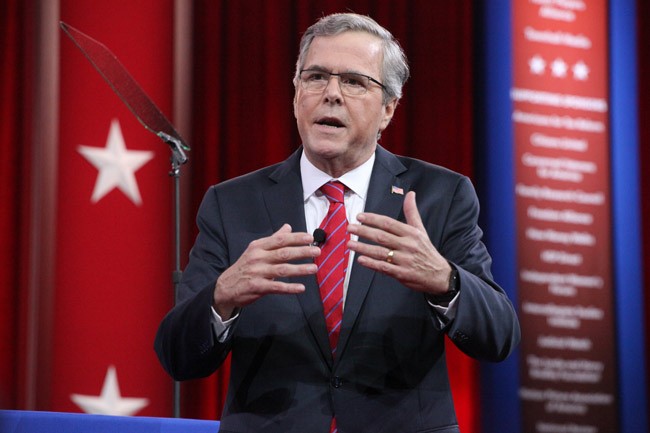 Trailing in the presidential polls and overshadowed by his onetime protege, former Florida Gov. Jeb Bush hit the campaign-reset button Monday in his home state.
Bush debuted the "Jeb Can Fix It" tour at the Tampa Garden Club, nestled on Bayshore Boulevard amid mansions that are home to some of his most affluent supporters in the area, before making stops in Winter Park and Jacksonville later in the day.
Aided by twin teleprompters, Bush spoke to a friendly crowd of about 400 supporters in Tampa, rarely deviating from a 20-minute speech that focused on his eight-year tenure as Florida governor.
Acknowledging criticism that the policy-oriented Bush had given his advisers too much control over a campaign that has failed to gain traction on the national level, Bush noted that he has received "more than enough" advice lately, including some related to his style.
"Take off the suit coat. Ditch the glasses. Get rid of the purple striped tie," Bush said, flapping his tie. "I like this tie. It only cost 20 bucks."
But even that moment of apparent candor was highly scripted — only the price of the tie wasn't included in his prepared remarks.
Bush went on to share some other suggestions that he indicated he also intends to ignore.
"Some advice is more strategic. Nail that zinger. Be angrier. Hide your inner wonk," he said. "But I have learned two important things from my time serving the people of Florida. One, I can't be someone I'm not. And, two, getting things done isn't about yelling into a camera, or regurgitating sound bites free of substance."
Later in the day, Bush told reporters that the three-city Florida tour was "the start of our journey," four months after he officially entered the presidential race.
Bush's "Jeb Can Fix It" tour coincides with the release of an e-book, "Reply All," which includes some of the thousands of emails Bush sent and received while governor from 1999 to 2007.
While widely viewed, even by Bush, as a campaign restart, the Florida tour had been planned long before last week's third Republican primary debate, which many supporters viewed as a disappointment. Critics complained that Bush came out the loser in an attack on U.S. Sen. Marco Rubio, a former Florida House speaker whom Bush helped groom.
In his speech Monday, Bush said he is eschewing the negative stance some of his opponents have adopted and is instead embracing a more positive message.
"I will not make anyone feel small so I can feel big," he said.
Bush supporters said his performance Monday was indicative of the leader they knew and what voters can expect to see from the former governor as he stumps later in the week.
"Jeb is going to be Jeb. He's not angry. He's a guy who's strong. There's a difference in anger and strength," Sally Bradshaw, one of Bush's closest advisers, told The News Service of Florida after the Tampa event. "His message today is that he will fight for change, but he will do it on his terms, where he brings people together. He doesn't tear them down. He doesn't divide them. He doesn't make them feel small. This was quintessential Jeb Bush. And you'll see a lot more of that on the trail."
Later, Bush told the News Service that he is "rarin' to go" and downplayed the retooling of his campaign.
"The message is the same message. Maybe people will listen to it differently," he said.
Asked whether the candidate appearing onstage Monday morning is the "authentic Jeb," Bush smiled.
"I hope so. I spoke from my heart up there. It's what I believe," he said.
Bush and his backers are quick to point out that, at this time in the 2012 election cycle, Herman Cain was GOP voters' top pick.
"I have not hit the alarm button," said Hillsborough County Commissioner Al Higginbotham, a longtime Bush supporter and former county GOP chairman. "It's a crowded field, and I'm confident he has the staying power."
But Rubio supporters in Florida maintain that Bush is out of touch with a more youthful electorate and that his family name is a disadvantage that can't be overcome.
"The Republican base does not want to see another legacy candidate. It's a huge problem. He can do everything flawlessly and be the Jeb I know and love, and he's still got to deal with the fact of his last name. The electorate doesn't want that," said Bill Helmich, a Tallahassee lobbyist and Rubio backer.
Attorney General Pam Bondi, U.S. Rep. David Jolly and Florida House Appropriations Chairman Richard Corcoran, who served as Rubio's chief as staff in the Legislature, were among the elected officials who accompanied Bush onstage.
Corcoran, who is slated to become House speaker next year, shrugged off the significance of his endorsement of Bush over his former boss.
"It has nothing to do with anybody else in the race," Corcoran, R-Land O'Lakes, told reporters before Bush's speech. "What people care about is an inspirational vision and the courage to see it through. Nobody dominated the political sphere like Jeb did when he was governor."
–Dara Kam, News Service of Florida