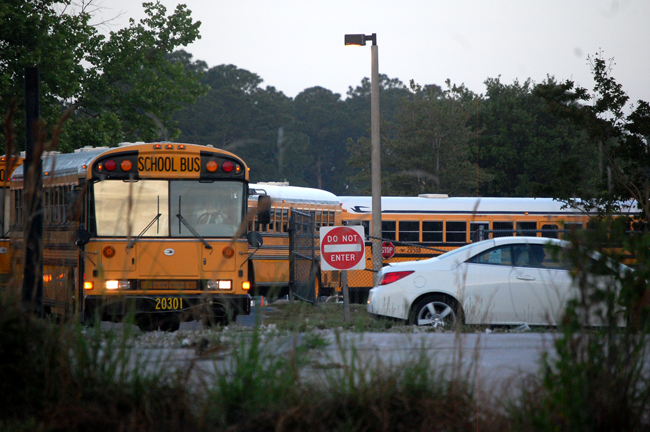 Steve Weaver's son is a high-performing, honor-roll 11th grader at Flagler Palm Coast High School, with a weighted GPA of 4.5, and with a knack  for doing the right thing, according to his father. "I don't know how I was blessed to have a kid as good as him," Weaver says. For that reason, Weaver has allowed his son to ride a motorcycle to school.
Last Thursday—the day before the beginning of Easter break—the 11th grader was making his way to school at about 7:15 in the morning, as he usually did, riding his motorcycle on State Road 100, and making a right turn onto Bulldog Drive. Weaver said his son had permission to park his motorcycle in shade toward the back of the school, so he was used to entering campus from the driveway behind the Youth Center. When he made the right turn onto Bulldog, however, and started riding up that street, a school bus coming out of Transportation Way, the driveway through which most school traffic exits during the school day, almost "blew by him," Weaver said, without stopping.
There's a stop sign at Transportation Way. Weaver wasn't there. But going on his son's account, he describes the moment as a near collision, with his son and the bus coming to an immediate, sudden stop and the two drivers staring at each other briefly, before resuming their ways. "I know what type of damage a bus will do to a vehicle," he says: he managed a 28-truck wrecker company for 20 years, and has picked up his share of smashed up motorbikes. (Weaver is now media director at Palm Coast's First United Methodist Church.) What concerned him in this case is that the bus did not, according to his son, stop at the stop sign—a legal infraction, and of course a safety hazard.
Weaver says buses routinely blow that stop sign in the morning as they leave around 7:15 for their second morning run, to pick up elementary school students, after dropping off the high school students.
He's right.
---
Buses on Bulldog Drive

[media id=197 width=450 height=400]
The fleet was filmed leaving the high school through the intersection in question Tuesday morning. (See the video to the right.) Dozens of buses made their way out. Many did stop, particularly since traffic on Bulldog Drive was brisk, and the light at Bulldog and SR100 backed up buses, compelling them to stop. But several buses did not stop at all, and several did a "rolling stop," never actually coming to a full stop at the stop sign. That's not only illegal. It runs against the school transportation department's safety policies and orders to drivers.
The issue raises a serious question of safety and drivers' habits at one of the busiest morning bus-traffic intersections in the county. Earlier this year a bus was involved in a collision with a motorcycle at a different location, in an incident also involving a stop sign and a bus allegedly pulling out in front of a rider. Injuries were minor. That incident is still under investigation, Preece said, but the bus was proven to have come to a full stop at the sign, according to the district's transportation director.
"We consistently remind drivers, they must come to a complete stop unless directed otherwise," says Bruce Preece, the transportation director. The exception is when there is a police officer or another designated traffic controller directing bus traffic and overriding either the stop sign or a traffic light, as an officer does when buses are leaving school in the afternoon. "But that's the only exception," Preece said, "and we've had to remind drivers they have to make that stop. Not only it's the law, it's a safety issue."
Preece was aware of the incident last Thursday. "We're actively looking at that stop," he said, through monitoring and other means.
Buses have GPS devices on them that not only can track their whereabouts or help them find addresses, but that also serve as verification devices when issues arise. Whether a bus actually stops at a stop sign or not can be verified on a GPS device (as was the case with that bus incident earlier this year). It's not routinely done, but it is done when there's an incident, when parents raise questions of safety in particular areas or regarding specific buses, or when the transportation department runs spot checks on drivers' safety habits.
No one bus was singled out in last week's encounter with the 11th grader on his motorcycle, though as the video shows, several buses are blowing through the stop sign. When Weaver alerted Jan Pannullo, the safety specialist at the transportation department, of the matter, Pannullo issued a memo to all drivers reminding them of their responsibilities.
"Please treat this like any other intersection," Pannullo's April 25 memo reads. "When leaving the compound, there is a stop sign on Transportation Way at Bulldog Drive. You must come to a complete stop. One of the citizens that called is considering asking for police patrols. If they observe a vehicle rolling through stop sign, you will receive a ticket." (See the full memo.)
Preece says safety is paramount in the district, with rare incidents in a system that runs 96 buses, transports 10,500 students daily, stops at 1,300 bus stops and logs 1.6 million miles annually. "We're very fortunate," Preece said. "We generally have very good drivers, very safe drivers."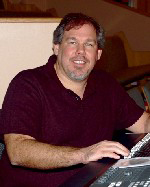 Weaver had less satisfaction from Flagler Palm Coast High School when he raised the issue with Travis Lee, an assistant principal who's in charge of transportation there. "He immediately turned this into—this is your son's fault," Weaver said. "It would have been much better to hear, 'I'll go talk to them,'" meaning the bus drivers, "than turn it around and put it on my son." According to Weaver, Lee said the 11th grader wasn't supposed to be going that way anyway, since he wasn't supposed to be parking in back of the school. Aside from getting permission to do so, the student had been parking there because motorcycles get extremely hot under the sun when parked in the open.
Lee disputes Weaver's characterization of their conversation. "I never implied to him or told him that it was his son's fault at any time," Lee said. "Actually in talking to him, I told him I agree with you—they should stop at that stop sign." Lee did tell Weaver that his son's parking of the motorcycle in back of the school was neither safe nor desirable, since it would entail operating the bike against foot traffic in parts–with sometimes groggy students in the morning, not entirely aware of their surroundings. "That's just not a safe situation," Lee said.
Where the 11th grade was parking is irrelevant so far as the buses and the stop sign are concerned: the student was riding down Bulldog Drive, as might any other motorcyclist—or any other vehicle, for that matter, with the right of way. The matter in question is not where the student was eventually going to park, but whether bus drivers were following the law and respecting the stop sign. Lee agrees: "That road is a public road, it doesn't matter if it's a student, teacher, parent, they should have yielded," he said.
As for Weaver's son, even he got in trouble: he did not report the incident to his parents until evening, so his father, who is strict with his son, took away the motorcycle. What was to be a temporary penalty has turned, for now, into a permanent one. The 11th grader, who loved riding the bike to school, and had been able to do so as a reward for his good work at school, will not be doing so until the end of the year. He's riding the bus. "It's a shame his reward is now turning into his cross to bear," his father says.
On Thursday morning, the 11th grader was filming the buses from campus, near the Youth Center. He told his father that he noticed all buses respecting the stop sign. But one bus driver, Eugene McGinnis, called him over and, according to Weaver, told him he was not supposed to be where he was, threatened him with a referral, and gave him his card. Preece told Weaver that the student could get suspended for filming on campus. Lee confirmed that the encounter took place, but said there was no issue with the student filming buses.
If an attempt at intimidation was in play, it worked: Weaver said he would not let his son continue filming.