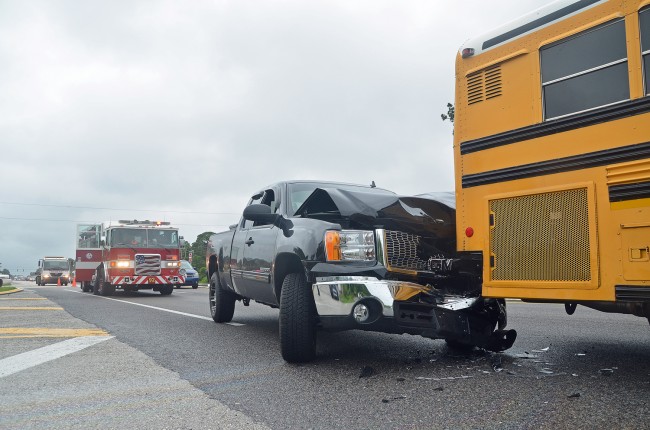 A GMC Sierra pick-up truck rear-ended a Flagler County school bus at 5 p.m. today (May 2) in the eastbound lanes of State Road 100, next to the BP gas station, right before the intersection with I-95, shutting down the outside lane.
The young driver of the pick-up truck was slightly injured–he was cut on the arm and treated at the scene by Flagler ounty Fire Rescue paramedics, but was otherwise fine and walking around at the scene.
An 18-year-old girl was aboard the school bus which had just left the campus of Flagler Palm Coast High School on an after=school run. The girl was not injured, said Transportation Director Bruce Preece, who was at the scene. Nor was bus driver Joel Williams, who has been driving buses for the district for four to five years. Preece said the bus was stopped with traffic backed up to that point when the pick-up truck ran into it, possibly because the driver–17-year-old Tristan Rende–was distracted.
Rende declined to talk with a reporter, but his father, Stephen Rende, Friday morning said it was not an issue of distraction. Tristan, his father said, was driving up to the school bus and attempted to merge in the left lane, but was cut off by another vehicle, forcing him to quickly turn back to the inside lane, behind the bus. The roads were slipper–it had been raining–and the pick-up truck could not stop in time.
The collision was violent enough to crumple the left-front of the pick-up truck and cause the driver's side airbag to deploy. The bus appeared to have little damage as its bumper absorbed the majority of the impact. According to the Florida Highway Patrol, Rende was cited for careless driving.
The bus involved was Number 20407, also known as the Jellyfish bus.
It is the second wreck involving a school vehicle this week. On Tuesday, a district fuel truck was rammed–in a similar situation as the wreck on SR 100–as the fuel truck sat in a northbound lane of Belle Terre Parkway, at Whiteview Parkway. The vehicle that rammed the fuel truck was virtually totaled, Preece said, but there were no injuries. In February, it was a school bus that rear-ended a van, on Belle Terre as it was carrying 27 students. The previous month a bus was involved in a minor wreck on Colechester lane. And on April 10, two children were hurt at a bus stop when an SUV pulling a trailer knocked them over.
Keep in mind: the district runs some 96 buses, transports 10,500 students daily, stops at 1,300 bus stops and logs 1.6 million miles annually, making the occasional wreck statistically unavoidable.
Clearing the wreck on SR 100 Thursday afternoon was delayed as the investigation was awaiting the arrival of a Florida Highway Patrol trooper.