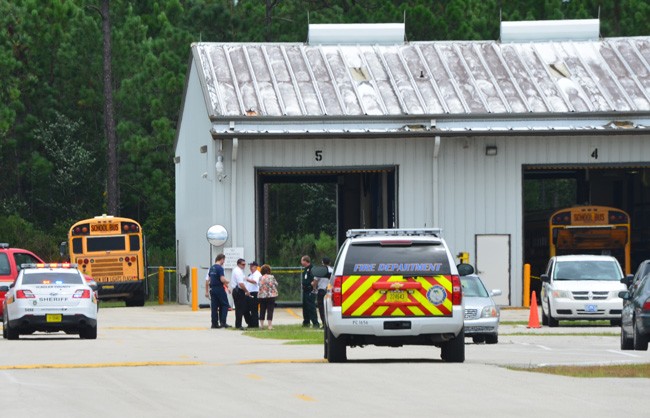 The large hangar at the school bus depot behind Flagler Palm Coast High School was briefly evacuated shortly after noon today when an employee there was indisposed after catching a whiff from an undetermined liquid in one of nine barrels behind the hangar.
Workers at the depot were cleaning up an area of the grounds behind the hangar, near a shed, Flagler County Emergency Services Director Kevin Guthrie said at the scene, when they came across nine 55-gallon drums stored there, apparently for many years. An employee opened the lid to one of the drums and took a whiff. "He said he lost his breath for a little bit," Guthrie said.
The employee also felt something similar to a rash reaction on his skin from contact with the material, but the effect went away as soon as he washed.
"We went ahead and evacuated the area based on the information we had," Guthrie said, referring to the hangar where buses are serviced. "We've isolated the area with police barricade tape." Guthrie was having lunch at nearby Panera and was, coincidentally, on the phone with Winnie Oden, the school transportation director, when the two were informed of the incident, enabling Guthrie to be immediately at the scene.
Several units of the Flagler County Sheriff's Office, the Palm Coast Fire Department and Flagler County Fire Rescue responded, as did the Palm Coast Fire Police, which restricted entry into the depot at the entrance to the old school board offices, which doubles up as the entrance to the depot just west of the high school. A few students were conducting marching drills in a field about 200 yards away from the depot.
"There's no life in danger, no immediate threat to life or environment," Guthrie said. That being the case, authorities decided against calling in the St. Johns County hazardous materials team. The school district instead is contacting an environmental contractor to report to the area, analyze the materials and remove them. But beyond it beyong "some type of unknown clear liquid," in Guthrie's description, it is still not know what that material is, why it had been stored at the bus depot property or for how long.
A 75 foot by 100 foot "safety zone" was established around the drums near the shed, but employees were allowed to return to work in the hangar itself.