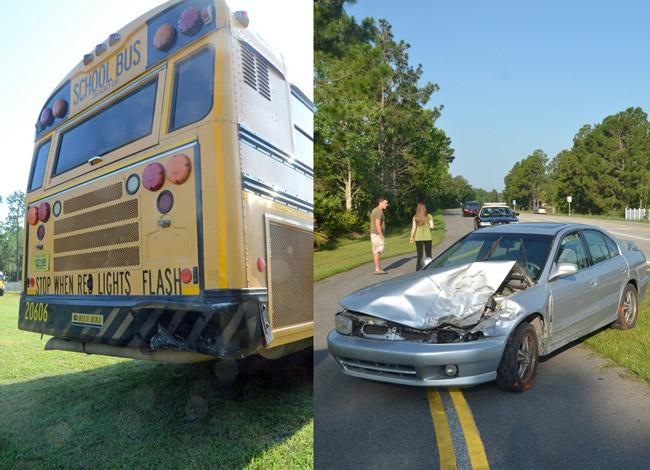 Last Updated: 9:46 a.m.
Joseph McKierman, 29, was driving east–into the sun–on Whiteview Parkway at 7:30 this morning when the combination of his windshield's condensation and the sun shining right above the traffic light at Belle Terre Parkway caused him not to see a school bus stopped at the light until the last instant. McKierman swerved his Mitsubishi Galant, but it was too late: the car's left side rammed into, and under, the right rear side of the bus, startling its 34 young passengers.
Neither McKierman nor the students on the bus were hurt.
The school bus, an 84-passenger Bluebird, a 2000 model–Bus 20606, called the Lobster Bus–was on a run to drop off students at Pathways Academy, Flagler Palm Coast High School and Buddy Taylor Middle School, School Transportation Director Bruce Preece said.
"I did interview every student," Preece said, "there were no reports of injuries, no trauma. They were excited. They'd have a lot to talk about today." Preece said no students were sitting in the rear seats of the bus at the time of the collision. The students were quickly transferred to another bus, and their normal routes and routines resumed. The bus itself was driven to the transportation department's main bus depot behind Flagler Palm Coast High School swiftly after the Flagler County Sheriff's Office was at the scene, and before the Florida Highway Patrol got to the scene.
The bus sustained very minor damage to its rear bumper, which may or may not be replaced. "We have a good metal worker in our shop who'll be able to replace the bumper," Preece said, if that proves necessary. Mechanically, the bus appeared to have been spared, Preece said.
The school district was calling parents with children on that bus early Friday morning to inform them of the incident.
The 2001 Galant, on the other hand, appeared totaled to the Florida Highway Patrol investigator at the scene.
"When I came around that corner, the sun was right above the stoplight," McKierman said. He'd left his windows cracked earlier, he said, likely causing the condensation and amplifying the sun's glare. The FHP investigator said McKierman would be cited with negligent or careless driving.