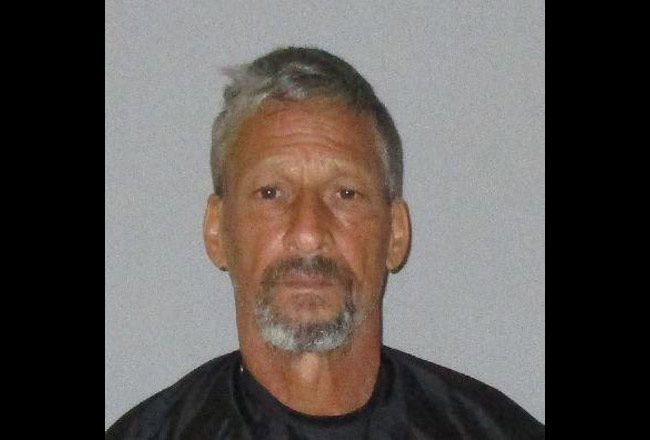 Update: the burglary charge against Leonard Tadeo was dropped on Oct. 12, 2018.

Marta Danielsson and Maja Bywall are two 18-year-old Swedes spending five weeks in a Palm Coast Airbnb on Woodlawn Drive. They were home, in town about a week, when just after 6 a.m. Tuesday–more than an hour before sunup–things started going very wrong.
Someone knocked at the front door and tried to turn the handle. Then the women heard the person's steps going to a back door, where again the person tried to get in. At some point the window on the side door of the garage was smashed in with a concrete paver lifted from the pathway around the house. The women barricaded themselves and called 911.
When Flagler County Sheriff's deputies arrived at the scene they found a near-naked man standing in the garage–he was wrapped in a towel–with wet clothes laid out to dry around him, and a bag "containing syringes and several personal hygiene items" on the ground near him, according to his arrest report.
The man was Leonard J. Tadeo, 58, of 37 Parkview Drive (according to the sheriff's office). The women told deputies they had no idea who he was or why he'd break into the house, as they put it to deputies.
Deputies spoke with neighbors, who said they'd seen Tadeo around the house in the past. But neighbors did not think he lived there. Deputies checked the history of calls to 911 from that address. They found one previous call involving Tadeo–from Laura Petrarca-Dimmick, who had called to report that while Tadeo had been at the house to repair the bathroom, she'd found his work unsatisfactory and asked him to leave. He wouldn't.
That was two years ago, when Tadeo was arrested for allegedly striking Petrarca-Dimmick: according to his arrest report at the time, he'd showed up to her house on Woodlawn slurring his words and causing an argument. Petrarca-Dimmick and Tadeo had previously dated for a year. She confronted him about his drug use and told him to leave. He then allegedly struck her and took $800 in cash before leaving. At the time, she told deputies that even though they'd broken up, she still allowed him "to sleep at her residence occasionally when he doesn't have a place to stay," according to his 2016 arrest report. The misdemeanor battery charge against Tadeo was dropped
Tadeo Tuesday morning would not speak with deputies after he was read his Miranda rights, but once he took a seat in the back of a patrol car, he exclaimed, using an expletive that it was his house. "Call Laura."
Deputies did. Reaching Petrarca-Dimmick, 57, she said Tadeo had no right to the house on Woodlawn. She gave his address as the one on Parkview (the same address listed on a July traffic infraction he incurred).
He was charged with burglary of an occupied house, a second-degree felony. A judge imposed an order of no-contact with the two Swedish tourists. He is to be arraigned before Circuit Judge Terence Perkins on Nov. 26. He remains at the Flagler County jail on $10,000 bond.