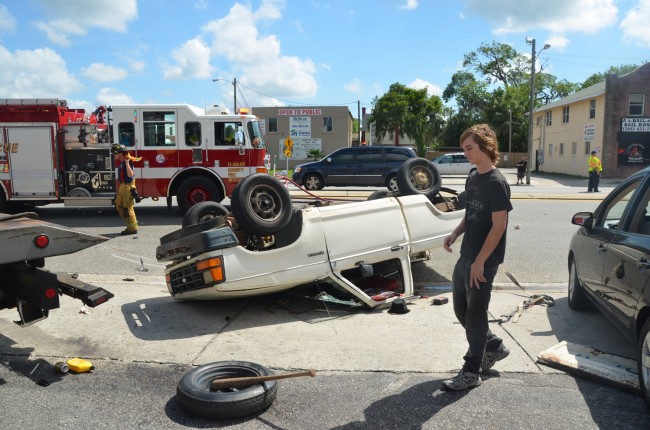 To first responders, it initially sounded like a horrific crash. Two vehicles in the heart of Bunnell. One overturned. A driver was reportedly trapped. The vehicle was on fire. Flagler County Fire Flight, the emergency helicopter, was immediately placed on standby, and segments of U.S. 1 South and State Road 100 west were closed to traffic.
As it turned out, the wreckage was horrific, but that's about where it stopped. For the four people involved, barely a scratch. They were all walking around the scene, uninjured but for a throbbing nose here, a bump on the head there, and a hurting toe. That was about it. It was one of those wrecks where first responders look at the damage and wonder how everyone escaped unhurt.
Kaenin Brinkley, 18, was driving a white Ford pick-up truck. He was driving north on U.S. 1, on his way to see buddies to sell the truck. He used to live a few blocks from downtown Bunnell but had just moved to Putnam County. Jasmine Lampley, 19, was at the wheel of her navy-blue Ford Focus. With her were the 13-year-old girl she babysits for, and an 11-year-old boy. She was driving south on U.S. 1, and made a left turn, to take SR100 east.
Neither driver is sure what happened at that moment–who had the right of way, who didn't. A surveillance camera at the service station at the corner, often used by authorities to examine wrecks and possible crime, will tell the tale. It's clear that one of the two drivers broke right-of-way. It's just not clear which.
Lampley doesn't remember being struck. She only remembers she sound of the air bag deploying with its explosive sound. "I got out and saw the truck over here," she said. The Focus's front was smashed especially on the driver's side.
Brinkley said he "hit my brakes as hard as I could, couldn't slow down enough." He was hit in the side, in the door, "so I just ducked, held on, wearing my seatbelt, thankfully." The trucked flipped and fell on its roof, crushing the driver's side roof. He then unbuckled, and jumped out the passenger side window, which was open.
The truck was in poor condition. He had driven into Bunnell to see his mechanic to sell it. "So I wasn't supposed to sell it," he said wryly. He was looking for about $300.
The Palm Coast Fire Police diverted traffic from the intersection. Flagler County Fire Rescue and the Bunnell Police Department, which is investigating the crash, responded. The wreck took place at 3:45 p.m. The intersection was cleared half an hour later.