The mixture of Kevin Harris, Rickey Glover and Elona Wallace turned bloody and almost deadly the morning of May 13 at a South Anderson Street residence in Bunnell, landing Harris in jail, Glover in the hospital, and Wallace writing statements for the police.
Harris is Wallace's 20-year-old son. Glover has dated or been married to Wallace for 23 years. He's not married to her now. But he's dating her and had been staying at her 204 S. Anderson Street home.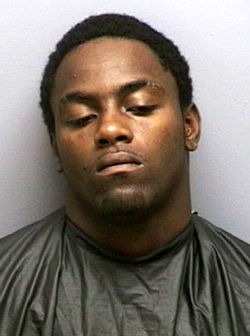 The morning of May 13, something didn't go right been the three and Glover's clothes ended up in a disheveled pile outside the residence, according to a Bunnell Police Department report. So did Glover, who called out to Harris to come out and fight. Harris came out. But he said he wouldn't fight. Harris went back inside the house and took to the couch. On his way, he picked up a kitchen knife. The front door was unlocked. Glover went inside.
"Once inside the residence," the report continues, "Harris stated that Glover began to punch him in the face as he was lying on the sofa. (There were no visible injury to Harris's face observed) at this point Harris stated that he began 'sticking' Glover with the knife." (The quote is reproduced as written in the report.) By the time Bunnell Police officer Castanheria administered first aid to Glover, the victim had a stab wound to the left inner arm, three stab wounds to the left rib cage and a stab wound to the left side between the shoulder blade and the arm pit. Paramedics transported Glover to Halifax Hospital after issuing a trauma alert as they feared that the stab wound may have penetrated the chest wall. Glover was having trouble breathing and was in extreme pain.
A written statement by Wallace described Glover calling Harris outside to fight, Harris refusing to fight and Glover chasing after him, "cussing him out" and hitting him. The silver-colored, red-handled knife police recovered had a blade approximately five inches long.
Harris, who was briefly jailed in January on a charge of possession of a prescription drug without a prescription, marijuana possession and "wearing hood/mask on public property," was booked back into the Flagler jail on attempted murder and aggravated assault charges. Bond was set at $35,000.