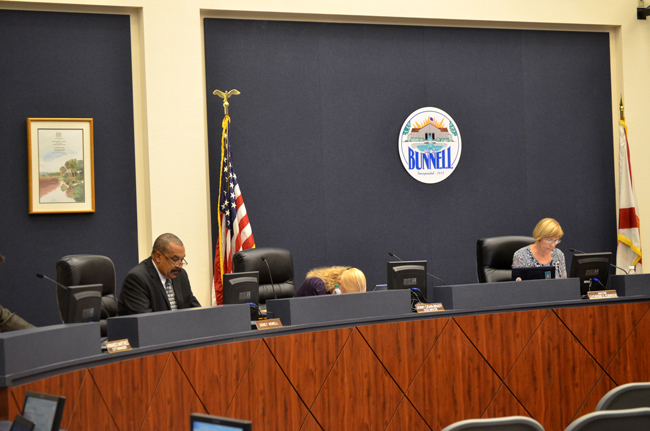 The Bunnell City Commission started its meeting Monday evening not with one, but two prayers—one by Mayor Catherine Robinson, who spoke of supporting troops, the president and the wonders of Thanksgiving, and one by City Commissioner Daisy Henry, who's also a pastor, and who stuck to a more traditional Christian prayer invoking "the lord" but not Christ. The invocations weren't brief, combining for two minutes and 30 seconds of the commission's and public's time, though they weren't sermons, either. Sid Nowell, the commission's attorney, uncomfortable with the whole deal—but overwhelmingly outnumbered by his bosses on this one—had warned against mentions of either Christ or sermonizing.
There might have been additional prayers, and there may well be in the future: the mayor offered the podium to anyone so inspired. No one was. And no one was offered what Commissioner Elbert Tucker called "the opportunity" to wait outside during the prayers, if anyone was offended by the proceedings.
"If this is going to offend anybody, you can wait outside until we're finished, that way that person won't be offended," he'd said.  "I don't see how we can lose that way. Nobody gets offended, we have an open prayer, and everybody's happy."
Welcome to Bunnell government's interpretation of the First Amendment, which finds a fair share of judges, including justices of the U.S. Supreme Court, on its side—and an equally fair share against, particularly when the mayor and commissioners are doing the praying. Legislatures and courts across the country routinely begin their sessions with invocations, usually delivered with an ear to secularism and inclusiveness and rarely by government officials themselves, though the Supreme Court in 1983, in a 6-3 ruling, ratified one legislature's custom of paying its chaplain with government funds.  And courts have just as routinely drawn a line against invocations overtly tied to specific religions. Since last spring Bunnell has been taking a distinctly more aggressive line
In a surprising move, it was Tucker rather than any of the other, more publically preachy commissioners who two weeks ago proposed that each meeting begin with an invocation. Tucker, a Mormon, brought the notion up as a discussion point for the agenda rather than an immediate action item. But John Rogers, who'd pushed the city to host a day of prayer earlier this year, didn't let the opportunity pass and moved, after barely 10 minutes' discussion, to make an opening prayer—or prayers—official policy of Bunnell government meetings. Crain-Brady seconded. The commission was a unanimous 4-0. Henry was absent at that meeting, though it's unlikely that the commission's unofficial pastor would have objected.
"Offering a prayer does not establish a religion," Tucker said. "Besides that, we're no Congress. We can't establish a religion." And: "How could we establish a religion, each of us being a member of a different church?"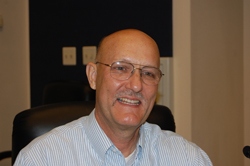 Nowell had provided a brief legal explanation to the commission summing up the do's and don't's of government prayer. He cited a Fifth District Court of Appeals case from 1984 that had set out guidelines against government officials delivering prayers. The case was about a judge who was presiding in the trial of a man accused of second-degree murder. The man was convicted of manslaughter. The judge began each day with a brief, minute-long prayer. The convicted man charged on appeal that the judge's prayers, because of their tone and preachiness, had amounted to instructions to the jury. The claim was rejected, but the court also found that despite the prayers being "clearly sectarian in nature," they could have been construed as "the judge's personal religious preferences"—a non-no when those preferences can "relate to the proceedings" in play.
"The prayer should be secular and not preferential to certain religions, or anti-certain religions," Nowell told commissioners two weeks ago.
"Yeah, I've got a problem with that," Robinson interrupted him.
"I understand, I knew you would," Nowell continued, "and you'll have a problem with the next thing I'll say. In that particular case, what they pointed to was the consistent reference to Jesus Christ."
"Well," Robinson lets out.
"The court felt that was not appropriate. And finally, the third point was that no money could be expended by the local government to support a religious activity," Nowell said.
"So you're telling me that this court is telling me how I can pray?" Robinson asked.
"This court is telling you or us that you cannot show preference for a particular religion," the attorney replied, adding: "I do have a problem asking someone to leave."
Tucker made a distinction: he wasn't for asking anyone to leave, either. He was for giving people the opportunity to leave during the prayer, though a Supreme Court decision addressed that issue, too, when it struck down student-led invocations at public high school games as well as moments of silence in school because the intent was clearly "for the sole purpose of expressing the State's endorsement of prayer activities" (much like Bunnell's intentions) and because it presumed that majority will could prevail over whatever minority might not be inclined to pray. Offering such minorities the opportunity to leave was not a consideration. The mechanism, the court ruled, "empowers the student body majority with the authority to subject students of minority views to constitutionally improper messages. The award of that power alone, regardless of the students' ultimate use of it, is not acceptable."
Tucker was fully aware of the debate on the issue. He said he became interested in bringing up the matter to the commission after an encounter with a resident. "I saw a fellow the other day who said what are we not doing that we were doing 30 years ago that has helped change America," Tucker said, "and to me this is one of the things–of course it's been 40 years ago–when prayer at the meetings in Bunnelll was a commonplace thing. So I took the man and his idea and that's what I did." Absence of prayer from public places, he said, has done "great harm" to the country.
Tucker said the prayers or invocations may be of any religion, any belief system, though Bunnell, whose acquaintance with tolerance is of relatively recent vintage, is not known as a particularly diverse town.