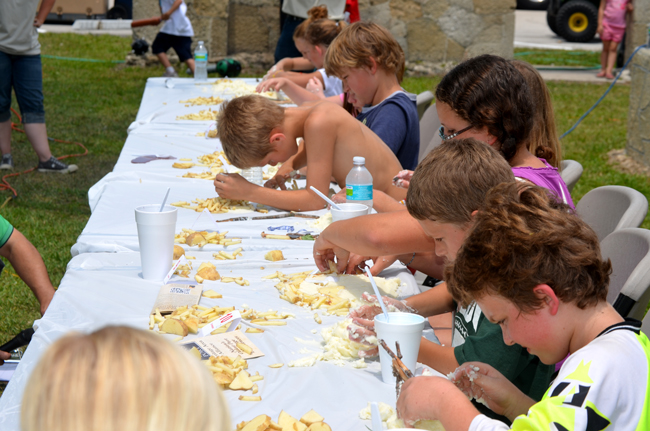 You know a local festival is moving up in the world when it puts up electronic and other signs signaling "Event Parking," as Bunnell's Potato Festival, on its third leg, did Saturday.
The festival was started three years ago by Bunnell and the Flagler County Chamber of Commerce to lift the city's profile on the county's special-events map–and to give the potato its due in a county that's made it one of its core products for decades. The poor potato was bumped off the county's logo last year, when the logo was updated to reflect a more greenish, touristy look, but the potato still appears on the county seal (for now).
This year's festival was held in conjunction with football player and Bunnell native Mardy Gilyard, who hosted a field day at and around Carver Gym, with basketball games and all sorts of field games in the land around the gym, which Bunnell and the local housing authority hope to turn into formal playing fields.
"One thing we liked and actually enjoyed, had a lot of passion in, was the field day," Gilyard, now a wide receiver with the St. Louis Rams, said, remembering his younger days in Bunnell. "We tried to incorporate everything we could to not be on the streets and come out here and fool with me. At the end of the day, I accomplished my goal." He added: "It's always good to come back home. When I come back I come straight here. Make sure I'm back down in Bunnell, make sure Bunnell sees me, and feels me, because I can be that voice now for the inner community, for the community here, especially on the south side of the city."
He said he was ecstatic about the way Carver Gym has been revived and rebuilt from the inside after "falling apart."
"Whatever I can do on my end, I'll be supporting it," Gilyard said, though he appeared unaware of the financial fund-raiser going on at the moment. He said he was "another voice behind the development of the center." Asked directly about financial contributions, he said the renovations were already set in motion, but added, "if I need to do something, I will do so." But he said he was unaware of the Carver Foundation's ongoing fund-raising.
---
Mardy Gilyard On Carver Gym[media id=207 width=250 height=200]
Inside the gym, Michael Kettman, the "Spin Man," a St. Augustine police officer who holds the world record for spinning basketballs, was giving children a demonstration of his skills, with a few messages about perseverance thrown in there. Back around the old Bunnell City Hall, where the potato festival is held, festivities began with the Potato pageant, a parade before noon, the mashed potato eating contest, and finally the mashed potato sculpting contest, won by Rylee Millikan, with Garrett Sproull in second and Savannah Stanier in third.
City Commissioner John Rogers handled a hot dog and hamburger stand cooking 300 hot dogs and hamburgers for volunteers and members of the parade, who included law enforcement from Holly Hill, Palatka, St. Augustine, the Department of Transportation, Flagler Beach police, the Bunnell Fire Department, the Navy Marching Band from Jacksonville, and various departments from Bunnell's administration. Mayor Catherine Robinson was out of state for the wedding of her youngest son, but former mayor Joann King was there, as were Commissioners Jenny Crain-Brady and Daisy Henry, who handled the Carver Gym booth. Several county commissioners–Barbara Revels, Milissa Holland, Nate McLaughlin–also showed up.
Attendance lightened in mid-afternoon, though local potatoes sold out rapidly, and the day's french fries, made with potatoes grown in the eastern part of the county, were, by any measure, the very best that have been tasted this side of Belgium all year.

Potato Festival, 2011 Edition, Photo Gallery:
[nggallery id=58/]