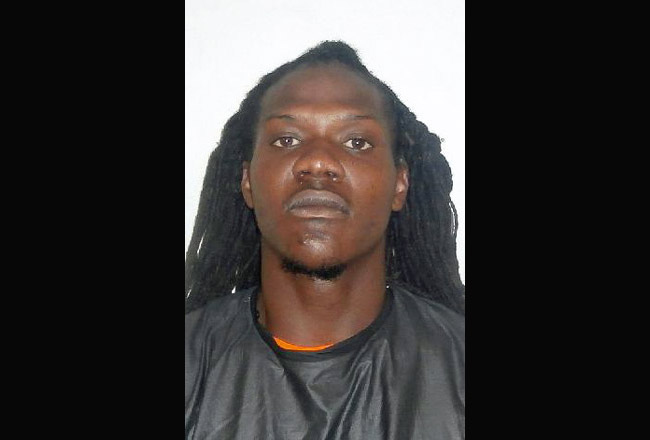 One of the most efficient ways to get arrested in Bunnell, especially for a black individual, is to "trespass"–which is to say, to walk along or between the city blocks of South Bunnell that form the low-income housing community of the Flagler County Housing Authority FCHA).
Theodore Moore's arrest would have been on such example, routine had it not been for where the incident began–near Moore's listed address–and how violently it unfolded, drawing a crowd, and resulting in a series of charges against Moore, 25.
According to Moore's arrest report, a Bunnell police officer observed Moore "trespassing" as he was "walking west in between the houses, from S. Bacher to S. Anderson." Moore's listed address at the Flagler County jail log is 302 South Anderson. It is common for residents of that neighborhood to walk in between each other's houses. But that wasn't necessarily the case with Moore: in May 2011, he was officially trespassed from the authority's property by a Bunnell police officer, subsequent to a request from the authority director, because Moore was allegedly staying at his girlfriend's place, at that address (or squatting, in the authority's view). The girlfriend is no longer there. Because of that previous trespassing issue, the police officer Monday had probable cause to go after Moore.
The cop then saw Moore stop and speak with Charles Hall in front of 503 East Booe Street. Hall, 30, lives at 503 E. Booe, and it is not illegal for residents of one street to stop and speak with residents of another, even if they're black. But both individuals named in the arrest report are known to Bunnell police, having both been arrested a few times on minor charges–trespassing, marijuana possession, resisting arrest. Moore's most serious charge is a domestic battery conviction in 2008 for which he served six months at the county jail.
The officer, according to Moore's arrest report, "waited a short period of time to make contact with [Moore], in order for him to walk further away from FCHA, where it can be more difficult for police to catch a fleeing suspect." The officer made contact with Moore at East Booe and South Church Street, "placing him in handcuffs immediately, just as Lt. [Randy] Burke arrived on scene."
Moore denied trespassing when the officer told him why he was being arrested, and said he "wasn't trying to get in trouble." The cop then began searching Moore, finding a prescription-pill bottle in a pocket "with the name ripped off of it." Moore said the pills were his penicillin, and that his prescription was at home. It was later determined that the 28 pills were Ortho Tri-Cylen, a female contraceptive.
The search continued, producing a small black Kel-Tech .380-caliber pistol loaded with three rounds of ammunition. The serial number was filed off. One of the bullets was a "hollow tip." Such ammunition is illegal in some countries, but not in the United States, where some police departments have converted to its use. (The bullets are deadlier than full-metal-jacket bullets as they flatten and expand upon impact, causing more sever internal damage. The New York City police department adopted the bullet's use in 1998, arguing that it reduces the chance of a bullet traveling through a suspect and injuring an innocent bystander.)
After securing the pills and the gun, the officer ordered Moore to kick off his sneakers. Moore refused and told the officer that the two could wrestle it out because he would not take off the sneakers. The officers then told Moore–who was in handcuffs–that he could be Tased if he did not comply. Moore, according to the report, said he would be, if that's what would need to be done. The cops called for additional back-up "as a crowd started to form," the report states.
"As this officer took off [Moore's] shoes," the report continues, "Lt. Burke attempted to restrain him, but [Moore] refused to stop resisting, at one point scratching Lt. Burke's left arm… and causing harm to Lt. Burke while he was performing his lawful duties." Moore then briefly refused to get into the cop's cruiser, but once there (the report does not describe how he was convinced to get in) he started hitting his head on the divider and kicking the inside of the patrol car's door, "breaking the handle on the inside of the rear passenger side door."
On the way to the Flagler County jail, Moore allegedly told the officer, according to the report: "But I tell you what, you need to move, that's all I'm gonna say onetime, ain't no 'huh… fuck you, pussy ass motherfucker… motherfucker, straight up, without that suit, I'll tear your ass up boy."
Moore then again started kicking the inside of the door, according to the report. Once at the jail, he "began to act as if he were having a seizure, and would not speak." Paramedics were called. His blood pressure was normal. When asked what type of medication he took, Moore referred to a form of cold syrup, which he called his blood-pressure medication. He then allegedly told guards at the jail that there was a "hit" on his arresting officer as well as on other officers of the Bunnell Police Department. He would not say anything else. He refused to go to Florida Hospital Flagler. He was booked into the jail.
Moore was charged with possession of an altered firearm, carrying a concealed firearm, corruption by threat, resisting arrest with violence, trespassing, and possessing a prescription drug without a prescription. He remained in jail Tuesday afternoon on $9,000 bail.
In 2007, early in Armando Martinez's tenure as police chief (he is now the city manager), the state attorney's office threw out charges against seven individuals (all but one black) Martinez and other Bunnell police officers had arrested on minor and doubtful charges such as prowling, or having a marijuana stem in one's pocket, all without probable cause. Martinez at the time himself asked that the department's personnel be trained by the state attorney's office on making such arrests more lawfully.