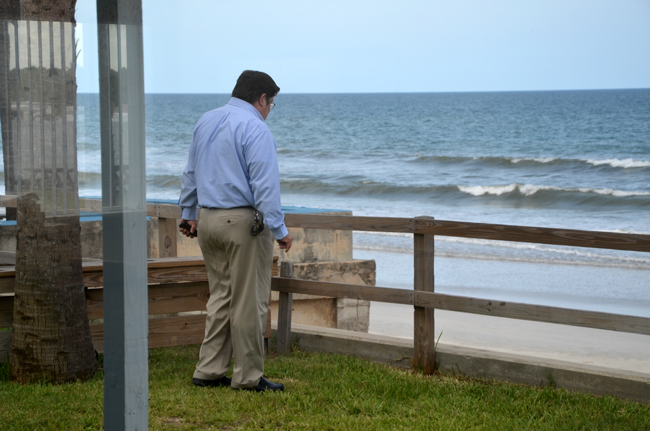 Like most local governments these days, Bunnell replaced its Christmas party with a potluck a couple of weeks ago. Then some employees had an idea. Recycle the city's scrap metal more aggressively, and use some of that money to pay for next year's Christmas party. City Manager Armando Martinez brought up the idea to the city commission Monday evening, literally minutes before he was to ask commissioners if they were interested in bumping up the salary of the next police chief from $50,000 to $60,000. There was no mention of using scrap metal proceeds to help pay for that difference—which three commissioners immediately batted down anyway.
They didn't quite reject the scrap metal-for-a-party idea, but facing a very divided commission, the mayor suggested her colleague think the idea over and bring it back to a subsequent meeting.
Scrap metal is selling for $13.50 a hundred pounds, or 13.5 cents a pound, Commissioner John Rogers said. "That could be a lot of money, depending on what's laying around," he said. He was unenthusiastic about using scrap as an incentive for a party fund. "I think you're opening up a can of worms myself, with it."
"I don't have an issue with it as long as we don't start tearing things up," Mayor Catherine Robinson said to laughter, though she was pointing out precisely the sort of potential for abuse that the idea presented. Just last fall, a Bunnell city employee was fired because he was taking city scrap and selling it in St. Augustine, where the city usually sells its scrap, and pocketing the money. He reportedly bought a barbecue grill with some of the money.  "It does lend itself potentially to be a problem" Robinson continued. "But I also appreciate the fact that they're trying to use a little bit of ingenuity to try to have a party. My thing is if we can have some kind of guidance and supervision, some way to handle that where it would go through a department head or some way of handling that, I wouldn't be opposed to that money going to a party."
Sid Nowell, the city attorney, stepped in: "My gut tells me there's something wrong with this, because even though it's scrap metal, it's still public property," he said. "I'm much more comfortable with there being a budget for a Christmas party and whatever magic Cissy works to get money to that budget." Cissy Bertha is Bunnell's finance director.
Jenny Crain-Brady, the vice mayor, enjoyed the potluck, she said, but wants more than that next year. "I think we do need to contribute to a Christmas party and do a little more than we did this year," she said, "but I don't believe identifying a source of revenue for it. If we already have that money, then maybe this time next year we say, OK, is there some miscellaneous funds that we could help fund it. But I don't think there should be an incentive in trying to recycle more than what the policy already calls for."
Elbert Tucker, the Bunnell city commissioner who'd most closely be associated with Scrooge by some of his colleagues—he is the panel's most fiscally conservative member—then unholstered his latest story to make his point  with two words: "Davy Crocket." (That's the Tennessee frontiersman-politician whose stories are half lore, half brawn, and all-American.)
Robinson knew what was coming. "Go ahead," she said.
"Davey Crockett was up for reelection and he was riding his circuit back to Washington," Tucker said. "He came to a farmer who said, after a conversation, Davey asked him if he would not vote for him. And the farmer said, no, I will not. Of course Davy Crockett was wondering why. And he said because you spent funds that were not authorized by the constitution, and it was for a widow of a Revolutionary War veteran. So he promised the guy he wouldn't do that again. The subject came up and he was reelected, he went back to Kansas, the same issue came up: Revolutionary War veteran dies, leaving a widow, and they were going to give the widow $20,000, which was a lot of money. The president was paid $25,000 during that time. He said every one of us here could donate one week's worth of money and more than pay this widow's living." Crockett was serving in the House of Representatives at that time. Tucker didn't suggest that he and his fellow-commissioners chip in the money for the Christmas party. He made his point: "So I don't think we're going to invite the taxpayers who are funding this Christmas party. I like potlucks. What difference does it make if it's potluck. If you want to pay for the meat, get somebody to donate the money to pay for the meat. But I have a real problem having a party on taxpayers' money. I don't care what party it is."
Only then did Robinson suggest that the commission mull the matter and bring it back. And only then did Martinez bring up the matter of the next police chief's pay.
Arthur Jones, the current chief, is retiring in April. "I am formulating an advertisement to put in the Florida Police Chiefs to see what candidate we can get and to hire the most qualified candidate for the position," Martinez said. "Currently the police chief makes $50,000 a year. When I was first hired I made $60,000. I reduced that because of some maneuvering that we did within the department. Does the commission want me to keep it at $50,000?"
Immediately, three no's were voiced—from Tucker, Rogers and Crain-Brady. It was an unquestionable rebuff. Martinez didn't press the matter. Earlier this week he posted the police chief's position internally, to give Bunnell police personnel a chance to apply. But the requirements are such that only one—reserve officer Louis Vega, a friend of Martinez's from their Miami days and a man Martinez said would not apply or would not get the job—could qualify. Among the requirements: 12 years of "progressively responsible experience" including five years in command in a department of comparable size and complexity, or larger or equivalent experience in overseeing departments or agencies or similar size." Also, a bachelor's degree and a requirement that the current police chief could not meet: "Completion of a recognized advanced law enforcement leadership or management training program (Master's degree and/or graduation from FBI Academy preferred). Or, an equivalent combination of education, training, and experience which provides the required knowledge, skills and abilities."
The matter of qualifications or scope of the police search has not yet been discussed by commissioners. Tucker wants it discussed. He's not interested in looking too far for a new chief. He wouldn't look further than Flagler, Volusia or St. Johns counties. "I don't want somebody from far away," Tucker said. "These people need to know where Bunnell is before we hire them."
Martinez had wanted to increase the salary of the next police chief ion order to attract a higher caliber of applicants. Tucker didn't buy the reasoning. "Why would you in an economy like we have right now with our budget concerns," he said, citing the city's loss of a $1.3 million contract it had with the state transportation department. The contract went to a firm from Virginia, costing the city dollars and 13 jobs. "That contract produced enough money to take up any shortfall that the city of Bunnell had in other areas of the budget. Now that we don't have that why should we increase the salary for the police chief by $10,000?" Tucker asked. "Every time you hire somebody new you get a crapshoot. I mean, look at how Mr. Diamond turned out to be," he said, referring to Richard Diamond, who served as city manager in 2006 and 2007. "He turned out to be a dictator in Bunnell. I'm sure they paid him more than the previous person in Bunnell. That didn't do any good."
Tucker added: "I need to have some input on our new chief. It might not be necessarily in agreement with what Armando wants. But I think I'd like to have some input, and the commission should have some input also."