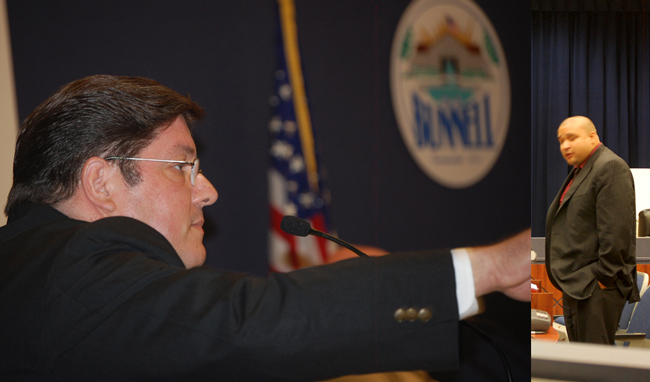 In early August, the State Attorney's office released the results of a lengthy investigation of the Bunnell Police Department and City Commissioner Jimmy Flynt. The investigation revealed disturbing patterns of shoddy policing, improper arrests, intimidation of suspects, shakedowns for vehicle impounding fees that should have never been charged, and serial favoritism that benefited Flynt's towing service and his auto shop.
Two husband-and-wife cops—Lisa and John Murray—were fired and face felony charges. Flynt was never charged, but the sheriff, citing the commissioner's "impropriety," removed Flynt's wrecking company from the county's towing rotation. (Flynt and the Murrays remain close.) Armando Martinez, the Bunnell city manager and former police chief, said the department was becoming more professional and more accountable. "You want a police administration–you do something wrong, guess what, you're going to have to pay the consequences, because that's what brings professionalism in a police department," Martinez said last month, after the commission had turned back an effort to turn city policing to the sheriff's office.
The State Attorney's office relied on a few Bunnell Police officers' testimonies for its investigation. Among them: Sgt. Frank Gamarra. A few weeks after the report's release, Bunnell Police Chief Arthur Jones fired Gamarra. Jones said it had nothing to do with the report. The chief said he had two sergeants on staff. He had to cut one. He chose Gamarra, though when Jones spoke to a State Attorney investigator, he told him it had to do with financial cutbacks "and other issues." He did not explain what those issues were. (On March 22, Jones had presented "commendations of accomplishment" to Gamarra at a public meeting of the Bunnell City Commission, and was nominated officer of the year for Crime Stoppers.)
Gamarra was fired on Aug. 24. The following day, Jones called Jim parker, the State Attorney's investigator in the larger Bunnell Police Department case and told him about laying off Gamarra. Parker was curious. "I advised Chief Jones that Gamarra's lay-off seemed coincidental given the circumstances and outcome of the BPD investigation," Parker wrote. Jones told him it was just coincidental.
Then Jones leveled a serious charge against Gamarra: that when the police chief and his recently reinstated second in command, Lt. Randy Burke, inventoried Gamarra's police vehicle, they discovered a counterfeit $20 bill in Gamarra's jacket.
The State Attorney launched a criminal investigation against Gamarra.
Last week, that investigation was concluded. Not only did it find that "no sufficient evidence existed to support any charges against Frank Gamarra regarding the recovered counterfeit bill." But the investigation revealed some of the same slipshod policing and rash and damaging accusations against an individual that had been shown to be a pattern in the earlier, larger report, when that policing and those accusations involved people outside the department.
Three issues stand out in the investigative report regarding Gamarra.
First, the counterfeit bill that was allegedly found in his jacket was not documented on any of the Bunnell Police Department evidence sheets the State Attorney's office had previously reviewed. The investigator noted that in the previous investigation there had been "several counterfeit bills collected without serial numbers listed on the initial police reports or evidence submission forms." That previous investigation also revealed that evidence and actual reports had a way of appearing and disappearing as if by magic in the Bunnell Police Department: wrecker reports went missing, and in one case, a bag of evidence missing from Murray's locked office mysteriously reappeared. The only people who had a key to that office were Jones, Gamarra and an office staffer. None could explain how the bag had reappeared. (Gamarra said that he did not have keys to that office.)
Second, when the alleged counterfeit bill was found in Gamarra's jacket, it was neither photographed nor processed, as is the required norm when a crime is suspected. The bill itself was also contaminated. "Lt. Burke said both he and [Sgt.] Barbee handled the counterfeit bill when it was discovered and neither the bill nor the jacket were processed or photographed," the investigative report states.
Third, when, on Sept. 7, the State Attorney's investigator contacted Burke for additional follow-ups, Burke told him that he had "just discovered" that Gamarra's police vehicle was also a pool vehicle used by several other police officers. The vehicle in question is one of the department's darker Dodge Charges. The department has four or five of those, and a half dozen white cruisers, which spend a lot of time in the shop. Burke told the investigator that "he had no idea it was being used as a pool vehicle prior to the removal from Gamarra and subsequent inventory."
All along, Gamarra told the investigator that he "didn't know he had a jacket in the trunk of the vehicle and didn't understand why he was terminated just after assisting the SAO in the original investigation."
Gamarra said the counterfeit case should never have escalated to what appeared to be a retaliatory investigation when it was clear the vehicle he drove was a pool vehicle. "It might just be a case of complete ignorance and incompetence," he said.
Contacted Monday, Jones, who had been on vacation the previous week, said he had not seen the State Attorney's investigative report yet.