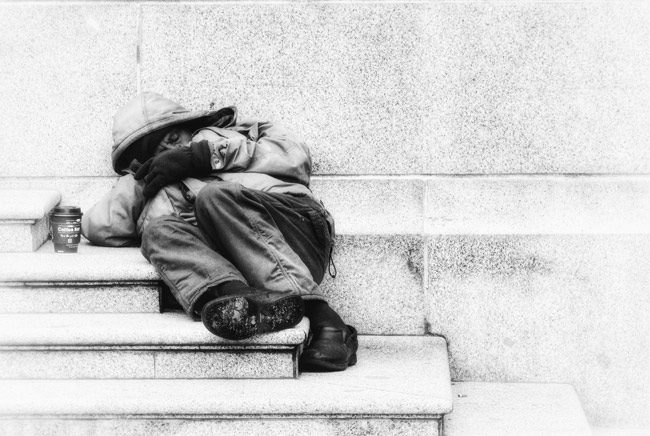 Starting tonight, Bunnell will have the most restrictive panhandling rules in the county.
The Bunnell City Commission is set to approve, on second reading, an ordinance tailored after that of St. Augustine, one of the strictest in the state. The Bunnell commission unanimously passed the ordinance on first reading on Oct. 22.
"The intent is not to be punitive against the homeless," Bunnell City Manager Alvin Jackson said today. "Basically we need some policies to help us manage the challenge of homelessness in this community, especially when we don't have the human resources in place to assist them. We're trying to discourage them–we're trying to encourage them to go places where they can get help. The commission in no way is being insensitive, it's just we don't have the resources to provide the help that they need."
St. Augustine passed its ordinance last February. Daytona Beach is crafting a similar ordinance. Palm Coast discussed the harsher approach in February but passed on it, preferring to stick with current practice, with police shooing away panhandlers when they become too aggressive, or when they break state law by, for example, impeding traffic. Arrests for panhandling are unheard of in the county. Arrests for prowling are rare. The Bunnell ordinance does not give police arresting powers if an individual is panhandling outside the city's strictures.
The Bunnell ordinance prohibits panhandling within 20 feet of entrances to any commercially zoned property, whether developed or operating business hours or not, as well as within 20 feet of bus stops (Bunnell has no public transportation stops), ATM's, daycares, schools, any parking meter and any parking lot or public restroom operated by the city or any other government agency.
The ordinance, in vaguer and therefore legally more vulnerable language, also prohibits panhandling at any outdoor dining or merchandising area, by approaching the driver of any vehicle or anyone standing in line to enter a business, "while under the influence of drugs and/or alcohol," and "in any area after dark."
The ordinance the Bunnell commission passed on first reading includes civil penalties starting at a $100 fine for a first offense, up to $250 for a fourth offense. The ordinance leaves silent whether an offender is to be penalized again for panhandling in order to pay for a fine.
Tom Foster, the city's police chief, was seeking harsher penalties. "Other Florida jurisdictions often classify violations of panhandling regulations as an arrestable offense with a potential jail sentence," the city's staff report, based on an analysis by City Attorney Wade Vose, reads. "The police chief has strongly recommended this course of action for the ordinance to be effective. Further inquiry is needed with, among others, the Seventh Circuit State Attorney's Office and Public Defender's Office, to determine whether this penalty and enforcement mechanism will cause the City to incur additional costs."
Florida law makes it a misdemeanor for an individual on foot to impede traffic, a provision occasionally used by cities, including Palm Coast, to regulate panhandling. But state law doesn't address panhandling explicitly. Cities have generally been reluctant to impose stricter rules on panhandling since numerous court rulings have found panhandling to be protected by the First Amendment. "You can regulate time, place and manner, you cannot regulate content of speech," Bill Reischmann, Palm Coast's city attorney, told his council earlier this year.
In Bunnell last month, the commission passed its ordinance on first reading with little more than anecdotal evidence that panhandling has been an issue. Commissioner John Rogers spoke of complaints, but the administration did not present documented evidence of systemic issues. Jackson today said the police chief has such evidence in the form of calls for service by residents or businesses complaining of homeless or other hygiene issues around town, though he did not have actual numbers.
Jackson described residents complaining of "being impaired by things that are not wholesome, you know, defecation in places that shouldn't be, loitering, trash from eating, those are the things we're trying to make sure that our community is clean and has a good presentation. The real issue, we realize is these individuals need assistance."
Jackson, as was the case with council members in late October, repeatedly said that the city was aiming for a "balancing act" to ensure that residents' quality of life is protected while the homeless are steered, when possible, toward services–and away from businesses. He said it's "unfair" for Bunnell to be seen as a place for the homeless. As for the city's vulnerability to lawsuits, Jackson said: "We are trusting the guidance of our legal," meaning the city attorney.
"It is definitely a problem, and their hands were tied without this, you know," Commissioner John Rogers said, referring to the city's police chief. "I get complaints just like the rest of this board does about people going to the store, the grocery store, and getting harassed."
"That's a good first step, so hopefully it'll make a difference in the long run," Mayor Catherine Robinson said. Commissioner John Sowell described it as striking a balance between residents' needs "and the needs of our homeless population." He added: "Homeless people are heavily discriminated against in our society, and it's not a crime to be poor, so we're striking the right balance here to protect their constitutional [rights] and protect the needs of everyone in the city, so I do support this."