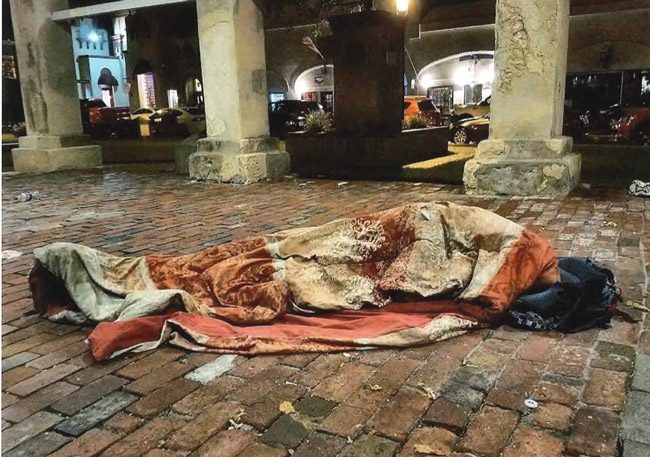 Palm Coast City Council member Heidi Shipley thinks Palm Coast has a panhandling problem, particularly around Palm Coast Parkway and Old Kings Road, where she says "regulars" panhandle. Shipley wants the city to do something about it.
"I know we have a lot of panhandlers here in Palm Coast lately," Shipley told the city council this morning, "a lot of them down by the Bank of America and Wendy's and CVS. I know that legally we can't do anything with that, but can we make an ordinance that they can't panhandle in front of these businesses, along out main streets at the bottom of every light?"
The simple answer is a qualified no: cities that pass anti-panhandling ordinances are asking for legal trouble because courts, including the U.S. Supreme Court in 1993 and 2015, have repeatedly declared panhandling protected speech. Many cities have tried to get around the precedents. Rare is the one that's succeeded.
Shipley was inspired by something she'd been listening to on the radio—word of St. Augustine "passing an ordinance on the panhandling in front of businesses," she said.
On Monday, the St. Augustine City Council unanimously passed an ordinance prohibiting panhandling within 20 feet of any "commercially zoned property," whether it's l property, within 20 feet of any bus stop, ATM, public rest room, parking lot, parking meter or pay station (operated by the city), and within 100 feet of any day care or school. The council's presentation, by Melbourne attorney Michael Kahn, portrayed panhandling in the city as "extremely disturbing," "disruptive" and contributing to "fear, intimidation and disorder," resulting in "the loss of access and enjoyment of public places throughout the city"—a claim directly contradicted by the St. Johns visitors' bureau, which two months ago boasted of a 5 percent increase in tourism despite the chaos of Hurricane Irma.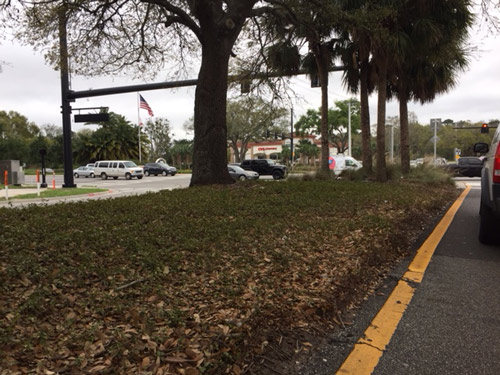 Kahn, however, crafted his presentation around a crisis-mode approach, filling the council members' documentations with reams of color pictures of homeless and panhandling scenes from around town, images of discarded bottles of vodka or spots that have been urinated on (though with nothing to differentiate the acts between panhandlers or drunk college students and bureaucrats) and a series of arrest reports about homeless people urinating or committing other infractions. The St. Augustine ordinance is very broadly worded and an almost certain invitation for litigation, with such provisions as the 20-foot distance from any commercial property and the 100-foot distance from schools or day cares easy pickings for lawyers, if only on due process grounds and before getting to speech matters (the 100-foot limit presumes panhandlers, whether they have a record or not, to be dangerous, a presumption as untenable as if St. Augustine were to apply the same restriction based on color or ethnic origin.)
The ordinance is on surer ground when focused on "aggressive panhandling and begging," which may legally be banned once subjectivity issues are set aside: the aggression must be documented. There are certain other means of regulating panhandling.
"I can tell you that you don't need an ordinance to not allow them in right of ways in the streets here in Palm Coast," City Manager Jim Landon said. "That is a matter of chasing them from one place to the next." But the panhandler in those cases must be in the actual street, in the way of traffic.
"When we know they're there, deputies are to move them along," Landon said. "When a deputy comes up they'll tell you they're on the parking lot, they have permission from that business. If the business gives them permission, whether it's girl scouts selling girl scout cookies or something else, and then when the business tells them to get lost they tell them oh, I'm on a public street, you can't tell me to get lost, those are the ones that, they're the smart ones as far as requiring them to move on. They are not allowed to panhandle in our streets. What happened in St. Augustine is a different environment because you go in the old area where they're walking and it's in a sidewalk, it's just a different environment, because if they're on a sidewalk, in that shopping area, then it's harder, you have to have different ordinances. This is a matter of just continuing to attempt to make sure they're not panhandling in our streets."
But merely being in front of a business is not illegal. Landon told Shipley to call Mark Carman, the sheriff's Palm Coast chief, who would then address the issue.
---
"We have regulars that are at each block and that median across from Wendy's."
---
"We have regulars though, we have regulars that are at each block and that median across from Wendy's, the same guy that sits there for six months now, just sits there with his little sign, across from Wendy's,"
But while deputies can—and occasionally do—tell panhandlers to move along, they often rely on the fact that they have a shield, and are law enforcement officers, rather than on a legally defensible authority to move the panhandler along—unless the panhandler has demonstrably been aggressive, demanding or intimidating to passers-by. All such behavior is prohibited, as is panhandling in the street or from a median.
"We're not going to arrest them, we're not going to put handcuffs out there and put them in jail because they're out there," Landon said, calling it more extreme than necessary, "but we can work on it if they are being persistent in certain areas."
In fact, arrests for panhandling are almost unheard of locally not because Landon considers it an extreme measure, but because the arrests would not hold up in court.
Bill Reischmann, the city council's attorney, briefly reminded the council of legal precedent along those lines. "You can regulate time, place and manner, you cannot regulate content of speech," Reischmann said, "so the city of Palm Coast right now has a very effective method, we are fortunate, in that we don't have similar problems of cities like some of the tourist areas have." It's not clear what "effective methods" the city has in place, other than a perceived luck of circumstances, though homelessness in the city and the county has become serious enough to warrant three ongoing, weekly meal programs for the homeless—two at the Methodist churches in Bunnell and Palm Coast, one at Santa Maria del Mar in Flagler Beach. Palm Coast devotes no money or resources to mitigation of homelessness or poverty of the sort.
Like a panhandler steered away from a median, Shipley this morning was eased away from suggesting an ordinance to address what she perceives as a problem: Palm Coast is not likely to seek out what would be an almost automatic and expensive legal challenge.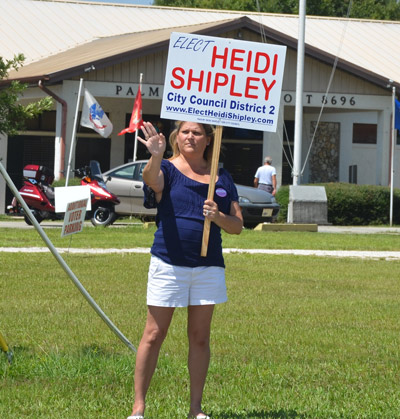 The Pensacola City Council last May passed an ordinance (in a close, 4-3 vote) prohibiting panhandling in much of the city's business district. The ACLU promptly sued in federal court on free speech and due process grounds.
"We repeatedly warned the city council that this ordinance was unconstitutional," Jacqueline Azis, a staff attorney for the ACLU of Florida, said at the time. "The city council can't outlaw certain kinds of speech just because hearing it could make some people uncomfortable. Courts throughout the country, including in Florida, have been abundantly clear about the unconstitutionality of these laws. We had worked to avoid litigation, but when this cruel and unjust law was passed, we had to take action before it went into effect to protect the rights of the city's most vulnerable citizens, street performers, and charitable groups."
Less than a month later, the Pensacola City Council voted to repeal the ordinance, and the ACLU dismissed the lawsuit in September.
Between the first and second vote of the Pensacola council repealing the ordinance, the 11th Circuit Court of Florida in Miami-Dade County declared Miami's ban on panhandling unconstitutional, and with it the arrest of panhandlers. (The case stemmed from the arrest of a homeless person in Downtown Miami.)
Both approaches were based on a U.S. Supreme Court precedent in 2015 that—though it was based on political signs–found that "Government regulation of speech is content based if a law applies to particular speech because of the topic discussed or the idea or message expressed."
Despite any kind of enforcement, Landon cautioned, moving a panhandler from one median means the panhandler will simply find another.
The St. Augustine ordinance is not yet law: it gets its second reading in late March.


Download the St. Augustine Panhandling Ordinance (2018)
Click to access st-augustine-panhandling-ordinance.pdf