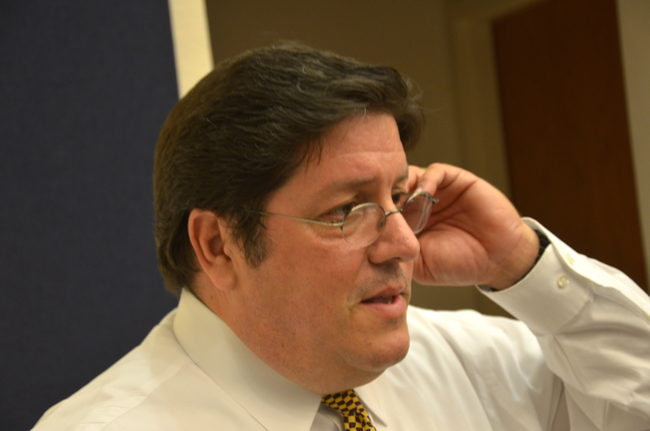 Bunnell City Manager Armando Martinez is a cop at heart. He came to Bunnell as the city's police chief in January 2007, resigning 18 months later because he couldn't get along with then-manager Sid Crosby, only to be hired soon after that as Crosby's replacement after a week of political theatrics by both men. Weeks later Martinez set his own salary and terms dictated to Sid Nowell, the city attorney, and accepted unanimously by the city commission.
Those terms included naming Martinez director of public safety, letting him carry a gun at all times and supplementing his $90,000 salary with $7,500 a year in hazard pay, even though the state constitution forbids public employees from holding two offices. The discrepancy caught up with Martinez and the commission when the News-Journal reported it in January, forcing Martinez to give up his cop shield, gun and title, but not the $7,500, which the commission gave him as a raise.
Now Martinez wants his gun back.
He wants to be a reserve officer with the Flagler Beach Police Department or the Flagler County Sheriff's Office. He doesn't want his police officer's certification to run out. It has about two years left, dating from the last time he trained for it. And, even though it's a personal matter, he's asking the city attorney, at $145 an hour, to request an opinion from the state Attorney General that may clarify whether Martinez may–or may not–serve as a reserve officer in another jurisdiction. After a brief discussion, the Bunnell City Commission agreed to use Nowell (who earlier that evening was retained as the city's attorney following a strange re-application process) to make the request to the Attorney General.
In January Nowell's advice was clear: "I spoke to Mr. Martinez and I said, I couldn't in good faith advise him that as a city manager he was not a public officer." As such, and in accordance with the constitution, he couldn't hold two public positions. But Nowell is making a distinction between two positions, period, as opposed to two positions in differing jurisdictions. "I didn't necessarily believe that he could not be a reserve officer in another jurisdiction, and thus maintain his certification, but at least one commissioner thought that was the case," Nowell said on Tuesday.
On Monday, Martinez had said: "The attorney general on her site herself, says that it's strictly an opinion, and when it's conflicting with the city attorney, that we should abide by whatever the city attorney recommends."
Nowell called Martinez's interpretation of Attorney General Pam Bondi's words "a little bit of a stretch," in that while it's true that local government attorney's recommendations should be followed, that's only so because the attorney general's opinions don't have the weight of law. But nor do local attorneys' decisions, Nowell cautioned. "It does not make your own counsel right all the time."
Still, Nowell says, "I don't know for certain, it may be OK for him to be a reserve officer." Nowell was asked whether Martinez, as a reserve officer with the sheriff's office, which does have jurisdiction over Bunnell, could not create conflicts between his role as an officer and his role as a city manager. "That could be problematic. The further away, the better off he is," Nowell said.
Martinez is intent on maintaining his officer's certification because he still intends, if the opportunity arises, to go back to policing, as a police chief–as he tried to do this summer when he was a finalist for the police chief's job in Melbourne. His family lives in Broward County. Officers are also often loath to lose the certification anyway. And once it's lost, it may not be recovered.
Martinez's request nevertheless raised problems for some commissioners.
"You're going to be a reserve officer, but you're going to carry a gun all the time?" Commissioner Elbert Tucker asked.
"That's another issue. I think right now–," Martinez began saying, before Tucker interrupted him.
"That's a money issue, because it cost us $6,000 a year for you to carry a gun around the building. So that's a big issue for me." Tucker was referring to the worker's compensation premium the city must carry on Martinez's behalf when he carries a gun.
"I understand that," Martinez said. "My bigger issue is more, can I be a reserve officer in another agency. I mean, it's up to the board here to decide whether or not you want me to carry the gun around the building, as you said. My issue is, can I be a reserve officer in a different municipality. Because right now they're telling me I can't, which means my certification is going to expire, so I just wanted clarification. But in full disclosure and being transparent with the board, I'm not going to give instruction to the city attorney without informing all of you."
"That would be personal," Commissioner John Rogers said. "I think that shouldn't be tied in with city business as far as the attorney doing it for you. That's like a personal matter."
Mayor Catherine Robinson disagreed. "Well, it came from this board, this board is the one that gave him this title and this board is the one that took it away."
Martinez pressed the matter: "I think it relates to the fact that my role here is city manager too. If I weren't a city manager then this issue wouldn't be an issue. So I want to continue to be city manager. I just want clarification from the attorney general to see whether or not it is a conflict of interest or not."
"Why don't you call? You can call the attorney general," Tucker said.
Nowell said he or the commission would have to make the request for a formal attorney general's opinion. "I don't think anybody can just call up there and get one."
"I'm OK with making a call or sending a letter or however the communication is," Robinson said, getting agreement, at that point, even from Rogers and Tucker.
Vice Mayor Jenny Crain-Brady specified: "I'm in favor of everybody carrying a gun but not at the cost of $6,000."
On Tuesday, Rogers, still ambivalent about Martinez using Nowell in the matter, said: "Originally I was opposed to it because I don't feel that the city of Bunnell should pay the attorney $145 an hour to research this matter when it's benefiting the city manager. It's not benefiting the city of Bunnell. And the reason why I voted for it is because the mayor said it was our responsibility as a board. That's why I went with it."
Immediately before the discussion on the manager's gun and certification, Robinson had, by way of congratulations for Nowell, said, "it looks like you've got a good team formed to support you."
"They don't know what they're in for," Nowell said.
"No, they don't," Robinson said. "But they'll learn."