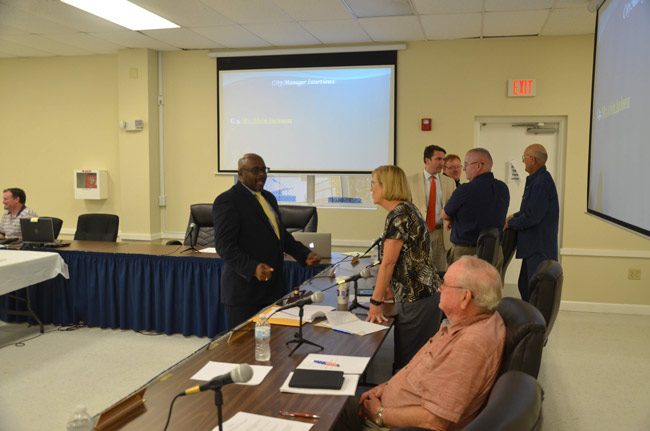 The Bunnell City Commission this evening will again select a new batch of candidates to interview for city manager after its previous attempt fell short last month. But a new two-week call for additional candidates drew just six applicants even though the commission lowered its standards.
Combined with left-overs from the first round, commissioners will have to choose whom to interview from among 17 names, none of them internal candidates. One is from Palm Coast.
The commission came close to hiring a manager in late June when it voted to negotiate a contract with Martin Murphy, who'd spent all but a few months of his public administration career in New York. The commission withdrew the offer after Murphy's demands and demeanor put off a majority ofcommissioners, requiring a re-start of the interviewing process.
There is an early favorite: Alvin Jackson, the Suwanee County director of economic development who had won Commissioner John Rogers's vote for the job even before Jackson's first interview was over.
But a few issues arose. Jackson, a preacher by side profession, had oversold himself during the interview. Commissioner John Sowell was uncomfortable with Jackson's allegation of earning a master's and a doctorate in divinity, given that the school, such as it was, had been a single building in Jacksonville, was not accredited, and had shut down. And Mayor Catherine Robinson was not ready to vote for him without a second interview.
At the time, the commission had made at least a master's degree a requirement. Sowell said had the questions about Jackson's advanced degree not clouded his candidacy, he'd have won his vote even with a simple bachelor's degree. Now that a master's is only preferred rather than required of applicants, Jackson is on Sowell's list for a second interview, along with one candidate from the new batch: Phyllis Marshall-Hartman, the first woman to make anyone's shortlist since Bunnell's search began.
Marshall-Hartman for almost a year was the interim town manager in Belmont, Mass., a Boston suburb of 26,000, and had been its assistant town manager for four years before that, working most of her career in Massachusetts, some of it in Connecticut and Iowa. Her cover letter says she's visited Flagler annually and lists Lyle Sumek, the Palm Coast-based local government consultant and owner of Lyle Sumek Associates, among her references. (See her application here.)
The five other new applicants are Michelle Irizarry of Auburn, Ga., Vince Akhimie of Lakeland, James Hollyfield of Palm Coast, Rodney Lucas of Mascotte, Fla., and Christopher Edwards of Tallahassee.
Hollyfield, the only local applicant, has been a contract administrator at Embry-Riddle Aeronautical University and has worked in supplies and logistics in military-related jobs and in the military before that. But in 2016 he was arrested on a felony charge of tampering with a witness and a misdemeanor charge of domestic violence after his then-girlfriend accused him of hitting her in the head with a bong when she confronted him about alleged drug paraphernalia in the house, according to the arrest report. The State Attorney dropped the tampering charge and filed the battery charge, which was dropped after Hollyfield submitted to a deferred-prosecution agreement.
Edwards is currently an associate in a real estate firm in Tallahassee and has not had significant managerial experience in government other than as a deputy director in Tallahassee government for a few months in 2016. Lucas was an interim city manager for a year in Groveland, a city of about 9,000 west of Orlando, and interim director of community development for a few months. Akhimie headed Daytona Beach's utilities division between 2015 and 2017, and managed Polk County government's utility division for several years. He's held jobs in utilities and public works in De Soto County, Ovideo and Riviera Beach, among other governments. Irizarry has been the city administrator–a post similar to city manager–in Statham, Ga., for the past year. Statham's population of 2,400 is a bit smaller than Bunnell's. She's been a financial analyst and worked in budgeting, procurement and accounting previously.
Bunnell did not post any of the candidates' applications on its website for public review, nor include them in tonight's agenda's background materials.
After the commission's failed attempt to hire a manager in early July, there were still 11 candidates still eligible to be interviewed from the first batch of resumes the city had received. But that list is now more than a month old. It included David Wilkerson, Jorge Gutierrez, Larry Collins, Lawrence McNaul, Richard Faulkner, Timothy Day, William Lawrence, Shakia Brown, Winston Charles, Jim Hedges and Jackson. Jackson aside, the candidates will know that, should they be called, they would not have been the commission's first choice, as none of them–Jackson aside–had garnered so much as a vote to warrant an interview the first time around.
The commission meets at 7 p.m. at City Hall, 201 West Moody Boulevard.