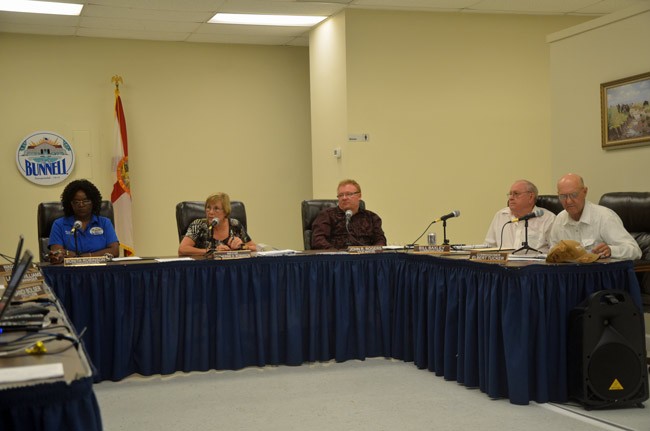 The Bunnell City Commission will meet in special session Wednesday to clarify the job description of the next city manager, including the candidate's education and pay, and whether to appoint an interim manager in the meantime.
The transition was precipitated by City Manager Larry Williams's surprise decision earlier this month to resign and leave by the end of December.
Williams has been handling the administrative end of the search for his successor, but he's lacked direction. At the last meeting of the commission, commissioners were divided over how to proceed, voting 3-2 to advertise the position and give internal candidates a chance to apply. But there was confusion about the qualifications and pay.
The proposed job description currently in play, based on the one last one drafted during the Armando Martinez era–he was the manager before Williams–sets the pay at $102,000, considerably higher than the $70,000 to $80,000 range the commission had set when it hired Williams. Williams then lowered his own salary, accepting a base pay of $67,000 at the start of his two-year tenure. It has since risen to just over $70,000.
"I'm going to recommend that they not exceed $75,000," Williams said. Three commissioners interviewed Monday–Bonita Robinson, John Rogers and Elbert Tucker–were opposed to a six-figure salary, a range Williams termed "ridiculous" for a city of Bunnell's size.
The move toward a special meeting was promoted by a series of emails since the last commission meeting, some of which may have skirted the state's open meetings law, causing City Attorney Wade Vose to caution commissioners: "For Sunshine law compliance, I just wanted to caution you against having two way communication amongst each other via email," Vose wrote on Nov. 11. "I will ask Mr. Williams and/or city staff to contact each of you to discuss availability for any potential special meeting."
That morning, Mayor Catherine Robinson had written all commissioners: "I think we need to have a special meeting to discuss any changes in the job description and the ad. Mr. Williams is planning on leaving before Christmas, I think we need to also consider an interim city manager. I am available this Monday evening. Is that enough time to set up for meeting?"
---
The commission's hard-won cohesion of the past year may be at risk.
---
Minutes later, Commissioner Bonita Robinson replied, "I can also be available on this Monday evening, Nov. 16,2015." None of the other commissioners engaged in any exchanges.
On Nov. 10, Williams had emailed commissioners, attaching the proposed job description and noting: "Although I don't have a dog in the hunt, I strongly recommend that the pay for the position be set 'not to exceed' $75,000 as that would be the norm for a City our size and, that the requirement for a degree not be removed as that could and would lower the standards for the position of City Manager. Please review and get back to us ASAP with any suggested changes so we can have this ready for a vote at the next meeting or at a special meeting."
Williams stressed today in an interview that the four-year degree requirement should remain in place. It may be an issue, if some commissioners want to open up the qualification window and enable, say, Judi Stetson, a former director in the administration who'd applied two years ago, to apply again. Stetson was a close ally of Mayor Robinson's. But she doesn't have a four-year degree. Nor does Perry Mitrano, the city's director of waste management, who also applied two years ago and who said he intends to apply again.
Curiously, Mayor Robinson on Nov. 9 forwarded to Stetson a copy of the revised organizational chart Williams had sent the commission three days earlier. The forward from the mayor was not accompanied by any note or message, but it clearly suggests that the mayor has kept in touch with Stetson.
But the three commissioners interviewed today said they would not favor lowering the qualifications. Bonita Robinson, in fact, said she would prefer to strengthen them. "The qualifications we have right now are the same as most of our directors' qualifications, I'll be looking for a little bit more," Robinson said. The four-year degree requirement, she said, is "something I want to keep."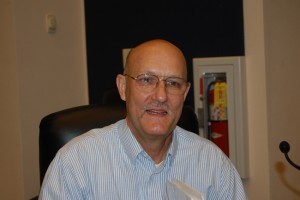 Commissioner Elbert Tucker saw it similarly. "I don't see any reason to change the qualification, it's what it's what it's always has been," he said, though like the mayor, he might favor an interim manager so as not to be under too much pressure to find a replacement for Williams immediately. As far as other requirements, Tucker said: "I haven't changed my stance on what it was last time. Last time it was to not have a city manager come from a large metropolitan municipality. I want somebody who is familiar with or has been associated with managing a smaller city. I don't want somebody from Orlando, Jacksonville, Lake City, Tallahassee."
Commissioner John Rogers referred to the charter–which does not make a four-year degree explicit, but does mention education as part of the job requirement–to buttress his argument for maintaining current standards. "The charter is clear, it has a combination of education and experience,: Rogers said. "We asked the charter review board to come together and meet, they met, that's part of the requirements and we voted on it as a board, and it also was voted on by the citizens of Bunnell, so yes, it has to stay in there."
Williams made no predictions about Wednesday's meeting, set for 5 p.m. at Bunnell City Hall. "I don't know where it's headed, I'm not one of those people that polls the commissioners. I try to give everybody everything at the same time."
But he did make his opposition to an interim manager clear. An interim city manager, he said, "is weird, I don't favor an interim city manager."

Download the Nov. 18 Bunnell City Commission's Special Meeting Agenda.