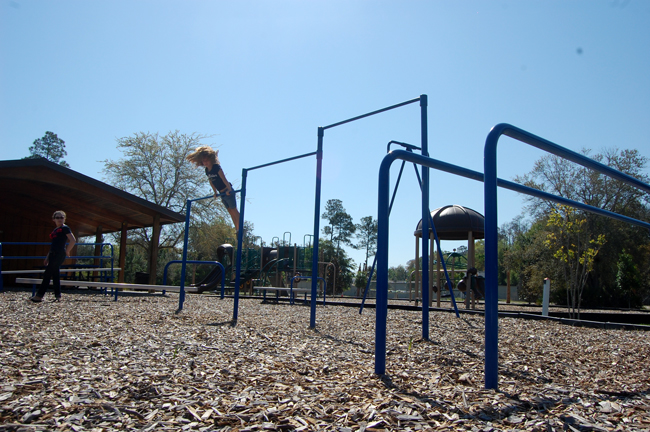 Back when rain rather than drought was the reigning climatic (and climactic) newsmaker under Bunnell's sky, a four-day stretch in May 2009 drenched the city in 27.5 inches, washing, among other things, big chunks of Bunnell's city park off of Citrus Street. The park has never been famously known. It's out of the way, less used, and certainly less marketed, than, say, Palm Coast's city parks. The city is hoping to change that.
"It's been open, but it just hasn't been advertised, so it's been like a secret of Bunnell," says Judi Stetson, the city's grants and special projects director.
On Saturday (March 19) the city rededicated the park, now that it's been restored with 95 new trees, and re-named it the Joann B. King Park, after Mayor King, who served on the city commission for 18 years, 15 of them as mayor. She was last on the commission in 2008. The county named a 20-acre park after her husband, Herschel King Sr., who was a long-time member of the school board, and father to Herschel King Jr., who served on the county commission for eight years in the 1990s and early 2000s.
Joann King, now 75, was at the dedication Saturday, along with current Mayor Catherine Robinson (herself the daughter of a Flagler County school superintendent for 35 years.) The re-dedication also featured an awareness event by the city for better nutrition, in line with First Lady Michelle Obama's push to reduce childhood obesity in the United States. "That's the connection with the park and obesity and trying to get our kids active," Robinson, who is a registered dietitian by profession, said.
The two mayors, past and present, seemed as jubilant to see each other as they were to see the rejuvenated park. "I'm thrilled. I'm in awe," King said.