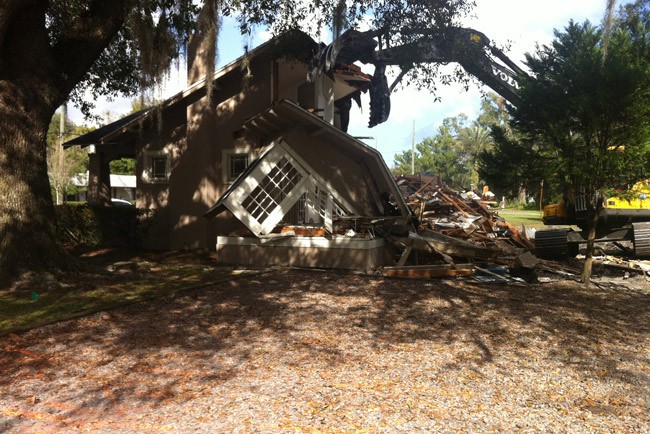 Gloria McArn Deen remembers how when she was in high school in the mid-1950s, she got chickenpox and had to endure the sounds of her high school band, the band she was a member of, practicing in the field behind her house without her. She remembers growing up in that house starting in the early 1940s, back when State Road 100 was a one-lane brick road that connected Bunnell to Flagler Beach. The house belonged to her grandmother, who raised Deen and lived at 401 East Moody Boulevard until her death in the early 1980s.
The now defunct Baptist church next door—it's become the home of the Flagler Playhouse—bought the property in 1988. Nine years later Clifton and Debra Sheffield bought it for $700,000 and refurbished it richly and lovingly: they, too, had a sense of history. But there was business to think of, too.
On Monday, three day after Christmas and more than two years after initially pulling a demolition permit, Sheffield gave the dozers the go-ahead, and the 85-year-old house at 401 East Moody was leveled. (The original demolition permit had expired: he pulled a new one on Dec. 17.) By Tuesday morning all that remained of it was a heap of dirt, concrete and lumber, under the shadow of the centenarian oak at the corner of North Cherry and East Moody. The tree is not part of the demolition order.
"He did everything by the book and legally," Mick Cuthbertson, Bunnell's community development director, said Tuesday. "I tried to talk him out of demolishing the house but I have no legal authority to deny that demolition permit, or the city has no legal authority to deny that demolition permit."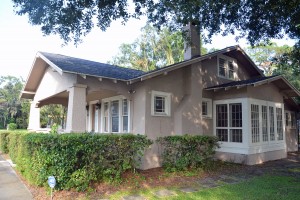 When Sheffield put a dozer on the property with plans to level the house in September 2013, members of the county historical society, four of the five members of the Bunnell City Commission, members of the city's planning board and Bunnell residents, including Deen, all spoke against the demolition plans, even though they had no authority to stop those plans even then. They proposed moving the house to a different location, perhaps as part of the historical society's collection, though it would take money Bunnell did not have, and most likely the intervention of county government. Voices all over Facebook also rallied to save the house.
"But as soon as it kind of settled down, interest died, and everybody went off doing their own thing," Deen said today. She cried a little when she learned of the demolition, and by Tuesday had not gone to see what was left at the property. But she was sympathetic to the property owner, noting how much money he had tied up in the house. "He's a businessman. Nobody can tie up that kind of money, and if you don't have a plan for what you're going to do with the house, if you don't have the money to sustain it, what are you going to do it?" Deen said.
Now, Cuthbertson said, Sheffield is contemplating turning the parcel into a parking lot. Sheffield owns all but 5,000 of the block's 54,000 square feet, the exception belonging to the Southern Bell phone company.
As recently as Dec. 21, when the county got wind of the impending—or rather revived—demolition plans, County Administrator Craig Coffey approached the county commission to solicit ideas, though he was not sounding hopeful.
---
A shock for many, though it was more than two years in the making.
---
"Commissioners, I have a short fuse on telling somebody that we may have an interest in that, I'd ask that you guys think about that," Coffey told commissioners. "The interest that we thought of was potentially an office at the Ag Museum. It won't quite fit in with the Ag Museum per se, or potentially the replacement of a caretaker's house at Princess Place, because we're essentially in an old or modular facility there. So I don't really have a historic district to put it in, or a historic area to put it in. The owner has already secured a demolition permit." Coffey said it would cost around $30,000 to move the house and suggested Sheffield might give the county time to put a plan together if there was a likelihood for saving the house. "I raise that issue," Coffey told commissioners. "Please get back to me on that if you have some ideas on that issue."
As it turned out, the possibility of saving the house, if it was there, would have needed more time, though in the owner's thinking, it had been longer than two years.
"Government moves slow, how do you find funding for that?" Barbara Revels, who chairs the county commission, said Tuesday. She'd had conversations with Coffey about the house, but was unaware that a demolition was imminent unless the county acted. "If it got conveyed to anybody else, I didn't know that," Revels said.
"Big loss," she said. "What a shame."
Two years ago Sheffield had told the city that he had a contract from a buyer for the property, and that a Dollar general-type enterprise was a possibility there. That contract didn't go through. Today, the property is up for sale for commercial uses. Its B-2 zoning would allow a church, offices, a school, a public use, a café or restaurant, retail stores and convenience stores and the like.
As the demolition went on, Cuthbertson got just two calls about it: "One person wanted to make sure the activity was properly permitted, which again it was, and the other person was not happy about it," he said.
Thea Mathen, a member of the city's planning and zoning board who'd spoken against the demolition two years ago, was again voc al about the moment she learned of it. "Well, it looks like the County could care less about any history!! And the City isn't looking too good either!!," she wrote on Facebook. "Just remember this when voting!!! A Historic House was torn down today on Moody Boulevard….it was offered to the county but I guess the Commissioners and County Administrator Coffey did not think it worthwhile."
"We're losing our history one building at a time," Mathen said when reached by phone Tuesday.
The post Monday afternoon had elicited 87 responses by Tuesday morning, overwhelmingly decrying the demolition and expressing shock at the seeming suddenness of the action, though there were differences of opinion regarding whom to blame.
"I beg to disagree about County responsibility to this," Jan Reeger, the Bunnell Realtor who's been involved in preservation matters, wrote. "The problem lies square in the lap of the City of Bunnell. THOUSANDS of man hours have been spent over MANY years compiling programs to protect the history and improve the city. Several attempts at a CRA and several attempts at historic overlay plans have all failed to be adopted. This could have been avoided and it is not the end of a future that will make Bunnell more of a shanty town instead of the pleasant traditional little town it could have been."
"It's horribly sad; and I, too, had no idea it was happening," Gail Wadsworth, the clerk of court, commented on Mathen's post. "There are so many stories – so[m]e great ghost tales by Daisy herself – triggered when I pass it."
John Rogers, the city commissioner who'd opposed demolition two years ago, said by phone: "I have mixed emotions about it because with the history of the building but also I do respect property owners' rights as well."