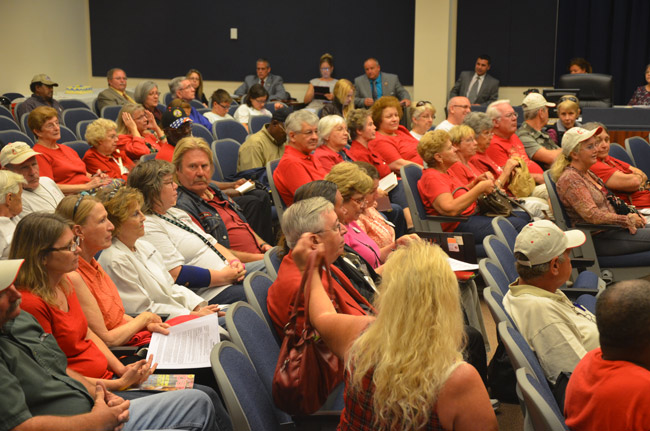 It happened almost exactly the same way two years ago.
A few people in Bunnell complained about the homeless who gather at First United Methodist Church of Bunnell on North Pine Street, the closest thing Flagler County has to a homeless shelter. Much of the complaining was based on misperception and false assumptions.
On Wednesdays, the church provides a free dinner to the homeless. On the coldest nights of the year (the temperature must fall below 40 degrees), it opens its Fellowship Hall for overnight shelter. The rest of the year, men and women are allowed to use the grounds' bathroom, water fountain and Prayer Garden, but not stay there overnight. To some neighbors, it's a lot more, and a lot worse, than that.
Two years ago a small collection of businesses and individuals complained to the city administration and to commissioners that the homeless were creating a nuisance. That they were spending nights at the church. That they were loitering or littering in people's yards, doing drugs and drinking.
The allegations were always more anecdotal than factual: for the past three years' worth of documented police reports and arrest records from the Flagler County Sheriff's Office, which include arrests in Bunnell, there has been no discernible pattern of mischief or crime around North Pine Street.
---
Audio: Rev. Beth Gardner[media id=320 width=250 height=250]
If anything, that area of the city is relatively calm compared to, say, South Bunnell, or Palm Coast's R-Section, or the multiple arrests of men who find Graham Swamp an excellent place to masturbate. If there is a pattern of issues in the church's neighborhood, they're not being officially documented.
And no one can link what issues do take place in Bunnell with the men and women who gather at the church. Bunnell has its share of crime and miscreants. But the homeless appear to be presumed guilty because they're homeless, and because they're as easy a target as they are a scapegoat.
Still, word of mouth, louder mouths especially, can have as much power to move commissioners as documentation, especially when one of the commissioners—Jenny Crain-Brady—testifies to the issues she witnesses herself from the window of the dental office where she works in Bunnell, albeit also with more anecdotal than documented stories.
Two years ago a few business owners and homeless advocates finally faced each other over the issue in a community meeting mediated by Judi Stetson, the city's special projects director, concluding that the problem may not have been as dire as it was being portrayed, but that some cooperative work between downtown business owners and the church was a good idea. And that the issue was not Bunnell's alone to deal with. Rather, it's a countywide—if not a nationwide—problem.
Two years ago Bunnell thought it was time for the rest of the county and its cities to assume some responsibility for an issue that affects them all, but that only Bunnell–only the Methodist Church–is addressing earnestly. But the county and its other cities are not dealing with it because they have no shelters and they seem glad for the shelter in Bunnell to draw their own homeless population on cold nights. It relieves them of the responsibility to do anything else. And still, none of the cities or the county have done anything to address the matter.
The perceived problem has flared up again, and follows the very same pattern set two years ago: complaints based on anecdotal problems, and by very few people.
---
Audio: Faith Coleman [media id=321 width=250 height=250]
The person who triggered this latest round is Sheryl France, who works for Comfort Realty Corp., whose Bunnell office is not far from the church. France addressed the Bunnell City Commission last month, complaining of problems and drawing a picture of chronic blight. She submitted a petition that looked longer than it really is: nineteen names from about half as many properties—not exactly an outpouring. And when the City Commission addressed the matter again Monday evening, few of these 19 names were in the audience (France was), but the chamber was full of red-shirted supporters of the church and its Sheltering Tree, the name of the non-profit organization that helps the homeless and runs the cold-weather shelter. Some 24 people addressed the commission, all but two or three in overwhelming support of the church's works and responsibility to care for the homeless—a responsibility many called an obligation, among them Beth Gardner, pastor at the church.
"Before we started welcoming the homeless specifically on our church property, they were there, they were at our convenience stores, they were asking for money at the post office, they were there. They are there," Gardner said, going on to explain that the church wasn't changing to a full-time permanent homeless shelter. Just as the church operates as an emergency shelter to others when need be. There are ground rules, "and when the rules are broken the offender is asked to leave and not allowed to come back for a specified number of weeks." The church had been allowing homeless people to park their vehicles on church property until the city's code enforcement department ended the practice.
"First United Methodist Church is a church that identifies itself as a church overflowing with God's love. Being a place of welcome, respite and refuge for the poor and homeless is not easy. We have our own struggles with cigarette butts, with stolen toilet paper, food wrappers and body odor. But welcoming everyone and loving even our enemies is not something we can choose not to do. It really isn't even about what we do. This is who we are."
Faith Coleman, a nurse who was largely instrumental in founding and running Bunnell's free clinic for the uninsured for years, with the late John Canakaris, told the commission that her cancer—stage four– had returned for the third time, that she had to quit work in November, and that if it weren't for a son who was making her mortgage payments, she would be homeless. "I don't mind being treated as though I'm poor because I am," Coleman said. "What I do mind is the discrimination that people get when you don't have money and when you don't have insurance, and in case you don't realize it, when you do get disability, you don't get any money for six months."
---
Audio: Carla Traister[media id=322 width=250 height=250]
But there were also those who, like Crain-Brady, could sympathize with complaining property and business owners. "Rev. Gardner is doing what she's being called to do," Crain-Brady, who advertises her Christianity on her sleeve, said, wishing every church did the same. But that doesn't diminish the problem she sees. "It's a real issue, it's creating real blight, I watch out my dental office window at the group that's congregating. They're begging money, they're hanging out at the convenience store, and when I leave that group is hanging out at the Methodist church." Crain-Brady called it an unintended consequence: they're not invited to the church, but they end up there, creating an issue for the city that affects property values and residents' quality of life. "I don't know what the answer to this is. It's a sad issue."
Commissioner John Rogers, who spends every third Sunday driving a bus-full of homeless men and women to Calvary Baptist Church, where he ministers to them and helps clothe and feed them, nevertheless agreed with Crain-Brady. "I commend you for what you're doing, it's not easy, it's a burden on my heart too," Rogers said to the church's supporters. "But Commissioner Brady spoke very well of the church side and the city side, and it's definitely a tough, tough one for us board members up here." He added: "Hopefully we can all come to a fine—I don't know how to say this—"
Commissioner Elbert Tucker to his left whispered him the word: "balance." It would be the only word Tucker spoke the entire 90 minutes the commission spent on the issue.
"A balance, a fair balance," Rogers said.
That balance was not found at the commission's meeting Monday evening. Commissioners at least agree that the problem doesn't stop at Bunnell's boundaries. They want Flagler County's government and its other cities to get involved, to think up a solution jointly—and to pay for it jointly. Mayor Catherine Robinson wants to have conversations to that effect with her colleagues in other governments. But the same ideas were floated two years ago. As was the notion of working more cooperatively within Bunnell—between church advocates, business and property owners. After an initial blush of interest, what followed, in City Manager Armando Martinez's word, was "apathy." That may happen again this time around, with more words than solutions that would satisfy all sides.
Gardner left the meeting unsure about what will happen next, especially when thinking back two years, with one exception: she knows with clarity what her responsibility happens to be, and she intends to continue to assume it.