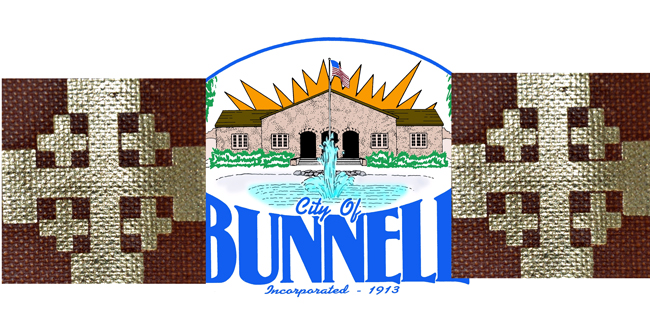 Bunnell City Manager Armando Martinez was jazzed up after the city hosted a "Day of Prayer" on the steps of its old city hall two weeks ago. He wanted to go further. "I'm going to recommend to the city commission that this Thursday every year becomes God's City Day in Bunnell," Martinez said.
"I have to talk to him," Sid Nowell, Bunnell's attorney, said, when hearing the quote. "We have to be careful that we don't cross the line when it comes to the separation of church and state. Quite frankly I don't know what that means—God's City Day. I'd have to ask him, if that's what he said, that comes pretty close to crossing the line separating church and state."
Nowell did talk to him. The result is a somewhat toned down city proclamation that declares every first Thursday of May a "city of Bunnell day of prayer," and does so "in humble acknowledgement of our dependence upon God for wisdom, courage and power," while being "thankful for the liberty that allows people of all faiths to worship or not worship according to the dictates of their conscience." The proclamation, which appears on the city's agenda for approval at next Monday's meeting (May 23), would bear Mayor Catherine Robinson's signature and that of the city clerk and the city's seal. Robinson asks Bunnell's citizens "to join me in giving thanks for the many blessings we enjoy, and I ask all people of faith to join me in asking God for guidance, mercy, and protection for our city."
Robinson hadn't seen the proclamation when she was asked about it on Wednesday, but was aware that Martinez was preparing it. (Martinez has been off duty for several days, recovering from shoulder surgery. He was hospitalized again briefly late last week after suffering chest pains.) The notion of a day of prayer in the city had its origin with a suggestion by John Rogers, the newest member of the commission, who approached Martinez last month and asked him whether the city was marking the day of prayer. Martinez was only too happy to curry favor with Rogers, who's been a critic of the city manager. The day of prayer idea took off, and has evolved into the proposed proclamation.
The proclamation drew a rebuke from Rabbi Merrill Shapiro, who chairs the Flagler Area Ministerial Association and is the president of Flagler County Americans United for Separation of Church and State. "As Americans," Shapiro wrote Robinson on Wednesday, "the good people of Bunnell have the right to pray for whomever they want, whenever they want and in what manner they like. The good people of Bunnell don't need an officially designated city government proclamation to do that. Bunnell citizens are free to engage in worship whenever they want. Allowing the Bunnell City government to set aside certain days for prayer and worship implies that the city government has some say over the religious lives of the city when it does not. It is simply not the business of the Commissioners of the City of Bunnell to advise when, if and how people pray."
The day of prayer has been litigated. A federal district judge in Wisconsin declared it unconstitutional last year. But last month an appeals court overruled the decision on grounds that the group that filed the suit—the Freedom from Religion Foundation—had no standing to sue. The merits of the case, in other words, were set aside over a procedural issue.
With one exception, there is little opposition to Bunnell's seal on a day of prayer on the city commission. "I have no problem with it," Jenny Crain-Brady, the vice mayor, said about Martinez's original idea of a "God City Day" when asked about it last week, though she qualified its application with the city. "I don't know the logistics of it. I don't know if you can even do that. If you can, you know how I feel, I love the lord, I think every day should be the national day of prayer." Commissioner Daisy Henry, a pastor, is a member of the city-sponsored Alliance of Involved Ministries and had helped organize the day of prayer, which Robinson supported. And Rogers originated the whole thing.
The lone dissenter is Commissioner Elbert Tucker, who, asked about Martinez's initiative, immediately grabbed a copy of the U.S. Constitution and turned to the First Amendment, reading the Establishment clause out loud ("Congress shall make no law respecting an establishment of religion…").
Bunnell's proclamation, while unique among local governments in Flagler County—which steer clear of religious dabbling—closely paraphrases those of President Truman and subsequent presidents, including Barack Obama, who have issued the proclamations almost annually since Truman's first in 1952. That year Truman signed a bill compelling each president to declare an annual national day of prayer on the day of his choice. Various presidents have interpreted the day differently. More conservative presidents, including both Bushes and Ronald Reagan, commemorated the day with events at the White House. More liberal presidents, including Bill Clinton and Barack Obama, have issued the proclamation and left it at that.
The proclamations nod to multi-denominational observance but are unmistakably Christian in tone, intent and origin.
The National Day of Prayer has its origins in the Cold War, when politicians often contrasted American faith with Soviet communism's official atheism, and more particularly with Billy Graham. In 1952, the evangelist led a six-week religious campaign in Washington, culminating on the steps of the U.S. Capitol on Feb. 7—at the invitation of Sam Rayburn, the powerful Speaker of the House—with a speech in which Graham said: "What a thrilling, glorious thing it would be to see the leaders of our country today kneeling before almighty God in prayer. What a thrill would sweep this country. What renewed hope and courage would grip the Americans at this hour of peril." The following day, the aptly named James Percy Priest, a Democratic congressman from Tennessee, introduced a bill that would set an annual day of prayer. Absalom Roberson, the Democratic senator from Virginia—named for the biblical son of David—filed a companion bill, which both chambers approved and Truman signed in April.