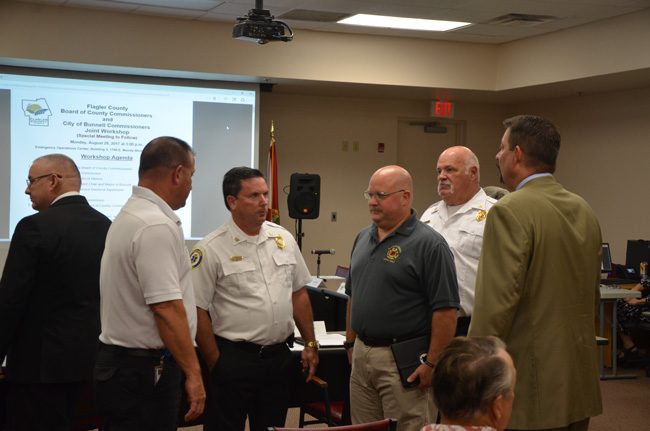 For Bunnell City Commissioner Elbert Tucker, it's been the longest crusade: end the city's fire department. End the city's police department. Hand police or fire responsibility, or both, to the county.
His two or three attempts to end the police department in the earlier part of this decade fell flat. At least two attempts to end the fire departments followed since 2015, the last one just last year. But his third attempt may get him there.
He and another city commissioner—John Sowell, its newest member, and a retired member of the county's rescue operation—are convinced a merger is the way to go. A third and deciding vote, that of John Rogers, is leaning that way.
And based on today's joint meeting between Bunnell and the County Commission, even Bunnell Mayor Catherine Robinson, until now the staunchest defender of city institutions, which she considers part of the city's heritage, is willing to entertain the proposal, assuming the transfer preserves a measure of that heritage. The County Commission, for its part, is fine with absorbing Bunnell's fire department, even if it has been more of a bystander to the deal—and continues to be so.
"I don't want the commission to take action until Bunnell has decided to," County Commission Chairman Nate McLaughlin said. "Whatever you all want to do we stand ready to assist you."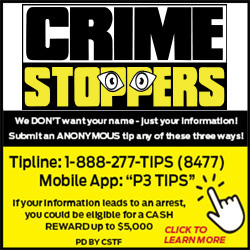 The Bunnell commission will not actually vote on that decision until its Sept. 11 meeting. But as matters stand today, the strong likelihood is that the commission will approve the transfer.
Robinson is sensing the tide turn against her wish to preserve the department this time. Even the city's fire chief, Ron Bolser, is supporting the transfer, as is City Manager Dan Davis. Before becoming Bunnell's fire chief this year, Bolser retired as a captain from Flagler County Fire Rescue, where he still has many friends and colleagues. More importantly, Davis's budget for next year is already allocating savings from the $110,000 annual fire budget to other needs.
"We need that money and we have that money already plugged into some holes to fill for this coming year," Davis said, especially in the police department. "This isn't something that we have a saving of $110,000" to set aside. That's the reason the administration is advocating for the transfer. In other words, even opponents of the transfer are in effect cornered by budgetary certainties this time.
Davis initiated discussions of a merger with the county months ago, before the city commission discussed it again, to address a shortfall in his city's budget. A lot of equipment in the city's fire department has to be retired because of age, and replaced. "It would take us a tremendous amount of money because we haven't set any aside for that," Bolser said.
As presented by Flagler County Fire Chief Don Petito today, the number of calls for service also point to a city department operating more in assistance mode than anything else: out of 1,885 calls for service in Bunnell recently analyzed, 94 percent of the calls were handled by the county anyway. Those calls that the city handled were more like addressing courtesy issues such as help with a fire detector or, as Commissioner John Rogers archly put it, bringing down a cat from a tree limb.
That was a different assessment than the one former Bunnell Fire Chief Derek Fraser gave his city commission just a year ago, the last time his department was under threat of absorption by the county. At the time, Fraser, who has since retired, told the commission that the department was doing too much, for too little cost, to be abandoned. But Fraser's number focused more on such things as the number of hours 17 volunteer firefighters contributed to Bunnell (12,000 a year) and the low cost for which they worked rather than the sort of service they provided. It was Commissioner Elbert Tucker who pointed out the low number of substantive fire calls the city's department was responding to—questioning his own fire chief's numbers along the way.
There's also the fact that since Bunnell doesn't have a medical director, its firefighters are not allowed to provide medical services at an emergency scene, the way county firefighters do. There were 1,576 calls for medical service in Bunnell last year, the overwhelming majority of calls to fire departments. The county handled them.
"It's not like we're getting something for nothing, we're getting something we've always been paying for," Tucker said.
Based on the proposed agreement between Bunnell and the county that both governments would have to approve-an agreement drafted by the county—Flagler would absorb the Bunnell Fire Department for what would be a 30-year term. Bunnell would keep ownership of the fire department's infrastructure—its property and building across from the county's Government Services Building, on State Road 100. The county would house a fire truck and an ambulance of its own in that building. It would maintain and staff it with three shifts of crews of two, 24 hours a day, seven days a week.
That will enable the county to do what it wants to do anyway: expand its arsenal of active rescue units from the seven to eight, thus both improving its coverage areas while also reducing the amount of calls on particular units by spreading out those calls more. "For us on the county side the need to add an additional rescue is here," Petito said.
County Administrator Craig Coffey called the merger with Bunnell "convenient timing," though it's a significant advantage for the county, which would not have to build a costly fire station. It would spend $20,000 remodeling the station.
The county would also assist Bunnell in selling Bunnell's existing fire equipment, a revenue the city needs to help pay for its retired firefighters' pensions.
Those retirees are a key concern for city commissioners. Volunteer firefighters in the city become vested after 10 years' service, earning $47 a month for every year of service. The city only has three vested firefighters, possibly four, and would owe them $12,000 in the coming year (among them its retired chief). If the city eliminates its department, it would have to continue paying those pensions, but would lose $2,000 in annual state contributions. The city is prepared to do that, pending an actuarial study showing future costs compared with buying out the retirees.
Rogers, the Bunnell commissioner, had been concerned about the city's volunteers and their future. "There's no guarantee that them guys are absorbed by the county. They have to apply and qualify," he said. But the proposed agreement put him at ease, financially.
"If you'd asked me last week before I read the resolution, I would have told you I was leaning to keep it," Rogers said of the fire department. "But now that the interlocal agreement has the city of Bunnell paying nothing and the city of Bunnell is getting an ambulance, I'm leaning the other way." (An interlocal agreement is essentially a joint agreement between two independent local governments.)
"It's very good for our volunteers," fellow-commissioner Sowell said. "Nothing changes for them other than who they report to," assuming they become county volunteers.
"There's heritage here and there's history here," Robinson said. "I'm looking for some heritage here and some maintenance of history going forward, so we don't lose that." For example: keeping the Bunnell station named the Bunnell station. Petito assured her that would be the case even if the station was numbered, as it surely will be as well, in line with other stations.
In previous attempts to get the county to take over the fire department, Tucker was the most talkative member of the city commission at meetings where the matter was discussed. He would present reams of facts to buttress his case in addition to his own pleadings. Others would say little, knowing they had the votes to keep Tucker isolated. Not today. He spoke very little, either at the workshop or at Bunnell's own workshop on the issue, which followed the county's within an hour. Tucker this time sensed that one of his biggest goals is within his grasp.
"If they read the financial statements, it's not a hard decision," Tucker said between the two meetings.