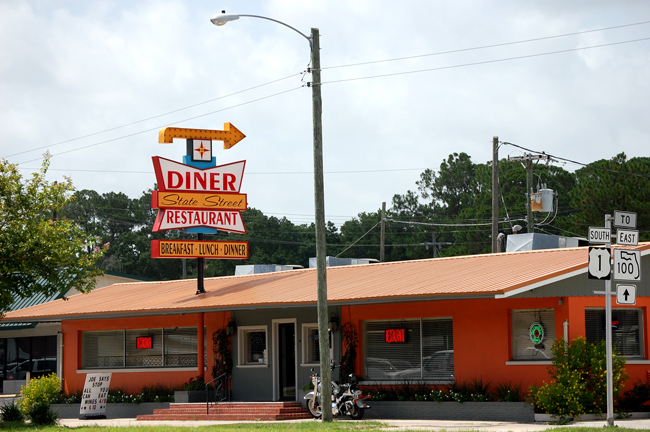 It was an eventful night outside the State Street Diner in Bunnell.
At close to midnight Monday, a Bunnell police officer was writing reports in the parking lot of the Advanced Auto Parts store on U.S. 1 when he saw a dirtbike speeding south, without lights on, and with two people riding it. The officer pulled out of the parking lot, stopped at a stop sign to look in which direction the bikers might have gone, but lost sight of them.
By then, like a different surveillance camera picking up the action further south, another witness — who'd been at The Beer House, a lounge in a small strip mall across the street from the diner, reported seeing a dirt-bike with two individuals on it traveling south at 50 mph, trying to turn into the Budget Motel, and instead hitting the curb, crashing the wall (presumably of the diner) and throwing its two occupants.
The two riders turned out to be 16-year-old Jerome McClendon Capers and 19-year-old Hiawasee Watson, both of Bunnell. Bunnell police's L. Hofsford responded to the scene, where he saw the two riders on the ground. Firefighter Robert Bracewell was also there. Capers was flown to Halifax Hospital in critical condition. Watson was taken to Florida Hospital Flagler with minor injuries, according to a Florida Highway Patrol report.
Capers and Watson weren't the only wild riders last night. While a trooper was at Florida Hospital Flagler gathering information on one of the riders, he said another boy there, an 11 year old, who had two broken legs, and who told the trooper that he had been riding his dirt-bike with the other two riders and had also crashed his. It wasn't clear where that accident had occurred.
The first call to a Bunnell police officer about at least two dirt-bikes driving recklessly around Hymon Circle came in at 10:38 p.m. The officer responded, noticed one dirt-bike parked in a driveway, contacted people at that address, relayed the complaints and said he did not want anyone operating the dirt-bike that night.