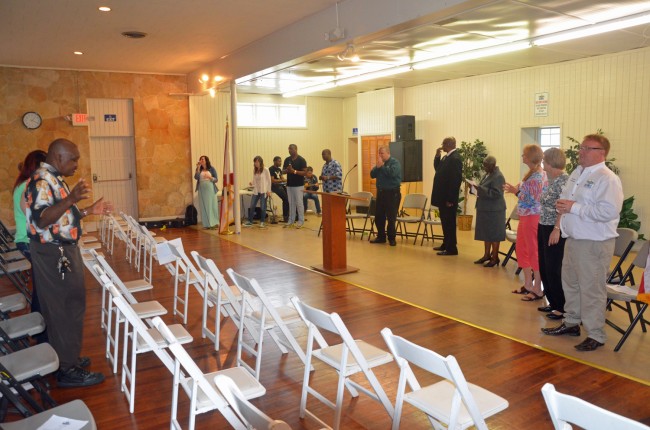 It's not every day that the Bunnell City Government openly and proudly breaks the spirit of a law, if not its letter. It usually happens only once every two weeks, when one of its city council members leads the rest, and the assembly before the council, in an explicitly Christian prayer, under the city's banner, to open Bunnell City Commission meetings.
But once a year for the past three years, the city has sponsored a "Day of Prayer," inviting numerous religious representatives, politicians from every local government and members of the public to participate in a Christian revival-like gathering, under the city's big tent—its former City Hall—and the city's aegis, with city commissioners arrayed up front alongside clergy from the Alliance for Involved Ministers that former Commissioner Daisy Henry created, and with those commissioners and the mayor themselves leading the assembly in prayer.
They stood, they clapped, they swayed, they chanted to the rhythms of the Calvary Christian Center Praise Band. Commissioner John Rogers, who is at the origin of the Bunnell Day of Prayer, called Bunnell "God's city." Mayor Catherine Robinson quoted from Chronicles ("if my people, who are called by my name, will humble themselves and pray and seek my face…"). Several pastors spoke. The name of Jesus was liberally and insistently invoked. And at one point, to the delight of the flock, the electricity flickered.
If the intent was to be non-denominational, the result was anything but, with frequent references to the supremacy of god or Jesus to the law. "As Christians when we pray we are told to pray in the name of Jesus," Curtis Gray, a pastor at Kingdom Purpose Christian Center, said to applause. "Now I want to close by saying that that name is above every name."
City Manager Armando Martinez describes the event as "in compliance with the requirement of the President of the United States, making it a National Day of Prayer. The city is endorsing that idea of bringing people together." In fact the Day of Prayer was the Cold War creation of James Percy Priest, a Democratic congressman from Tennessee, and Absalom Roberston, a Democratic senator from Virginia, who in 1952, and at Rev. Billy Graham's urging, introduced companion bills to create an annual day of prayer as a contrast to Soviet atheism, and require every president every year to issue a prayer-day proclamation.
A federal judge declared the Day of Prayer unconstitutional in 2010 but was overruled by an appeals court that sidestepped the legality of the day, and instead focused on the complainant—the Freedom From Religion Foundation—saying it had no standing to sue.
"The U.S. president and elected officials have neither the moral nor the constitutional authority to exhort citizens to pray and to gather with others 'to turn to God in prayer,' " the foundation said today in a statement alongside a full-page ad it ran in the Washington Post, opposing government's role in the day of prayer.
But while the presidents' proclamations recognize and celebrate religious diversity and participation, they do not call on governments to sponsor such celebrations. "Today and every day, prayers will be offered in houses of worship, at community gatherings, in our homes, and in neighborhoods all across our country," Barack Obama's 2013 proclamation states, expressly leaving silent government's role beyond recognizing the day. Bunnell does not recognize the distinction.
Martinez, after the first city-sponsored day of prayer in 2011, wanted to go further and call it "god's city day in Bunnell," but was dissuaded from doing so by the city attorney. His brief speech Monday was among the more secular, however.
"I was born in a country where you couldn't do anything like this, where you didn't have these freedoms," Martinez said in one of the more moving moments of the afternoon, as he referred to his native Cuba, where atheism is the official state religion. He paid tribute to the military for defending such freedoms. Unlike commissioners, he sat in back of the mostly empty hall.
The event was richly attended last year because it fell ahead of a major primary and general election: every local candidate with a prayer's chance of a win turned out. There is no election this year. The hall was mostly empty: Commissioners and clergy aside, 25 people were in attendance, at least half of whom city staffers, including every department head and the police chief.
Representatives from every local government, including Palm Coast, Flagler Beach, the school board and the county, were invited. None showed up. The one exception was Flagler County Sheriff Jim Manfre, who walked in 50 minutes into the proceedings and immediately went to the dais to offer the most secular address of the afternoon—a recognition of fallen cops and a reminder of next week's commemoration of National Police Week as well as the Sheriff's Office's own annual ceremony remembering its fallen deputies. Manfre, an attorney, had no issue with Bunnell's sponsorship of the day.
Mere prayer at government meetings has repeatedly been ruled constitutional by courts—as long as the prayer falls within certain parameters. The prevailing U.S. Supreme Court decision on the matter dates back to a 1983 ruling (decided by a 6-3 vote) that declared constitutional state legislature's hiring of a chaplain to open sessions with a prayer, as long as the prayer was non-denominational or not distinctly Christian. Generic mention of god is not objectionable—the Supreme Court itself begins its sessions with the formulaic words, "God save the United States and this Honorable Court"—but specific references to denominationally recognizable theology is not. The minister at the center of the Supreme Court case used to offer explicitly Christian prayers, but dropped all references to Christ after a Jewish legislator complained. That satisfied the court as it reduced the prayer to a tradition that's "become part of the fabric of our society."
"To invoke Divine guidance on a public body entrusted with making the laws is not, in these circumstances, an 'establishment' of religion or a step toward establishment," then-Chief Justice Warren Burger wrote for the majority. "It is simply a tolerable acknowledgment of beliefs widely held among the people of this country."
Justice William Brennan, in his dissent, wrote: "Prayer is serious business – serious theological business – and it is not a mere 'acknowledgment of beliefs widely held among the people of this country' for the State to immerse itself in that business." The majority ruled in that decision.
Just five weeks ago a federal court decision—with jurisdiction over Flagler County—concluded that the Lakeland City Commission's custom of opening its bi-monthly meetings with a prayer was not unconstitutional, but the court did so after the city amended its custom to ensure that the prayer did not take place as part of the official meeting (Bunnell's prayer is noted on its meeting agendas), that it was proffered by someone outside the government (Bunnell city commissioners or the mayor deliver the prayer), and that the process of securing those who would offer a prayer was broad and all-inclusive. Other courts have ruled that such prayers must not specifically be denominational, with overt references, for example, to Jesus Christ.
In every regard, Bunnell's approach insistently took on an evangelical approach. Monday's "Day of Prayer" was built around the talent—musical and ministerial—of Ormond Beach's Calvary Christian Center, with which Commissioner John Rogers has a close association, and whose pastor, Jim Raley, was part of Monday's event. There were no non-Christians.
That's not necessarily the city's fault: Bunnell has 38 churches and no known worship centers of non-Christian denominations of any note. But the city, according to Judi Stetson, its special projects director and the organizer of today's event, broadened its invitations to include all of Flagler County, down to Daytona Beach, a geography that encompasses innumerable denominations, religions and non-religions. The response was scant, in clergy or attendance. Rain, an act of god the city could not control, did not help.