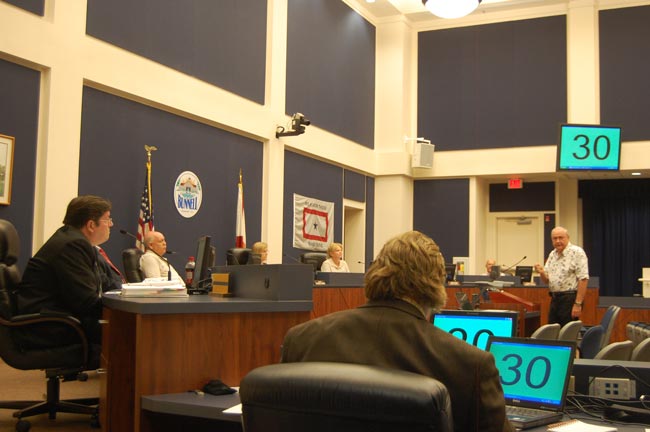 Bunnell city commissioners chose a strange time to double their own salaries, and a strange way to do it. Monday evening, the commissioners were verbally whipped for their timing during a public hearing on the city's new budget.
Commissioners enacted the mechanism of their salary leap in the spring of 2009, in the depth of the recession. And they did it by changing the city's charter (a change they put before voters, who approved it) that enabled them to avoid holding a public hearing every time they'd choose to hike their salaries, as they had to do previously. They could merely take a vote, and that would be that. So they did, in June 2009, enabling the doubled salaries—from $4,800 a year to $9,600 a year—to kick in last spring.
That $9,600 is equal to the pay of a Palm Coast city council member. Palm Coast's population of 75,000 is more than 30 times that of Bunnell.  Their defense, made for them, even more strangely, by their employee—City Manager Armando Martinez—was that they hadn't had a raise in seven years.
Bess Wall, a teacher at Flagler Palm Coast High School, having trouble holding her emotions in check, told commissioners she was offended by the raise when her own students have been going without supplies. "I am offended by that because we're supposed to teach these kids," Wall said, "and I don't have the supplies I need and I haven't had them for years" at the high school. Wall said she ends up spending about $1,000 a year from her own pocket to pay for some supplies, as do other teachers. "So I can't sit here and feel a tad bit sorry that you haven't gotten them for the last seven years."
Richard Agaliotis was more blunt. "I think it's appalling what you're doing," he told the commissioners. "The city manager said we haven't raise the millage rate. Has anybody heard of maybe lowering the millage rate? This is extraordinary times. In closing I'd like to say, if this was 100 years ago, all of you would be outside, being tarred and feathered."
Agaliotis isn't even from Bunnell. He was among the dozen odd Palm Coast residents, many of them wearing the blue and red shirts of the local "tea party," attending the Bunnell commission's first of two budget hearings, where it votes to approve next year's budget and affords the public a chance to speak.
The commission had little room to deflect Agaliotis' comments based on his home address. Just last week, commissioners tolerated and encouraged a parade of Palm Coast residents who spoke in support of the Bunnell Police Department in a clearly orchestrated display of imported pride in the city's law enforcement agency. The parade took place during what was supposed to be a workshop between the Flagler County Sheriff's Office and the commission, discussiing a proposal—put forth by Bunnell Commissioner Elbert Tucker, who said the city's tax rate could decrease as a consequence—to have the sheriff take over law enforcement in the city. The public rarely speaks during workshops. But commissioners wanted to quickly  bat away the proposal without seriously engaging it.
Monday evening, Palm Coast speakers felt emboldened literally to criticize commissioners' own pocketbooks. Commissioners remained mostly silent except for a few comments by Tucker and Commissioner Jenny Crain-Brady, both of whom said complaints about schools should be addressed to Tallahassee.  Martinez, however, almost impassioned, went to great lengths defending the raises and advocating for his employers. "I'm going to tell you, they earn their paycheck," Martinez said.  "I can tell you that these people to the left of me have been underpaid for many years."
Last year, when the commission voted on the matter, Tucker was in dissent, explaining his opposition as a "moral gesture," to show that the city recognized the hard times residents were going through.
Tucker was defiantly not in dissent Monday night. "I'm worth every dime that I get paid for this job," he said, after the hearing. "Here's the final analysis. The people don't like us, they need to vote us out and get the salaries back to $4,800." Tucker, who last year said he wanted to see a lower tax rate before seeing a raise for commissioners, described the city's new budget as essentially enacting that lower tax rate.
It doesn't. The city approved maintaining the same property tax rate for another year–$6.0544 per $1,000 in assessed value. By keeping the rate the same, the city will essentially take in more than 22 percent less revenue next year than it did this year, because of falling valuations. That doesn't mean that property owners in the city will pay 22 percent less in taxes. It only means that the city's coffers will, overall, take in 22 percent fewer dollars. Most property owners will likely pay less. But some may end up paying more, or the same as they did this year.
Commissioners unanimously approved the city's $9 million budget. It was the first of two legally required hearings. They'll hold their next and final budget hearing on Sept. 27.