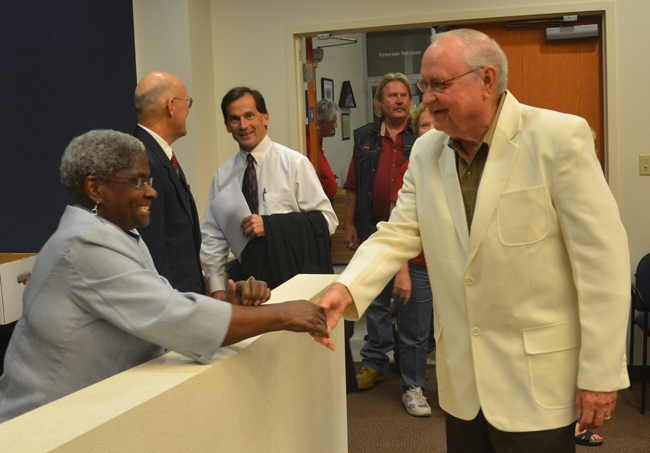 They took their oath from Flagler County Circuit Judge Dennis Craig a little after 7 p.m.: First, Mayor Catherine Robinson, who ran unopposed for the second straight time, then Commissioner Elbert Tucker, who was re-elected, and finally, Bill Baxley, elected for the first time, on his second try.
Through it all outgoing Commissioner Daisy Henry kept her seat, applauding after the conclusion of each oath, congratulating the winners, then–during a short break for cake and mingling–slipping out of her seat and the government she'd served for close to a decade and a half (though not in succession). She remained in the audience.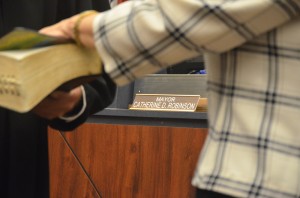 Henry's departure is more significant for the political shift it signifies on the Bunnell City Commission, as Tucker, a voice of dissent for five straight years, now has a working majority: Commissioners John Rogers and Baxley are allies, the way Robinson could count on Henry and Commissioner Jenny Crain-Brady as her allies, who ensured Robinson of an impregnable majority.
Robinson is taking the shift in stride, downplaying its significance until votes start showing which direction the commission may take with Baxley as the new swing vote. "We'll have to see," Robinson said. "I think his heart is in the right place, and if we're working together for the good of the city as a whole, we're not going to have as many issues as people think." Of running unopposed yet again, Robinson said: "I feel honored and humbled by that. I could have easily had opposition and this time I didn't. I think it's a blessing from God."
"I don't know if it's a power shift or not. We haven't had a vote yet. We'll have to see," Tucker said during the cake-break. But the evening's very first vote answered the question. The shift was illustrated by the very first order of business with the new commission seated: When it came time to pick a vice-mayor, Tucker immediately nominated Rogers. Baxley seconded the nomination. There should have been a vote. Instead, Robinson passed the gavel to Crain-Brady–because she can't make a motion as the mayor–and nominated Crain-Brady to be the vice-mayor again. But there was no second. The vote for Rogers was unanimous.
Baxley, who rarely shows much emotion–except when he expresses himself in his paintings–also downplayed the potential changes ahead, though not entirely. "There will be some changes, but not a lot," he said. "I do foresee some. Mostly policy." Baxley is as familiar with the workings of the commission as any commissioner, if not more than some commissioners (or ex-commissioners), having attended the commission's meetings religiously for several years. He is now attending department-head meetings, without triggering sunshine issues: he is the only commissioner to do so. It's unusual: policy makers are strongly discouraged from meddling in administrative workings. But Baxley says he's doing to merely to educate himself, not to interfere. His focus will be on charter matters.
That, too, is Tucker's focus: following the city charter.
Oaths of office can be routine, words read from a sheet of paper that have been similarly read many times before. Not Monday evening. The oath of office had a couple of added lines, at Tucker's insistence: not only would the elected swear to uphold he constitutions of the nation and the state, but they were also swearing to uphold "the Bunnell City Charter." The line appeared twice in the oath–the first time it ever did so, according to Tucker, who was telegraphing his intentions explicitly from his very first act as a re-elected commissioner.
What that means in the specifics is yet unclear. More clear is the high likelihood that the new majority will use the charter as an instrument of its desired changes, whether these have to do with the city manager, the city attorney or with city policies.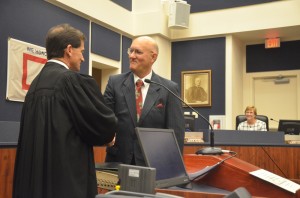 Tucker did not hide his relief that the last five Years of Dissent appear to be over. "I'm excited about the possibility of perhaps being in a few majority votes," Tucker said, without regrets for the past five years. "When you stand alone for rights, it's the right thing to do. I have no regrets for standing alone."
Tucker was also in a far less triumphal than humbled mood. "I'm not the warrior I once was," he said, the last five years having exacted a toll on him–and his business. He hints that this term may be his last. "We'll take it to the end of the term. I'm not going away."
With one exception, much of the rest of the meeting involved more routine issues, as well as a good-news announcement by Mark Langello, owner of the Atlantis Business Center and a frequent city cheerleader. He announced that Brighthouse, which, he said, "had been having some issues in Palm Coast," will be moving to the Atlantis business center, and bringing 60 jobs with it. Langello told a very pleased commission that the move underscores Bunnell's image as business-friendly.
The exception had to do with a recurring issue in Bunnell: the small homeless group of people who gather at the United Methodist Church on North Pine Street have again upset an even smaller group of people who have roofs of their own, and businesses, in Bunnell, and who have repeatedly pressured city officials to end the church's outreach services, limited though those services are to providing meals for the homeless once a week and overnight shelter on very cold nights only. Supporters of the church and its "Sheltering Tree" outreach filled the chamber, and readied to speak later in the meeting, giving Baxley and the new majority its first taste of a raw, unresolved but–if the past is any indication–more manufactured than serious conflict.