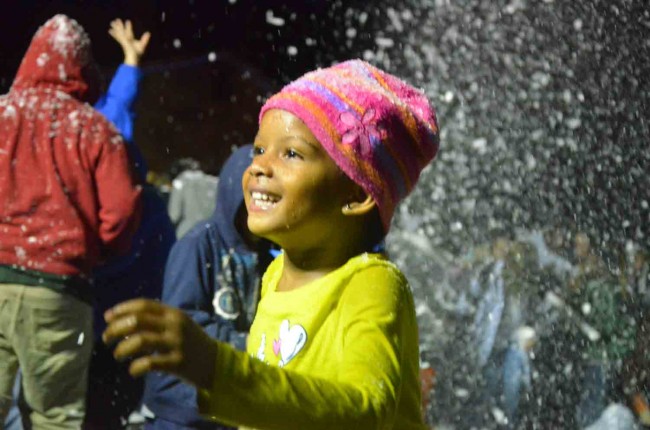 It snowed in Bunnell tonight.
At 7 p.m., as children gathered in the courtyard next to the old coquina City Hall, having heard a forecast for snow that was as good as a promise, that little corner of sky opened up (compliments of Yorkshireman Jon Hopwood's snow machine and firehose-like snow-blower) and big, fat, full flakes of icy snow began to whiten the Christmas crowd and send throngs of children in a frenzy. Many of them were seeing the stuff for the first time in their young lives. Most hadn't come this close to a white Christmas since they'd last seen "It's a Wonderful Life." You could see it on their faces. You could see it in their twirls and hear it in their primal shrieks. You could see it in their surprise: the unknowing wearing t-shirts and shorts hadn't necessarily realized that snow is ice. But they jumped, they whirled, they threw snowballs. They couldn't get enough.
They weren't alone. A lot of people rediscovered their inner child Friday evening.
The snow was just one of the many highlights of a string of highlights as Bunnell ended its centennial year in what appeared to be the most festive and well attended event it's ever held. It was Bunnell's gift to Bunnell. For three hours it wouldn't stop giving: some 50 singers from Amy Fulmer's choir at Flagler Palm Coast High School performed carols for an hour. Max the Saxman Trio performed in the courtyard. And after Santa's arrival on a fire truck bedecked in lights and howling with sirens loud enough to break up icebergs, a Flagler Youth Orchestra quartet took up its bows on one side of the old city hall's alcove-like entry and Santa, on the other side, began greeting a line of children that stretched literally into the night: the line was long enough to snake around the parking lot.
But it wasn't dark: the city's public works department had bathed trees, poles, arcs and even a Christmas tree in the middle of the lake in thousands of lights for the season. A blend of city money and business sponsorships—including the coordinating prowess of Thea Mathen and Dave's A1A Auto, among others—made possible barbecue pork and chicken, cole slaw and beans, all free, all devoured faster than expected because the crowd exceeded all expectations.
"I have no clue how many people were here tonight but all I know is they all had smiles on their faces," Williams said. "It was a huge crowd. It was more than I ever anticipated, more than anyone anticipated. It was happy. Christmas was alive." It was neither PR nor exaggeration when Williams added: "From start to end it was a perfect night."
A bird's eye view would have produced a scene no different and in some ways better than those Hollywood sets that attempt to recreate the small-town feel of a Frank Capra Christmas. The difference was that in Bunnell Friday evening the scene was real, and most of the city and big parts of neighboring ones turned out.
"This is probably the first time we've really been able to touch all of our citizens and bring them in," Judi Stetson, the city's grants and special projects director, said. "This is a dream. This is a dream we've had for years and years, to be able to provide a real hometown Christmas for Bunnell and to be able to showcase our city for who we are."
As Stetson spoke she got a big hug from Mark Langello, the Bunnell business owner and a godfather of the city'd annual Potato Festival in May. Even to him, Friday's Christmas finale to the centennial year seemed a bigger event than the festivals. The snow—promised by Larry Williams, the new city manager, who'd made it snow in a previous town he'd headed—was just a final surprise. That, and Mayor Catherine Robinson, the most hugging public official in Flagler County, giving The Grinch one of her trademark embraces.
It was supposed to be a one-time thing for the centennial, but Stetson knows that the event will more likely turn out to be the start of a Bunnell tradition. Residents will expect it every year. And Stetson wants to oblige, with one additional finish: fireworks.
Few could imagine that Friday's finale was actually a substitute event for a planned gala evening. When the gala invitations drew too few responses, the city commission nimbly retooled in favor of an evening of barbecue, down home cheer, snow and Santa. It worked.
"The North Pole had a lot of snow, but the Bunnell Fire Department came through and picked me up on the corner of Moody and—what the heck is the nam of that street?–and Palmetto," Santa(*) said, his very long shift over. "And with sirens blazing, and my elf Joseph in the truck, we made it on time for the festivities. Lots of kids, lots of children, with lots and lots of them wanting gifts. I'll be able to give every child in the world a gift.."
Santa's wish? "For the many, many children to have everything they want and to have long and fruitful lives. And always to love their parents."

(*) Assuming that children aren't likely to follow footnotes, we can reveal here Santa's identity: it was Perry Mitrano, the city's waste management director, whose gentle demeanor most days of the year makes him a natural for Santa duty.
For best viewing, skip the slideshow and click on the first image itself, which will display in large format and resolution, then click through the remainder.
[nggallery id=107]