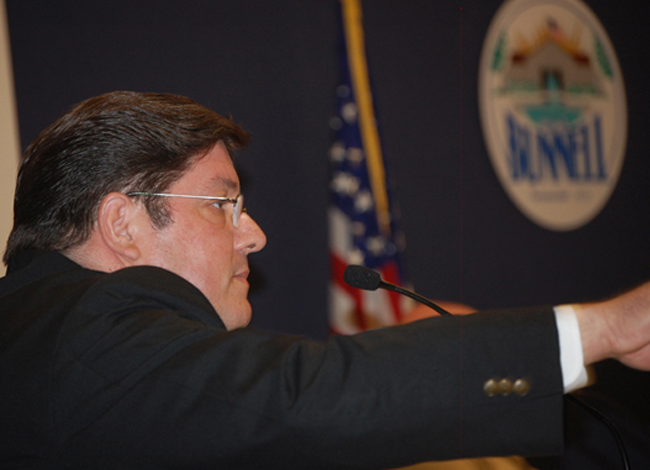 They do things strangely, weirdly and expensively in Bunnell. But Florida law may be catching up to Bunnell City Manager Armando Martinez's weird contractual arrangement, which has enabled him since 2008 to be both city manager and director of public safety. The second title is superfluous regardless, since, as city manager, all other city department heads, including the police chief, would report to him. The additional title has had the unintended—or perhaps intended—effect of diminishing the authority of Police Chief Arthur Jones.
More relevant to taxpayers: it has allowed Martinez to cash in on an extra $6,000 in "hazard pay," and to cost taxpayers an additional $5,000 in workers compensation costs, only to have Martinez occasionally respond to police calls.
The News-Journal's Julie Murphy this morning reports that Martinez "may be violating the state constitution" by holding both titles. His "continued work as a police officer may violate a section of the Florida Constitution, which states: 'No person shall hold at the same time more than one office under the government of the state and the counties and municipalities therein.'"
Martinez then gives a remarkably Clintonia explanation of why he is but isn't a police officer, depending on one's definition of is: "I'm still a police officer, but I'm not an 'officer' because I resigned as chief just like Mark Barker did in Holly Hill," a distinction the State Attorney's office's definition of a police officer does not abide. Baker, the story states, had his police credentials "temporarily inactivated" when he took managing Holly Hill after the firing of Oel Wingo in November. Not having those credentials hasn't stopped Martinez from acting the cop and cashing on hazard pay. Jones tells the paper Martinez responded to "a minimum of five calls" in the past year, which works out to more than $2,000 a call: better hourly pay than some of New York's finest corporate lawyers.
"I back up officers continuously," Martinez says. "I just don't write these all down besides everything else I do." But not keeping proper policing records is a demotion or firing offense for lesser cops in the Bunnell Police Department: at least one cop was demoted for just such a reason. Records are important for numerous reasons, including the responding cop's accountability and the legal paper trail of the case if and when an arrest is made. If Martinez's role in that trail is skirted, the record is crucially incomplete.
Martinez's dual position was created, he said, to enable him to keep his police credentials through the Florida Department of Law Enforcement. In other words, the Bunnell City Commission was doing him a favor—an $11,000 favor—that also happens to supplement his salary handsomely. Martinez's total compensation package is $117,000–$90,000 of it in base pay, $21,000 of it in deferred compensation, and $6,000 in hazard pay. The figure does not include benefits and peripheral costs such as workers compensation. (See his contract.)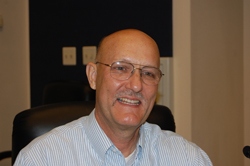 Elbert Tucker, the Bunnell city commissioner who tends to raise the most questions about the city's finances, considers the additional pay unwarranted (although Tucker had no issue with the doubling of commissioners' salaries). Tucker also tried to have the sheriff's office take over the Bunnell Police Department last year when, for the third time in a decade, the department's practices came under withering criticism by an official report—in that case, in a State Attorney's investigative report last year that revealed shoddy record and evidence-keeping, cops' unwarranted arrests and intimidation of drivers, and cops' favoritism toward Jimmy Flynt, a city commissioner and owner of a wrecker company, who benefited from wrecker calls illegally diverted to him, outside the official rotation (a benefit Flynt says he was not aware of). The investigation promoted the city to end some of its more egregious practices.
Tucker argued that the city's law enforcement could be done better and less expensively by the sheriff's office. The merger would have saved Bunnell an estimated $260,000. After a workshop that included an orchestrated parade of support for the police department—a parade made up largely of Palm Coast residents recruited to lend a clapping hand to Jones' service—the city commission rejected the idea of consolidating law enforcement with the sheriff's office. Had that consolidation gone through, Martinez would have likely lost his public safety title and hazard pay.