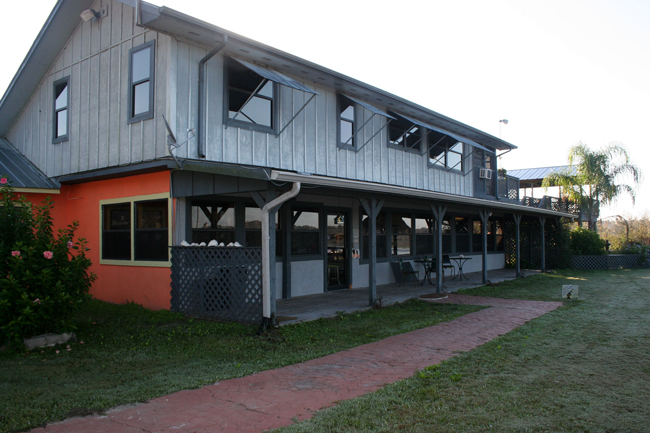 Travel to the end of County Road 2006 in western Flagler County and you end at the appropriately called Dead Lake, a thumb-up protrusion of water north of the Haw Creek Preserve, half-way between Mud Lake to the east and the much larger expanse of Crescent Lake to the west. The attractive, out-of-the-way location is a fisherman's haven. It is Flagler County nature at its most authentic and least disturbed.
Charlie McCraney sold the property to county government in December 2007, for $1.8 million, and with it a boat ramp and dock, a restaurant, a bait shop, bathrooms and a park ranger's office. The restaurant and bait shop have had a checkered history, with the county having to take over the bait shop operation in June 2011 and the restaurant closing ion October 2012. It's been idle since. The county even considered replacing the restaurant with an overnight lodging facility.
Monday morning, the Flagler County Commission unanimously approved leasing the restaurant and bait shop to a three-man consortium that recently formed as JMC Food Company. The county is charging $1,000 a month for the first five years, with rent rising by increments of $100 a month in each of the five successive years. Out-of-county park usage fees (but not RV camping rentals) will be split 50-50 between the county and JMC, and a minimum $20,000 investment in the property by JMC is required.
JMC, which plans an investment of $30,000, plans to add a general store and may branch out with eco-tourism type offerings such as kayak rentals, fishing tournaments, wildlife tours, "motorcycle rides and any event that showcases the natural beauty and unique features of the area," a JMC memo outlining the business plan states. Oh, and yes: beer and wine.
JMC forms the first-name initials of the three owners, who are no strangers to the restaurant business: Joe Rizzo and Matt Crews, owners of Woody's Bar-B-Q in Palm Coast, and Chris Zwirn, who joined the Rizzo-Crews partnership last May after eight years as district manager, overseeing three Wendy's restaurants locally.
"The place has functioned and been successful before," Crews said this afternoon. "There's more people out there than you think, and virtually all of them, because of their secluded nature, are accustomed to driving quite a ways for virtually anything. So we feel we'll have a considerably bigger physical demographic area than typically you would with a restaurant. At the same time our intention is to offer very good, quality food, and ultimately to turn the restaurant into a destination-type place."
That is: a place people go to specifically rather than incidentally. JMC expects to open in mid-April or early May, and expect to employ some 15 people to start, with the three principals dividing their time between Woody's and the new restaurant. It'll open at 5:30 a.m. for breakfast, and will operate through 9 p.m. and lunch and dinner, seven days a week.
For the county, securing a tenant for the Bull Creek facility would extend a modest but solid streak of successes with restaurant businesses taking over county property—Hijackers at the county airport, Captain's BBQ at Bings Landing, and now JMC at Bull Creek.
Commissioner Nate McLaughlin described how residents on the west side, the district he represents, have been craving a restaurant there since the previous one closed. "I commend staff for finding a qualified group of people to come in and do something," McLaughlin said. "A lot of people want to do these kinds of things and they want to start from scratch. It's very difficult. It takes an amount of capital to make these kinds of projects work and this particular project, where it's out on the lake, it'[s going to require some advertising and such for this group and the investors to push their clientele out there, rather than drive by and those sorts of things. So this is quite an endeavor."
It wasn't a given that the place would find an operator. It was more like JMC found the county. The county placed the property out for bid. JMC was the only legitimate bite at the bid. "Everyone else that's contacted us over the last year or so," County Administrator Craig Coffey said, "has either turned out to have criminal backgrounds or had no restaurant experience and or no money to invest in really making the restaurant grow. Just like we did with Captain's Barbecue, they made a substantial investment out there, and they were in it for the long haul, and that makes us feel more comfortable, because as you know we were talking about demolishing this particular facility because it does flood and has some other issues." Coffey added: "If this vendor doesn't make it work then we've got to revisit demolition at that point because then it may be the location is not suitable for it. But if you look across the [lake], Three Bananas, it's been a long landmark and in existence for many years, and this has potential to be a Three Bananas."
Commissioners were insistent on pressing the new owners for an energetic marketing plan, but Commissioner Barbara Revels, no stranger to the west side or to farmers' past habits, reminded her colleagues that when the restaurant was open, it was busy with farmers. "I have had numbers of calls not from the public looking for it, but from those people that wanted to apply to do it," Revels said, "and let me tell you, there were some scary people who wanted to run this operation, and they just felt like they were going to make an awful lot of money on the county's dime. I just think it's great to have a really good, well-managed entity with experience, with a great format, known to our community, invested, live here, the profits stay in the community, that's huge. It's not some franchisee going somewhere else."
The food, Crews said, will be "high-end continental," with burgers, shrimp and oyster po boy, catfish sandwiches, fresh seafood, steaks, salads and a lot more (including all you can eat pancakes for breakfast).
Crews said he and his partners "are entering into it with the realization that this is not going to be an overnight success." At the same time, all three are experienced and can rely on a reliably, trust-worthy staff, two of the three have deep roots in the community, the third is growing those roots, and all three intend to live out their days in the county. They're in it, Crews said, for the long haul. "We're not entering into it with blinders on or star spangled eyes to so to speak," he said. The broader economic climate has been encouraging, with sales steadily and sustainably growing at Woody's, for example, an indication of positive trends. "People are optimistic, people are looking forward to the future, people are looking forward to positive things," Crews said.