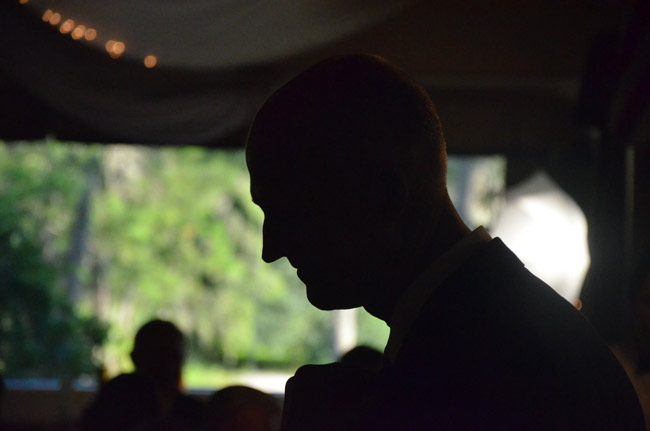 House and Senate leaders struck a deal Tuesday on the broad outline of a budget after a topsy-turvy day at the Capitol, clearing the way for negotiations that could allow the session to end as scheduled on May 5.
The deal capped off nearly two weeks of talks between House Speaker Richard Corcoran, R-Land O' Lakes, and Senate President Joe Negron, R-Stuart. Lawmakers now have about a week to reach agreement on details and then allow for a constitutionally required 72-hour "cooling off" period before the final day of the session.
Sen. Bill Galvano, a Bradenton Republican in line to become Senate president after the 2018 elections, confirmed late Tuesday that there was a deal between the two sides after behind-the-scenes negotiations. But a hoped-for meeting between House and Senate leaders to formalize the deal and launch the negotiations never materialized.
Legislative leaders were still looking over the final numbers late Tuesday before officially announcing the package.
The final size of the budget, which would cover the year beginning July 1, was expected to be around $83 billion, roughly halfway between the House's $81.2 billion plan and the Senate's $85.1 billion proposal.
In a sign that Gov. Rick Scott's priorities were in trouble, his office quickly pushed back on reports that Visit Florida, which markets the state's tourism industry, would get less money than requested.
Ben Watkins, director of the state Division of Bond Finance, sent a letter to lawmakers arguing that failing to promote tourism could affect the state's bond rating.
"A significant part of the state's credit rating is dependent on the strength of our economy," Watkins wrote. "Investments in promoting tourism (have) been an important investment in growing our economy and creating jobs, contributing to healthy revenue growth."
Scott then issued a statement castigating lawmakers, accusing them of doing their own bidding and claiming they "cannot be shortsighted at the expense of Florida families by cutting funds for tourism marketing and economic development. I would be absolutely shocked if politicians in the Florida Legislature put their self-interests before the interests of our families and small businesses."
Scott had asked for lawmakers to set aside $76 million for Visit Florida before the session, increasing that number to $100 million in recent weeks. The Orlando Sentinel reported that the figure leaders were working on was closer to $25 million.
With the House and Senate reaching a deal on the budget's basic contours, known as "allocations," negotiating committees featuring members of both chambers were set to start hammering out details on specific areas of the spending plan. Later, the budget chiefs on both sides and, eventually, Corcoran and Negron would take over if lawmakers struggle to reach an agreement.
Simply clearing away the clash over allocations was enough to create a sense of optimism that the Legislature's GOP majority could avoid needing overtime to complete the budget for the second time in three years. A day earlier, the sides were hammering each other after talks stalled over the weekend.
But by Tuesday evening, the dire warnings that a special session would be needed were gone. Negotiations will still have to unfold over a shorter timeframe than in past years, when lawmakers often had well more than a week to do their work.
"We do (have time) but it would be a very, very, very expedited calendar," House Appropriations Chairman Carlos Trujillo, R-Miami, said earlier Tuesday, when the agreement was still being worked on.
The deal was struck hours after the Trujillo's committee voted to move forward with a "standard operating budget" that would have essentially carried over current state spending levels, with some increases for critical areas like public education and Medicaid funding.
The plan never had a chance of becoming law; Senate leaders had already dismissed it. But House Republicans said the unusual maneuver could help avoid a special or extended session.
"It's really the safety valve," Trujillo said. "Could we get a budget done in the next 10 days? Possibly. But if we don't, this is our safety valve."
Democrats blasted the proposal as a sham. Rep. Jared Moskowitz, D-Coral Springs, called the plan "just strategy and posturing."
But even then, rumors were circulating that Corcoran and Negron were closing in on the deal that was finally struck later Tuesday.
–Brandon Larrabee, News Service of Florida, and FlaglerLive