A 13-year-old boy going home on his bike from Buddy Taylor Middle School was struck and injured by an SUV at the intersection of Belle Terre Parkway and Pritchard Drive at 1:37 p.m. Tuesday. It was the fourth time in seven weeks that a school child was struck by a vehicle on Palm Coast roads, and it took place about 1,500 feet from where a 7-year-old girl was killed while waiting for a school bus on Oct. 7.
According to the Flagler County Sheriff's Office, which investigated Tuesday's incident, the student, Maxim Bystrov, was among a group of children on bikes, riding southbound on the sidewalk on Belle Terre Parkway. At the intersection with Pritchard Drive, Bystrov rode on, as was his right.
He was some 20 feet into the intersection when William Hickman, an 86-year-old resident of nearby 39 Price Lane, failed to respect Bystrov's right-of-way and crashed into his bike. The passenger in Hickman's car reportedly waved the student across, officials who discussed the incident at a safety panel meeting today said, but Hickman didn't realize it.
Flagler County Sheriff's deputy Otis Gilyard, who investigated, said the crash drew Bystrov under the SUV. Bystrov, who was seen alert at the scene by witnesses, was taken to Florida Hospital Flagler in good spirits, according to Gilyard. School officials said he had serious skin injuries but no broken bones.
Hickman was cited with failure to yield the right-of-way. Gilyard noted that the student was not wearing a helmet or any safety equipment and urged: "Kids absolutely must start wearing their bicycle helmets. It's not an option. It's the law for anyone under 16."
The wreck is the latest in a series of incidents that have heightened concerns about students' safety on city roads, led to the creation of a committee of school and city officials to explore ways to improve students' safety, triggered a Facebook page called Safer Streets in Palm Coast that has drawn attention and comments from local officials, among them school board member Andy Dance and Palm Coast City Council member Steven Nobile, and provoked discussions to that end at the Palm Coast City Council and the Flagler County School Board.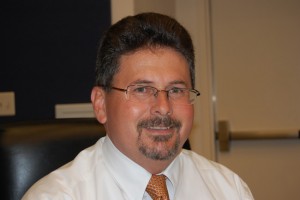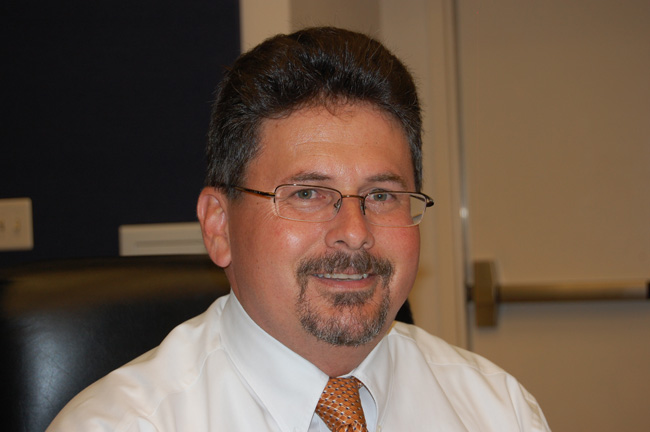 That committee coincidentally met again today at noon and produced a four-point plan to begin tackling the issue more pragmatically. The plan entails "engineering, education, enforcement and encouragement," as summed up by Dance. The city will be responsible for the engineering component, the sheriff's office for enforcement, with the school district taking on education, and all sides pledging to keep up with encouragement by not making these efforts "a short attention-span type of thing," but rather a year-round effort. To that end, a committee that had been disbanded, and that had included transportation officials along with city and district officials may be revived, with the current committee morphing into it.
"The city is pretty much taking the lead on the engineering component since they have the infrastructure," Dance said, "and they're going to be putting together some internal staff to look at some standardized best-practices for bus stops and bus stop improvements. What does that look like, we don't know yet. We've got a lot of suggestions. I've gathered a lot of suggestions off the Facebook forum and other suggestions people have sent me."
---
A four-point plan emphasizing engineering, education, enforcement and encouragement.
---
The district's lead on education will re-emphasize the twice-yearly efforts to focus student attention on school bus safety. "We're revisiting the material we present to students, so we're going to be making sure we have current enough information that's consistent across the district and that we do proper student training on how to behave and dos and donts on proper bus stop safety."
There's one other, fresh component in the works: Dance, who has been heavily involved with the Future Problem Solvers and Community Problem Solvers throughout district schools, is meeting with Flagler Palm Coast High School's FPS team Thursday to go over a project that will tie directly into student safety on Palm Coast Streets. "Hopefully one of the things they can focus on is peer-to-peer education component," Dance said. "They can focus on researching the behavior and activities that lead to some of those incidents out in the community." The results might include public service announcements, among other initiatives.
"The opportunity to get the students involved is really going to be helpful," Jason DeLorenzo, the Palm Coast City Council member who launched the safety committee with Dance last month and was at today's meeting, said. "Kids talking to other kids is a really good way to communicate about safety. Sometimes kids are kids, they don't want to hear from adults, but when their peers get involved that should have a really good impact."
Today's meeting, held at the new Palm Coast City Hall, included Dance, DeLorenzo, City Manager Jim Landon, Superintendent Jacob Oliva, and District Safety Director Winnie Oden. The committee's efforts will also be able to rely on the return of Mike Judd, the former district facilities director, who will be coordinating the traffic safety committee's work. "Mike's got a wealth of knowledge, background information and all that kind of stuff," Dance said.
Bystrov was the third cyclist struck by a vehicle, and the second from Buddy Taylor Middle School. None of the three cases point to student error, but rather to students' right-of-way being violated by drivers. On Sept. 21, an 8th grader was heading to school on his bicycle on Parkview Drive when a school bus collided with him at the crosswalk in front of Belle Terre Park. The student was treated for minor injuries at Florida Hospital. Four days later, a 7th grader riding his bicycle to Indian Trails Middle School was struck by a driver at the corner of Brookside Lane and Belle Terre Parkway, in a hit-and-run. The driver was not located. The student sustained minor injuries.
The worst incident took place less than a month ago on Whippoorwill Drive, where Kymora Christian, 7, was killed when she was struck by a passing vehicle as the child was waiting for a bus. The driver of the vehicle said the child had suddenly darted in front of the car.