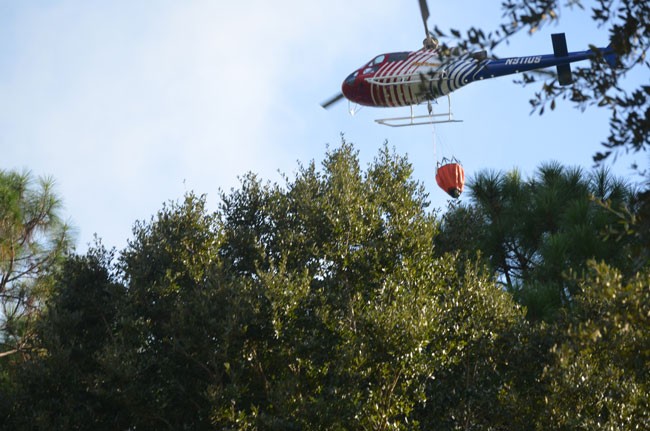 A 1-acre brush fire broke out just after 4 this afternoon in an area difficult to reach for firefighters, just south of the Winn Dixie shopping center on State Road 100, and some 75 feet east of I-95.
Flagler County Fire Flight, the emergency helicopter, was brought in to drop bucket after bucket of water on the fire as a Florida Division of Forestry bulldozer dug a fire line, starting from the south end of the parking lot of the Holiday Inn Express.
At 4:30 p.m., fire and thick smoke was still billowing out of the burning area, easily visible from where firefighters had staged, waiting for the signal to go in. Fire Flight was circling above, making repeated passes just above the canopy of trees, between flights to a nearby pond where it was refilling its bucket.
Authorities at the scene said no structures were in danger. Units from Flagler County Fire Rescue, the Palm Coast Fire Department and the Flagler Beach Fire Department have responded–some of the firefighters wearing the pink shirts they wear every October, during breast cancer awareness month. The Palm Coast Fire Police was restricting traffic in that area of the parking lot, which adjoins that if the Winn-Dixie shopping center.
The fire started 75 feet east of I-95 and has been burning in an easterly direction, in a band of between 50 and 100 feet.
By 4:45, the bulldozer had dug to within a few feet of the fire and was establishing a fire line, enabling Fire Flight to return to its base at the Flagler County Airport. The fire line was on three sides of the fire, with the fourth side being the retention pond off of I-95. The fire was 100 percent contained, authorities at the scene said, and firefighters were readying to go into the scene to suppress hot spots. They were expecting to be there a few hours, mopping up and minimizing smoke's effects on the highway.