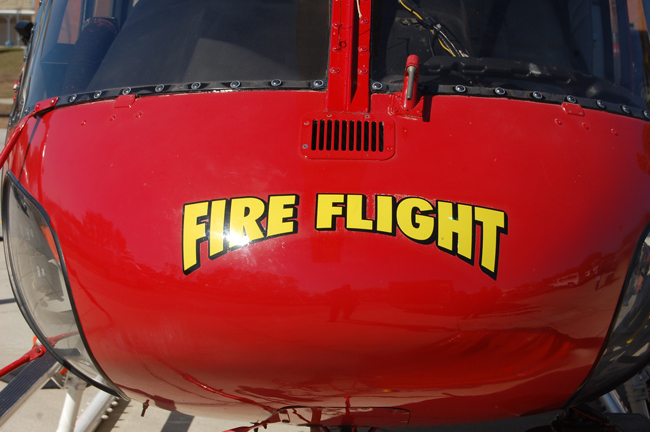 A controlled burn on a 40-acre property at the Flagler-Volusia County line on the west side of County Road 11 went out of control today and spread into Volusia County, encompassing about 50 acres, Flagler Fire Chief Don Petito said.
"It's getting close to being contained, but I don't know what the number is," Petito said, referring to the percentage of the fire under control. He was receiving updates regularly (and those updates will be relayed here later this afternoon).
The fire accounts for the smell of smoke that residents in Bunnell and Palm Coast will be experiencing, likely for the next 12 to 24 hours.
Only two houses were in danger. Both were spared the flames, although the trees burned along the 100-foot perimeter of the clearing within which one of the houses is located. "It came pretty close but we were able to save it," Petito said. The fire itself is in a swamp. "So we can't actually get in there to put it out—you can't get any trucks or tractors in there, so we're surrounding the swamp and keeping it in the swamp."
Because the fire is in a swamp, smoke is likely to linger as it continues smoldering.
A controlled fire may take place when a property owner wants to clear brush, as long as a permit is secured from the Division of Forestry. In this case, a property owner secured the necessary permit and hired a company certified in controlled burns. It's not clear why the burn went out of control, but conditions are still ripe for brush fires, as the county just this month emerged from a severe drought, and freezes have continued, killing vegetation and turning it into kindling.
Some 12 Flagler County Fire Department firefighters are at the scene with four tractors and two fire trucks, among other equipment. The county's Fire Flight helicopter has been at the scene as well. Volusia County firefighters were about to take over control of the operation, with the fire on their side of the line, but Flagler's firefighters were remaining at the scene to assist.