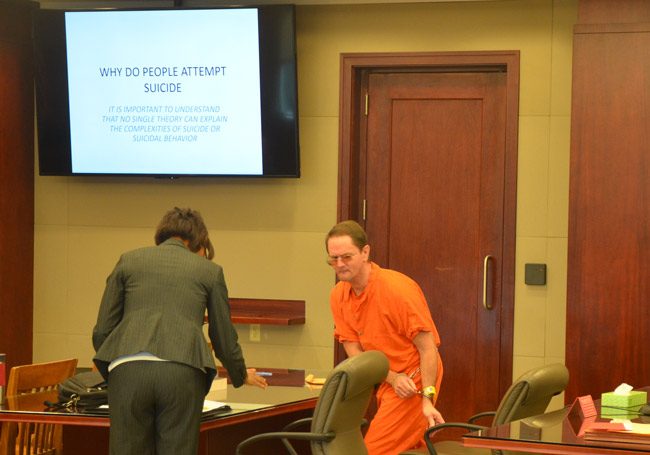 In a suicide, a person's altered mental capacities may be the driving force behind the fatal act. At trial, those mental capacities may be irrelevant if a man tried to kill himself and failed–but succeeded in helping someone else die.
That's the paradox Palm Coast resident Bruce Haughton and his defense lawyers may find themselves in when his case goes to trial–a double-suicide in the R Section that didn't go as planned: Haughton's girlfriend, Katherine Goddard, died, Haughton survived–and was arrested for "assisting in self-murder." That is, for assisted suicide, which is illegal in Florida.
It is one of the more unusual and legally unpredictable cases of the year. But the defense's attempt to illustrate Haughton's altered mental state did not go well in court today, in a pre-trial before Circuit Judge Terence Perkins.
People who are suicidal "are not good decision-makers" and "are not fully engaged in reality," said Stephen Bloomfield, a forensic psychologist based in Jacksonville. "They could be out of touch with reality," and "so intent and tunnel-visioned on the act of suicide that nothing else matters."
Bloomfield spoke those words and many more about the psychology of suicide and depression from the witness box. Haughton was sitting in shackles and in his orange Flagler County jail garb a few feet away, at the defense table. He's been held at the jail since August 2017 on $100,000 bond.
Houghton allegedly planned the double-suicide with Goddard at her house on 29 Red Clover Lane the evening of June 30, 2017, after other failed attempts and some discussion of using a gun (Goddard said she wasn't willing, he told authorities). They settled on using a car's exhaust in a closed garage as the method. Haughton was apparently passed out in the front driver's seat but still had a pulse when Goodard's then-30-year-old daughter found them after returning from work. Goddard, 52, was in the passenger seat. She was dead of carbon monoxide poisoning.
Haughton was to go on trial on the second-degree felony charge next week. Rosemary Peoples, Haughton's assistant public defender, brought in Bloomfield to testify today about Haughton's mental state at the time of the alleged double-suicide, and to argue that Haughton could not have been in his right mind to kill Goddard, as the prosecution argues, even though the plan was for both of them to die. Haughton has never disputed his role, but the defense argues that both he and Goddard planned their end together.
The prosecution was ready to argue that Bloomfield, the expert-witness psychologist, should not get to testify at trial as to Haughton's state of mind. The prosecution asserts that "any evidence concerning the psychology of depression and suicide is inadmissible," as it argued in a motion that was to be part of today's hearing.
But the judge didn't let it get that far.
Bloomfield had taken the stand and at the defense attorney's guidance was quickly going through a powerpoint presentation about suicide and depression (the first slide had asked: "Why Do People Attempt Suicide"), explaining theories put forth over the years, presenting numbers (800,000 people kill themselves worldwide each year, though numbers are falling in most of the world but is rising in the United States), and speaking of the impossibility of citing a single reasons: "We can't pinpoint it and say: this is what causes suicide."
Several minutes into the psychologist's testimony, Perkins intervened. He was perplexed. "I'm getting lost, and I apologize, it's me, but how is this relevant to the case we have?" he asked the defense attorney.
The prosecution, Peoples said, is submitting a case that charges Haughton with assisting in the killing of Goddard while ignoring his own role and wish to kill himself. "That's what we're presenting to the jury, is his state of mind," Peoples said.
That didn't answer the judge's question: the expert witness was speaking generally about suicide and depression. "How does that relate to the facts of our case?" the judge asked. "Will he be able to say that [Haughton] did what he did because of his condition at the time?"
The defense attorney conceded: No. Which made the witness' testimony inadmissible. "For an expert witness to talk about general issues without relating them specifically to the facts of our case I think would be improper," the judge said.
The prosecution was getting the expert witness tossed out without trying. But Peoples tried another approach: she asked for the judge to allow the psychologist to evaluate Haughton, and then return with testimony that he could relate to the case. But that was asking for yet another delay in a case that's been continued more than a dozen times, and the scrapping of a trial already scheduled for next week. Assistant State Attorney Jason Lewis objected, citing–among other issues–the fact that the prosecution had bought a non-refundable $1,000 ticket for one of its witnesses, and trial was scheduled. He called the defense's request for an extension "astonishing."
Perkins was clearly put out by the dilemma: he did not want another delay. He said he'd himself "moved heaven and earth" to accommodate the trial next week. But he did not want to commit a legal misstep that could also jeopardize the trial if the defense was not granted the chance to make its expert witness' testimony relevant. So he granted the extension: Bloomfield will get to evaluate Haughton, the trial will be delayed, and all parties will reconvene the morning of Feb. 12.
That still doesn't settle the question of whether Bloomfield's testimony will be wholly admissible at trial. The prosecution will argue that absent an insanity defense, the defense may not argue to the jury that Haughton was not in control of his capacities when he went through the steps to kill himself and Goddard (sealing the garage, locking its doors, channeling the exhaust fumes into the car). There is no halfway insanity defense, in other words, as another defendant found out in a high-profile case just a few weeks ago in Flagler. Since the prosecution is not disputing that Haughton tried to kill himself, it sees no reason why an expert witness should speak to his mental state, if his mental state is deemed irrelevant at trial.
And if Haughton's mental state can't be used in the defense's argument to explain the attempted double-suicide, Haughton's defense becomes much more difficult to present to the jury.